Posts Tagged Buzzbaits
This month our featured fishery could be looked at as part of Lake Arthur in Moraine State Park. However we believe that Muddy Creek, the tail waters of the Lake Arthur Dam, deserve to be classified as its own fishery. The tail waters stretch from the Lake Arthur Dam until it runs into Slippery Rock Creek. It can be difficult to fish, but if you can deal with hiking and working to get through brush you can find some really nice areas to fish.
Some of the species that you will find in Muddy Creek include: walleye, crappie, bluegill, largemouth bass, northern pike, and muskellunge. Near the tail waters you will find that there are gizzard shad. These are often the target of the trophy muskellunge. Just because this in not a large fishery don't assume that the fish are not going to be big. You may not catch a bunch of fish, but you will catch quality fish. Walleye over 20 inches are common and 40 inch muskellunge are common as well.
Time of year should determine how you fish and the size of lures that you use. In the winter the best rig to use is a single hook a small split shot and a medium fathead minnow. This will catch every species swimming in the creek, especially the muskellunge and northern pike. Once the water begins to warm up in the spring larger lures. Spinnerbaits, stick baits, buzzbaits and frogs are all good options. For bass brings you jigs and trailers and you will not be disappointed.
In clear water conditions such as most of the finger lakes in New York, Presque Isle Bay or any of the northern section of the Allegheny River power fishing can be very productive.  There are a couple things to remember though.  First, you need to keep the lure moving at a moderate to fast pace.  You don't want the fish to get too good of a look at  your spinnerbait, buzzbait, or crankbait.  Second, is that color selection needs to be as natural as possible.  Third, don't be affraid to fish over deep water near the surface.  The fish will come a long way to strike in clear water.  Good fishing.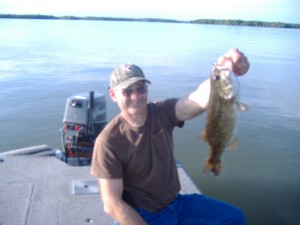 I spent another Friday and Saturday at Pymatuning Lake with my dad this past weekend.  Friday was a practice day and man things couldn't have gone better.  Everything we threw we caught largemouth and smallmouth.  We had a spot where crankbaits were working, another spot where buzzbaits where working, and we even found what we thought was a school of smallmouth on a roadbed.  In about 5 hours of being on the water we had boat about 20 bass in about 10 spots and did not set the hook on the same number of strikes.
In the Keystone Bass Buddy Tournament Saturday things went south.  We decided that we would start by fishing the roadbed for smallies.  Instead we found a school of 13 inch largemouth and about 5 nice crappie.  It gave us a nice limit, but these fish were not going to help us win the tournament.  We decided to go to the crankbait spot next because the size of the fish should have been better.  However, the only thing that we caught in that spot was a 8lb walleye.  After a couple of quick stops we decided to go try our buzzbait spot.  Instead of a buzzbait bite we found a spinnerbait/chatterbait bite that help us call multiple fish.  Unfortunately, we lost 2 fish in that bay that would have help us greatly.  In the end we were very disappointed.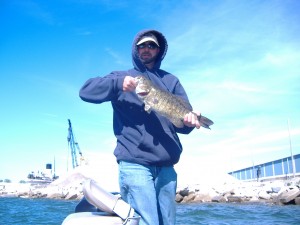 Sunday my wife, my friend and I decided to head up to Presque Isle and Lake Erie to try to get some spawning bass.  The wind had another idea.  It was a very rough day, but we still managed a couple nice smallies and a handful of largemouth.