Posts Tagged Rock Bass
Located in the Allegheny National Forest is one of the largest lakes in Pennsylvania. The Allegheny Reservoir spans through Warren and McKean Counties in Pennsylvania and Cattaraugus County in New York. This reservoir is part of the Army Corps of Engineers. At normal summer pool the lake is 24 miles long and covers over 12,000 acres.
The Kinzua Dam was initially built for flood control of the Allegheny River in the 1960's.  It is estimated that the dam has prevented over 1 billion dollars worth of damage. However, since the dam was constructed many other uses have been utilized. The hydroelectric power plant located below the dam may be the greatest of its uses. Check out the Big Bend Access Vistors Center to see more information about the power plant and how it works. There are many campgrounds, water sports, fishing opportunities, and other outdoor activities possible around the reservoir. Not to mention it has some of the most beautiful scenery in the state.
Now let's talk fishing! The Allegheny Resevoir is a very deep body of water with steep sloping banks. The water is also very clear as long as the weather has been consistent with no rain. Remember this is a river system and the water level fluctuates daily. These conditions stated there is a little something for everyone on this body of water.
Let's start by talking about toothy criters. This body of water is know for producing giant Musky and Northern Pike. Not to mention that you can catch large numbers of both species. Like always trolling is an option and a lot of guys use this method. Just remember that the water is clear. My experience is that you don't have to work that hard to find the Northern Pike. If you want fast results I would head up into some of the no wake bays and go to the back of the bays. Almost every bay has a small stream coming into the bay and the northern pike will move up into those areas to feed. Try some firetiger jerkbaits, firetiger topwater lures, or jitterbugs. My experience is that brighter lures attract pike and triger more stikes. However, if the sun is high try black. It puts out a great silouette. Most of the bigger pike and musky will be on the main body of the lake near the cliff faces. The best approach to fishing these areas is using a vertical style. My favorite is to use large red/white daredevil spoons and cast them parallel to the shoreline right against it. You will find that the spoon will be sinking and just stop on the fall before the lure hits the bottom. When that happens hold on because you got exactly what you are looking for.
There is also a decent walleye population. Coventional walleye tackle will be necessary. Light line and flourocarbon is a must. Trolling is probably the most effective way to fish for walleye there. However, I have had great success throwing plugs such as Rapala Shad Raps, Hot n Tots, and jerkbaits in the morning. Remember the water is clear so you will want to you natural colored lures. Some other methods that work well include jigging minnows, trolling worm harnesses, and using blade baits on the cliff faces. My favorite end of the lake for walleye tends to be towards Red Bridge.
There are plenty of panfish in the lake as well. Perch and rock bass dominate the panfish population, but you will also find crappie and bluegill as well. Shallow rock shorelines tend to hold good numbers of rock bass. Try throwing nightcrawlers on a small jig head. You will find the perch almost everywhere that you catch a walleye. Check 10-25 feet of water for you best chance. Unfortunately, you may not find the size of perch desired for keeping. This body of water is like every other body of water that I have ever fished in that when you catch one crappie sit there and work the area because you may get a bunch of them in a short period of time.

Now let's talk bass fishing. Smallmouth are the dominate species, but there are largemouth around the lake. There are a lot bass in the lake, but it can be difficult to locate them and it can be even more difficult to find good sized fish. To me the reason for this is because the lake is very clear and there are large numbers of preditor fish in the lake. My recommendations for catching bass are as follows. First, trust your electronics for locating flats or shoals as well as bait fish. Throughout the lake there is only so much bank that doesn't drop straight down. Finding feeding flats will greatly improve your odds. Also, you will want to head to the back of the no wake bays. The reason for this is that most of them are feed by some sort of stream or runoff area. Because of this the bass as well as Northen Pike seem to really stack up back in these areas. One of my favorite things to throw is a firetiger size 9 original floating rapala. Other natural colors work as well, but it just seems that I get more strikes on firetiger. Some other things you will want to try are tubes, drop shot, grubs, poppers, and spooks. Crankbaits can be a good option as well.
The largemouth are a little more difficult to find. In fact I only have 1 area on the lake that I consistently have caught largemouth and usually I only get a couple of them to bite. Usually, I am able to get these fish on soft jerkbaits or spinnerbaits. Like I said, the numbers just don't seem to be in this body of water so I would spend my time looking for walleye and smallmouth.
There is plenty of camping opportunities around the Allegheny Reservoir. Red Bridge Campground, Dew Drop Campground, and Kiasutha Campground are on the Pennsylvania side of the lake. There are several areas set up for primative camping where there is no running water and no bathhouses. Some of my best memories of family camping trips were when my parents took my sisters and I primetive camping. It was on of those times in life that there were no rules and you could just have fun.
Scattered throughout the lake is hiking trials and overlooks. You will find some of the best scenery in the state at these overlooks. All watersports are legal here. There is a beach by Wolf Run Marina. Wolf Run Marina is the only Marina on the water on the Pennsylvania side of the lake.
When thinking about a weekend get away with the family you should really consider taking a trip to the Allegheny Reservoir. Make it a mid May trip when everything is in bloom and you will the some of the best senerio you could ask for. Not to mention the best fishing.

Southwestern New York is home to one of the best fisheries that I have ever been to. Chautauqua Lake has one of the best largemouth and smallmouth bass, walleye, perch, rock bass, and crappie populations that I have ever seen. Not to mention it is known for its large musky. This lake has something to offer every skill level, age group, and style of angler. Add to that the beautiful scenry and crystal clear water and you have the perfect get away.
Let's start with some technical data. Chautauqua Lake is is approximately 17 miles long and 2 miles wide. The route 86 bridge seperates the upper and lower basin of the lake. In the upper basin you will generally find yourself in slightly deeper water and the lower basin. The maximum depth of the lake is 78 feet. There are 41 miles of shoreline and 13,000 acres of surface area. These numbers my sound quite large, but since there is an unlimited horsepower rating you can cover the lake in a hurry. The water clearity on the lake is very clear, but if an algea bloom happens you are not going to have any visability.

There are many types of structure to fish at Chautauqua Lake. The most abundant feature is the massive weedbeds. Weeds cover most of the shorelines throughout the lake and extends to the center of the lake in some places. Next, there is an impressive amount of boat docks that hold multiple species of fish all year round. Throughout the lake you will find small patches of lilly pads. These areas are usually quite shallow, but can hold decent amounts of bass and are often overlooked. Being the flipper that I am I found a shoreline in the creek that has a good number of laydowns. Although most of them are shallow, they can still be productive for largemouth bass. The most sought after spots on the lake are the rock piles that are scattered throughout. These will be very productive for all species. The second most common type of structure are the thousands of boat docks throughout the lake. Other structures include brushpiles and cribs.
Chautauqua Heights that is on the Northeast side of the lake near Dewittville. They offer camp site for the entire year to just one night. The sites include tent sites, electric sites, and sites for RV's. Chautuaqua Heights also offers multiple levels of cabin rental, from rustic to luxury. Some of the other features include well maintained bathhouse, basketball court, mini golf course, horseshoe pits, jungle gym, swimming pool, and game room. There is also a camp store. Another campground is called Camp Chautauqua. It is located on the Northwest side of the lake near Mayville. There facilities are very similar to Chautauqua Heights. Another area you can stay are the Irwin Bay cabins which are also near Mayville.

To my knowledged there are 5 public boat launchs on Chautauqua Lake. The most used boat launch is in Long Point State Park. There is a beautiful marina and boat launch that is well maintained with plenty of room for boaters to park there vehicles and boats. Another launch is located in the town of Mayville. This is a much smaller launch but typically is not as busy. It is perfect if you are staying in the Mayville area. In the middle of the lake on the West side is Pendergaust Point. This is a very nice boat launch that is maintained by the state. There is also a boat launch in Bemus Point and one where the creek enters the lake in the South. There are multiple marinas throughout the lake that have there own private boat launchs as well.

There are plenty of things to do near Chautauqua for the entire family. The famous city of Bemus Point is a festive town that always has something going on. From festivals to classic cars shows it leaves something for everyone. You can find some great restuarants around the entire lake as well. The Erie wine trail makes its way through Chautuaqua as well. Add those to all the activities on the water and in the campground, and you have a great vacation destination.
This past weekend I participated in the fourth divisional event for the bassmaster weekend series, New York West Division.  As I have stated before these tournaments are the best run tournaments that I have ever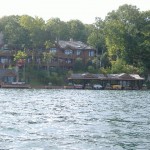 taken part in.   Canandaigua Lake was the fishery where the tournament was being held.  I have truly fallen in love with the finger lakes because of the beauty and how healthy the fish are.
I arrived at Canandaigua Lake around 8:00 AM Thursday morning.  Since I have never been to the lake I decided to take a drive around and get a feel for the lake.  This is what I discovered.  The lake had shallow flats infront of the docks which did or didn't have weeds.  In this finger lake the weeds were more sparse and hard to find.  I also found that some of the docks were in 20-30 feet of water.  That condition I had yet to find in New York.  But like seneca lake once you got into the 20 to 30 feet range then the water dropped off to 100 feet.  The lake is about 16 miles long with a creek in the South end of the lake.
Now lets get to some fishing talk. Thursday I devoted my first 6 hours to looking for smallmouth bass. Talked to some of the locals they told me that it was going to take 18lbs to win this tournament and that it would be smallies. I was drop shotting, dragging tubes and beavers, and powerfishing. I even gave jerkbaits a decent amount of time. I had no luck for bass, but the rock bass and perch were all over my drop shot rig in about 25 feet of water. Around 2:00 Thursday I decided that I was going to find some back up
largemouth bass. I went to the first set of docks that had weeds on them and started flipping. It didn't take long and I had caught 2 keepers and stopped sticking fish on this stretch. I started heading back up the lake trying points and good looking docks. Still convinced that smallmouth bass would win this event I spent most of my time trying to find them. I did hit a set of docks that looked perfect and my first flip I caught a 3lb largemouth. I spent some time throwing a homemade chatterbait in the weeds and all I managed to get were pickerel. They are a very pretty fish. The last bass I caught for the day was my lunker. I found 1 laydown on the lake that had good water under it and I flipped in and bam. 4+lb largemouth. I stopped fishing around 6:00 PM Thursday night. After that day I realized that I could get a limit of largemouth that was decent, but not going to win the tournament.
Friday, Jon and I head to the lake early to see if we could get an early bite. I had a couple points that I had marked to try and we ran right to the first one. 10 minutes into the day I caught a 2lb largemouth on a popper. Off of that point was a nice weed line and we worked it down shore about a 1/4 mile to the next point. Jon had a nice smallmouth bass follow his swimbait to the boat twice but couldn't get it to commit. We decided to keep looking for smallmouth. After alot of looking around we came back to the point where Jon had the smallmouth follow his lure in. The sun had came out at this point and all of the sudden there were smallmouth everywhere and they were big. We fished for these 4 and 5 pound fish for about 1 hour and the only bite I managed to get was a 2lb smallmouth. After that bit of frustration I decided I need to find more largemouth spots. Around 4:00 PM we called it quits for the night and went to eat and charge the batteries.
Now it is tournament day and we arrived at the launch at 5:30. The tournament was set to launch at 6:30 so we had plenty of time. Or I thought I did. I started pulling rods out and testing the equipment. I quickly realized that my front light wasn't working. After messing with it until 6:10 I gave up. I couldn't find anything wrong with the wiring and couldn't get it apart to check the bulb. The next crisis was that my rider for the day didn't get there until 6:15 and was getting a traffic violation. It doesn't stop there. Because the light didn't work we had to wait until 6:47 when safe light happens to leave the canal. We were the last one to leave and we were boat 12. If you think that is the end of my bad luck you are sadly mistaken. When I was finally able to run I went to pull my trolling motor up and I a couple strainds of my rope broke. I was lucky though and it made it through the day. Finally, we got to go fishing, but running full speed is out of the question because there is a 45 mph speed limit on the lake.
The first spot I wanted to start at was where I say all of the smallmouth. There were 5 boats sitting on that point so I decided to run to a largemouth spot. I didn't catch a bass until 9:00 AM. It was worth the weight though. A nice 3lber. 5 minutes later I put a 2lber in the livewell. We decided to go try the smallmouth spot, but once again there were 5 guys there. I then ran to another set of docks and caught a 14″ and 12 1/2″ keeper. Not big ones but I was glad to have them. Then the bad luck hit again. A nice 2lber hit in a dock and I ripped his lips off, and left him in the dock. I tried a couple other spots and decide at 1:15 to try to get some smallies. No luck because my head took me to the docks in from them. I am glad it did because my first flip I caught a 4 lb largemouth. Now I have my limit and decided to fly through the docks until the tournament was over. I lost 2 more fish that would have called my 12 1/2 by at least 1 lb. I finished the tournament with 5 bass that weighed 11.65lbs. It was good enough to finish 8th place.
Currently I am sitting in 4th place in the standings and the last tournament is the divisional championship at Oneida Lake. I will be looking to hold that spot, so that I can head to the Potomac River for the regional qualifier.