Erie County Waters
Lake Erie
Mike Tome (B.A.C. Bait) says the weather has been pretty rough on the lake late last week, with winds on Thursday through Saturday, and heavy rain storms on Sunday as well as expected for Monday.
"Head boats for perch have had to cancel again today, Monday, which results in some upset fishermen.  But head boats can't risk going out in questionable weather.  But when they do get out, they have been having great success.  Perch fishing has simply been EXCELLENT this summer.  Personally, I'll run out from Elk Creek to 52 feet of water, zoom in the sonar and the bottom will be black with perch.  But right now, we can't get emerald shiners – no one can.  So we are selling only small golden shiners – but don't worry, the perch are eating them just as quickly as emeralds.
"The reports of walleye catches are scattered. Doesn't seem anyone is getting great numbers of fish.  Some reports from the Second Trench and the Canadian Border on the West Side and out near the Mountain on theEast Side.  Not hearing about anything in close."
Jeff Staaf (Poor Richards Bait): "Rough out there this morning with4 to 5footers; not a lot of anglers have been out recently.  On theWest Side, guys are catching walleye in 75 to 80 feet, and perch in 52 to 57 feet.  There are a few steelheads showing up in the catches of anglers running out deep for walleye.  Emerald shiners have disappeared but should show up near shore by end of August."
Lake Edinboro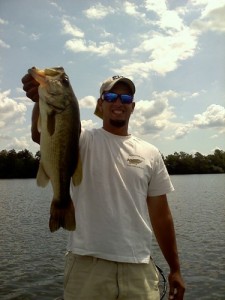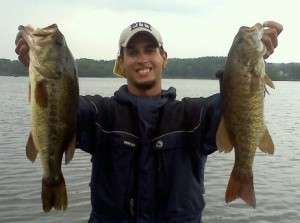 Destin DeMarion (Grove City): "I fished the Presque Isle Bassmasters club tournament at EdinboroLakeover the weekend.  I had only fished the lake once before, but managed to figure them out in one day of practice.  See the picture of big Edinboro largemouth I caught pre-fishing on Saturday.  Sunday morning of the tournament, we were met with thunderstorms and rain most of the day along with dropping temperatures.  The conditions were tough but I managed to win with 11.6 pounds of bass including the tournament lunker – a 4.4 pound largemouth – plus a big 3.8 pound smallmouth.  See the second photo.  Dropshotting a TriggerX Spadetail accounted for all my fish except the lunker largemouth, which I caught flipping a Yum Wooly Bug."
Lake LeBoeuf
Bill Logan (Pleasantville) went musky fishing toLakeLeBoeufthis past week, but had to settle for a single largemouth bass that hit one of his jigs.  Bill did talk to anglers in other boats who were trolling small twister-tail jigs for crappie, and catching fish.  He says the crappies for "good size" fish.
Mercer County Waters
Lake Wilhelm
Destin DeMarion (Grove City): "My buddy Alex, the new president of the Gannon University Bassmasters, and I went to Wilhelm on Tuesday.  We were greeted with a torrential downpour for most of the day, but we still managed to catch six bass.  Most of the fish came on a Reaction Innovation Sweet Beaver, but the bigger bass came on a Strike King crankbait.  I've attached a picture of the biggest one – around 6-pounds; my best largemouth this year."
Shenango Lake
Ken Smith (Sharon): "I fished Shenango and found the crappies in the deepest part of downed trees.  Not many crappies over ten inches, but the nine-inch blacks are very fat and perfect eating size.  A 1/16-oz jighead and most any color twister worked for me.  The train trestle pillars also produce good catches on those really hot days.  You will not hurt the crappie population on this lake by keeping your limit of the smaller size fish because Shenango is loaded with them.  The smaller ones need to be thinned out so others will grow larger.  Also, stripers are busting all over the lake; I caught some using a spinnerbait down by the dam on Friday.  Cast into the school and hold on!"
Stoneboro Lake
Chuck Papinchak (Cochranton): "One of my buddies and I made it back down to StoneboroLakethis week twice – once for bass and once for musky.  It's becoming one of my favorite fishing holes.  On the first day, we caught 15 largemouth and one big crappie on jigs and drop-shot rigs.  But my biggest largemouth – a 5.5 pound beauty – came on a Carolinarig with a Blackberry Brush Hog.  Robby and I went down on Saturday to cast for musky.  After 4-1/2 hours of throwing big plugs without seeing a fish, we went bass fishing.  We managed 6 or 7 bass on drop-shot and 1 pike on a spinnerbait."
Neshannock Creek
Bob Shuey (Neshannock Creek Fly Shop) says not to expect any trout from Neshannock Creek until cooler water temperatures and greater water flow return to the stream in the fall.  Neshannock Creek special regulation area will be stocked in October.
Venango County Waters
Allegheny River
Mike Horrobin (CLTackle and Jigger Tackle): "There have a been a number of reports through the shop of smallmouth being taken with live bait on French Creek and theAllegheny River.  The River is also producing catfish at night."
Darl Black (Cochranton): "On Friday, August 12, live bait expert Dustin Shay and I make a trip to the Allegheny River.  I needed some shots of catching bass on hellgrammites, and Dustin had gathered several dozen from French Creek earlier in the week.  The river was very low and exceptionally clear.  Before settling into the photo shoot, we made a couple drifts throwing artificial baits.  In the fast current stretches, I had smallmouth of varying size chase my Bubblegum Slug–Go Jron almost every cast.  I hooked and landed several smallies in the 10 to 14 inch range.  I also had a big fish explode out of the water on the Slug-Go at the head of a riffle in only about 18 inches of water; I hooked it and landed a 22-inch walleye!  We each had a musky follow – mine on the Bubble Gum Slug-Go and Dustin's on one of his big musky lures; both fish veered off upon seeing the boat and didn't hang around for a figure eight.  When we went to fishing smallmouth with hellgrammites, Dustin landed the biggest fish of the day – every bit of nine pounds…unfortunately not a bass, but a hard fighting drum."
Ken Anderson (Tionesta): "I fished the Allegheny Riverwith my Dad for three hours on Saturday.  We used only artificial lures, and managed one quality smallmouth on a buzzbait.  Other local anglers where catching large smallmouth on bait – minnows called sand pike (i.e. log perch).  I also talked to a gentleman who netted a 28.5 inch walleye for a young lad in a kayak; the walleye hit a Rapala."
Oil Creek
Mike Laskowski (Oil Creek Outfitters): "No trout fishing in Oil Creek until fall. The water is too low and too warm even for smallmouth fishing.  I suggest going to the Allegheny to fly fish for smallies."
Venango Trout Streams
Mike Horrobin: "As we get more rain and water temperatures fall going into the fall, we may see some pick up in trout fishing.  Most of the fall stockings are scheduled for the first week in October in our area."
French Creek (Erie, Crawford andVenangoCounties)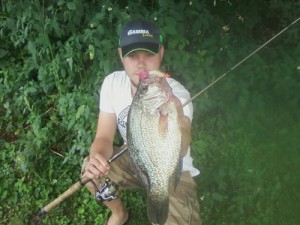 Dustin Shay (Meadville) made several fishing trips to French Creek and Cussewago Creek this week, but he said success was not as good as the previous week.  He could not even get a bite from smallmouth with live hellgrammites.  Early in the week Dustin did catch a monster crappie from French Creek; the 17-inch crappie was taken on a Crappie Pro Jighead and White/Pink Yum Beavertail.  Later in the week he took some big suckers to Cussewago Creek to fish under a balloon bobber for a big musky spotted there.  A big 'lunge hit a sucker and killed it but did not hold onto it.  Following Sunday's rain, Dustin was back on French Creek, catching a few sub-legal ones as the creek level began to climb.  "I expect bigger walleye to bite as the creek rises this week," says Shay. (See Photo #7)
Crawford County Waters
Pymatuning Lake
Chris Hall (Espyville Outdoors): "The crappie bite has been hot the past week!  Early mornings and evenings have been the most productive around the causeway.  White jighead and white curly tails have produced 100 crappies on Friday evening under the bridge.  Numerous other reports all point to success around the causeway, too.
"A couple muskies were 'caught' by an angler trolling around BeerCanIsland.  No sizes on the fish were available because faulty leaders prevented the fish from being boated.  Both muskies hit shad-colored plugs.  A few walleyes were reported in the Snodgrass area by trolling Storm Hot-n-Tots (Silver/Black Back) or Bomber Model A (Foxy Shad).  No reports on perch or catfish this week."
Ed Lawrence (Corry): "My son, his friend and I tried for catfish at Pymatuning Causeway on evening this week.  We caught a few bullheads and a good run from a big fish using shrimp, but lost the fish.  Shortly after dusk a pontoon boat pulled within casting distance from us and proceeded to get their anchor stuck.  They struggled with for about 20 minutes, at which point we decided all fish in the vicinity had been spooked.  We left as they were using their motor trying to pull free."
Al Moore (Cochranton): "Things were good at Pymatuning on August 14.  I took 2nd place in our club tourney.  Flippin' bite was on for me today.  I didn't need anything but the Berkley Chigger Craw in black and blue.  I caught 27 small bass in the morning.  Then in the afternoon, I caught fish over 3 pounds.  My total 4-fish limit weighed 9 pounds 14 ounces, and lost the winning big fish at the boat because I forgot my net."
Conneaut Lake
No one is providing reports forConneautLakeas bass anglers prepare for Walt's Tavern Buddy Tournament on August 27.
Fishing Tip of the Week
Dustin Shay says the downpours of the last couple days (Sunday and Monday) have brought lots of chubs and shiners out of French Creek into tiny tributaries and drainage culvert streams to apparently spawn because he says they are filled with eggs.  "They are in such small trickles, seining them is easy," notes Shay.  "Now is the time to get bait for French Creek bass, walleye and pike fishing."
Shop Talk
Laurie Frantz (R&L Bait): "I'm really excited about some new musky-size bucktails we just got in from Musky Specialties out ofOhio.  They are quality bucktails in sharp color patterns.  I can't wait to hear about our customers catching pike and musky with them."
Mike Horrobin (Jigger Tackle): "It's hard to believe that summer in on its way out.   Here at Jigger we are already starting to order supplies for winter tackle building season.  One thing I've noticed is more modest actions in fishing rod blanks – not so stiff.  Some manufacturers are re-visiting fiberglass – but at higher cost than older fiberglass rods.  You have a hard time casting any rod that doesn't load on the back stroke – whether fly rod, spin or casting.  Fiberglass in a blank offers that loading capability
"Also, for rod building, I found a neat plastic bottle alcohol torch by National Keystone Products that serves the function of an alcohol lamp and also has a tube to blow the flame sideways.  This allows you to warm and smooth bubbles in epoxy finishes on rods for a bubble-free finish on guide coatings."
Gamma Salutes
For submitting a photo, the name drawn as winner this week of a spool of Gamma line is Destin DeMarion ofGrove City.  Gamma Line is available at CDS, Espyville Outdoors, John's Bait and Poor Richards.
Booyah/Yum Salutes
For submitting a fishing report, the name drawn as winner this week of Booyah and Yum lure packet is Chuck Papinchak of Cochranton.
Outdoor Calendar of Events
Monthly          Fly-Tying Class – Free, Walk In                814-590-1366
Farrell's Hook, Line & Stitch (At the Bank Mall),Meadville
2nd Tuesday of each month;6 PM to 7:30 PM
Aug 27           Walt's Tavern Bass Benefit Tournament; $100.00/team
Information contact: Dan Mincin at 724-986-6557
Sept 4             Oil Creek Fly Fishing Presentation by Mike Laskowski
Petroleum Centre next to State Park office;4:30 PM to 6 PM
Sept 5             PF&BC Fish For Free Day; more info kedwards@state.pa.us
Fishing license not required but all fishing regs in effect
Sept 18         Allegheny RiverBass Team Tournament #1
$100 per team; for info contact Eric Heil lt.heil@yahoo.com
Oct 1&2          Antlers and Anglers Showcase, CrawfordCountyFairgrounds
For information, contact Joan Kocan at jkocan@agoc.com
Oct 16            Allegheny RiverBass Team Tournament #2
$100 per team; for info contact Eric Heil lt.heil@yahoo.com
Nov 5              PA Steelhead Expo atRainbowGardens,Erie,PA
Details to come
Sponsored by: PA Great Lakes Region
& GAMMA Fishing Line (now owned by Black Knight Industries of Oil City)
–       Crawford County Convention &Visitors Bureau at www.visitcrawford.org
–       VisitErie at www.visiterie.com
–       VisitMercerCountyPA at www.visitmercercountypa.com
–       Oil Region Alliance at www.oilregion.org
 Note: The information in the NW PA Weekly Fishing Report is based on the observations and opinions of individuals at the reporting tackle shops and expert area anglers.  Although the information is reliable, it is not independently verified.
If you have fishing information or a picture of your catch from one of the waters in the following counties, please contact Darl Black at darlblack@windstream.net
In providing a picture, you are agreeing to it being posted on the Fishing Report.
Keep Up with More NW PA Fishing at http://darlblack.blogspot.com