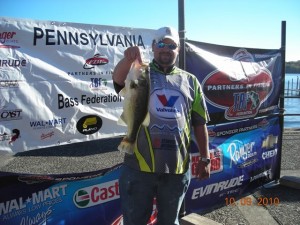 Lake Chautauqua was host to the 2010 PA State Championship.  Five of the six Bass Hounds team members qualified for the classic.  Brad Bressler, Brian Spencer and Rich Wolota all qualified as boaters and Derek Severns and Jeff Spencer made it as riders.  Fishing conditions this time of year can be very challenging to say the least.  A week of pre fishing was showing the guys that the patterns of the summer time were long gone.  The weather that week went from bad to worse, a few days, the highs were in the low 40's with lows in the 30's and the rain would not stop.  During that week Brad got on a few points that held fish, when the fish were there and they ate, they were big.  Brad caught 4 fish in practice over 5 pounds, he was hoping they would hang out till the end of the week.  Rich could only find a few keepers here and there, Brian would say the same come tournament time.  In a normal summer tournament at Chautauqua, you will need around 20 pounds a day to win.  The guys knew it would take a lot less this week, but you never know.
There were 68 boaters and 48 riders signed up, this meant that all of the boater's names would be put in a hat and drawn.  Some of the boaters would have to go as riders for half of the day and then switch, and they would be in control of the boat the second half of the day.  At the end of day one, the fishing was what everyone thought…HARD.  69 of the 117 entries did not bring a fish to the scales and many of the guys only had one.  Brad was able to find a few small fish, his big fish just  weren't home with a few  small fish Brad weighed 4.95 lbs, good enough to leave him in 5th place.  Brian, Rich, Jeff and Derek all zeroed that first day.  Even after such a tough first day, everyone still knew that they had a chance to be in it the next day.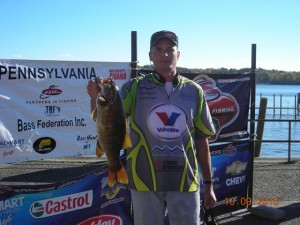 Day two started out with a bang for Brad, his first stop produced the tournament lunker, a 5.97 lb smallmouth bass.  The only problem was, that was Brad's only bite of the day.  That left Brad in 11th place, just a little under 2.50 lbs off of making the PA team.  Brian was able to find a few fish this day as well, he had 7.39 lbs, but that was only good enough for 24th on the boater side.  Rich fished hard both days but could not find a keeper; the fish he did catch were short.  Derek worked that second day but could only come up with two keepers for around 3 pounds, knowing that he needed 8 pounds or better to make the team, he didn't weigh his fish.  Jeff also struggled to find those keeper fish and zeroed both days.  After two days, the lake brought a lot of the state's best anglers to their knees.  It was a very humbling experience for most.
The Bass Hounds would like to take a moment to congratulate the 2011 Divisional Team on a job well done.  Best wishes at Kerr Lake at the 2011 Mid-Atlantic Tournament.
2011 Divisional Team:
Anglers:
1st Brent McNeal  (2010 Champ and Team Captain)
2nd Bob Gilpin
3rd Ron Wolf
4 th Aaron Kassab
5th Jesse Salmon
6th Steve Hughes
ALT-Travis Spittler
Co-Anglers:
1st Jeff Miller
2nd Dave Ciarletta
3rd Dave Ciraulo
4th Brett Dalrymple
5th Rich Rushing
6th Ed Guidon
The Bass Hounds would like to take a moment to thank everyone that helped support them this year.  Valvoline Oil, Strauss Automotive, Nervous Waters, Metal Menders, Nowak Commercial Refinishes, Poor Boy Baits, Ardent Reels, and www.fishpittsburgh.com, without these companies, this year would not have been possible.  These companies supported the team in 2010 and we hope to continue with them in 2011.  Valvoline Oil has already returned as a team sponsor for 2011.  We will keep you posted this winter as to who will be supporting the team in the upcoming season.  Remember if at all possible, if you have the opportunity or need the services of any of these companies, tell them The Bass Hounds sent you, support the companies that support our sport.