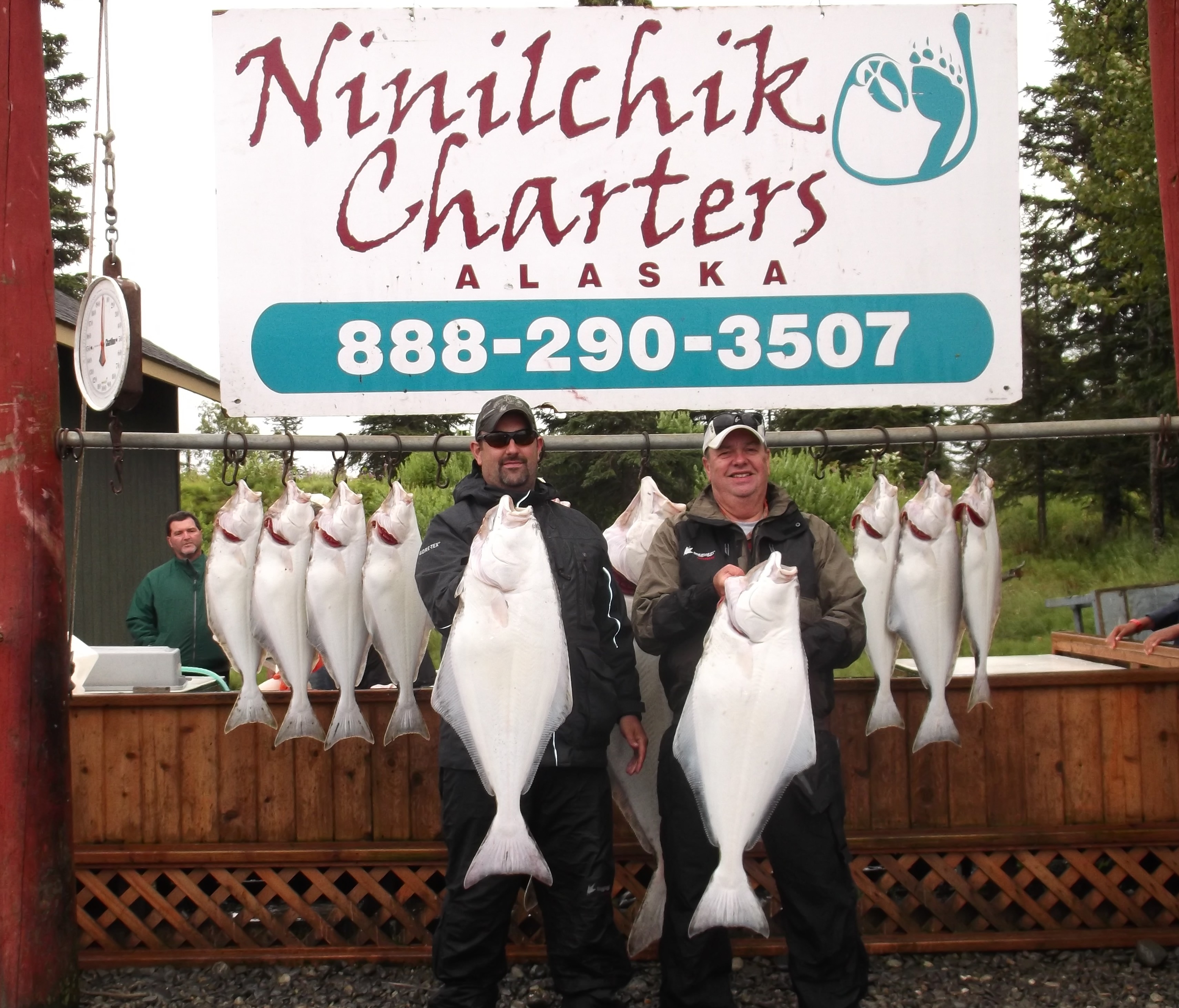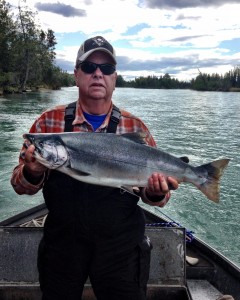 This past August I got to chance to go fishing in Alaska with my dad for salmon and halibut.   It was a great experience that I would recommend to anyone who loves fishing.  We booked our trip through Tyland at Alaska Fishing Lodge and I couldn't be happy with the way we were treated.  We were in Alaska for 7 days.  3 days guided on the Kenai River, 1 day on Cook Inlet out of Ninilchik for halibut, and 2 days to do what we would like.
Day 1
Our first day on the water was a guided trip on the Kenai.  We took a short run up river where we setup above a large hole.  Within just a few minute of getting there we were hooked up with some nice pink salmon.  The highlight of day was a nice Silver my dad got.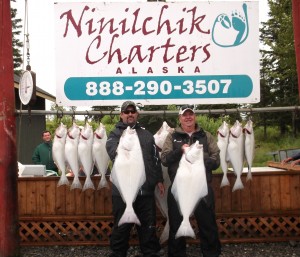 Day 2
On day 2 we went for halibut.  The morning started slow but as the tides change the halibut started eating.  There is a limit of 2 halibut per person, one over 29″ and one under. My dad and I each got halibut in 30 lb range as well as our under sized fish.  We also got to see a 67 lber get brought into the boat.  I will tell you these fish are extremely powerful and after a day of catching them my arms were sore for the next few days.
Day 3
Day 3 was an off day for us.  Ty had equipment that we could use to go fish from the bank so we went down to try our luck.  We used a technique called "flossing" to catch fish.  The technique is very easy to use once you figure it out.  You basically stand on the bank and toss a hook with a weight a few feet up the line, upstream and let the current bring it down into a fishes mouth.  I was told this technique works as the salmon swim up the bank of the river.  This was very productive for us as there was a large run of pink salmon coming through.
Day 4 & 5
We were back on guided trips on the Kenai catching Pinks and Silvers.
Day 6
We were on our own again and went back to the spot we had fished a few days before.  On this day we got lucky and found a few remanding sockeye that had not yet moved up river.  We caught a bunch of pink as well as a limit of sockeye.
Day 7
On our last day in Alaska we drove around a little before heading to the airport.  We got to see a few moose in the wild as well as some amazing sights.
This trip was one of the highlights of 2014 for me and I hope to get back to see Ty again here in the coming years.  If you have any interest in fishing Alaska I would check out the packages Ty has as you will be surprised how affordable the trip of a lifetime really is.  Fishing Packages