This year memorial day weekend was a truly special weekend for me.  Not only because I spent an amazing weekend at Chautauqua Lake in New York, but because it was my 1 year aniversery with my wife Jessica.  About 2 months ago I had asked Jess what she wanted to do for our aniversery and she told me she wanted to go somewhere and camp that we had never been to.  Since I am fishing the bassmaster weekend series this year in New York we decided that we should go spend a weekend at one of those lakes.  What guy gets to spend his entire aniversery weekend on the water.  The kind that marries someone that loves the outdoors as much as him. 
It didn't take us long to find some nice fish morning on saturday.  Since we had never been to the lake we decided to just use the trolling moto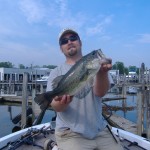 r in the morning and try to find some kind of pattern.  What we had discovered was there there really was no pattern.  We caught fish in the prespawn, spawn, and post spawn cycles.  If you were going to target the spawning fish the only time your were truly able to do so was before 11 am.  The boat traffic was at a minimum, and the sun was perfect for help you see the fish.  Typically in the middle of the day we were hanging out at the campsite, but we would head back out for the evening and fish for post spawn fish with jerkbaits, soft and hard, and chatterbaits.  Dock fishing did work, but after saturday it was harder to get fish off of the docks because of the boats coming in and out of them. 
Monday morning was the best day for me out there.  Obviously it should have been because I had never been to the lake before this weekend, but my expectation were low because of the fishing and boating pr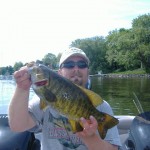 essure of a holiday weekend.    I decided to start fishing by running to a spot that I had located a couple of spawning smallmouth bass.  The night before I had seen about 3 or 4 nice smallmouth bass on a stretch of water and when I went back the next morning, there were about 30 nice smallies on beds.  You could say that I had hit the jackpot.  I spent all morning working these fish and managed 11 nice smallies and 3 of them broke the 4lb mark and most were over 3lbs.  I lost about 5 more of these monsters, but that is bed fishing for you. 
My recommendations for Chautauqua is that everyone should go there at some point in their life.  It is a beautiful lake and everyone up there is happy and very nice.  The fish are big and the water is awesome.  The boat traffic can be overwelming, but don't let that discourage you.  I would try fishing green pumpkin lures and baitfish colored lures.  Hard and soft jerkbaits worked well matching the shad color.  Long casts are extremely important in the super clear water.
Overall it was a great weekend and I can't wait to get back.