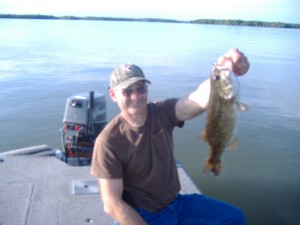 I spent another Friday and Saturday at Pymatuning Lake with my dad this past weekend.  Friday was a practice day and man things couldn't have gone better.  Everything we threw we caught largemouth and smallmouth.  We had a spot where crankbaits were working, another spot where buzzbaits where working, and we even found what we thought was a school of smallmouth on a roadbed.  In about 5 hours of being on the water we had boat about 20 bass in about 10 spots and did not set the hook on the same number of strikes.
In the Keystone Bass Buddy Tournament Saturday things went south.  We decided that we would start by fishing the roadbed for smallies.  Instead we found a school of 13 inch largemouth and about 5 nice crappie.  It gave us a nice limit, but these fish were not going to help us win the tournament.  We decided to go to the crankbait spot next because the size of the fish should have been better.  However, the only thing that we caught in that spot was a 8lb walleye.  After a couple of quick stops we decided to go try our buzzbait spot.  Instead of a buzzbait bite we found a spinnerbait/chatterbait bite that help us call multiple fish.  Unfortunately, we lost 2 fish in that bay that would have help us greatly.  In the end we were very disappointed.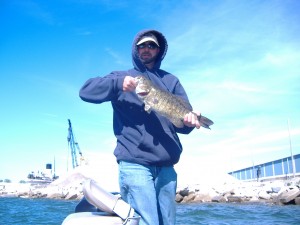 Sunday my wife, my friend and I decided to head up to Presque Isle and Lake Erie to try to get some spawning bass.  The wind had another idea.  It was a very rough day, but we still managed a couple nice smallies and a handful of largemouth.