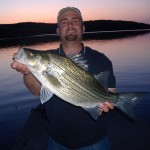 I spent last night at Lake Arthur with a good friend trying to find crappie for a fish fry.  We were only able to get a couple crappie in the live well which we end up releasing.  I haven't been to Lake Arthur since the KBBC Tournament in early April, so I wasn't quite sure what to expect from the lake.  First, we hit a couple of brush piles and we were unsuccessful.  Then we tried the weeds and once again unsuccessful.  Finally, we went to a beaver hut and caught 3 crappie.  There wasn't any size to them so we released them. 
Around 8:00 we decided to quit crappie fishing and see if we could get into the hybrid stripers.  After driving to one of my favorite spots on the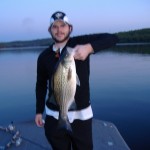 roadbed I could see some bait activity, but less than normal.  It took us about 15 minutes until we caught our first striper and it was only about 12 inches.  After that my friend and I each caught a 26″ hybrid striper.  Both fish were taken on light weight tackle and we were using Rapala X-Raps.  We had a few more stikes, but no more hook ups.  Those big stripers made the night even better than it already was.