This past weekend I participated in the fourth divisional event for the bassmaster weekend series, New York West Division.  As I have stated before these tournaments are the best run tournaments that I have ever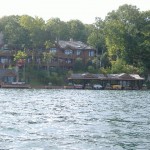 taken part in.   Canandaigua Lake was the fishery where the tournament was being held.  I have truly fallen in love with the finger lakes because of the beauty and how healthy the fish are.
I arrived at Canandaigua Lake around 8:00 AM Thursday morning.  Since I have never been to the lake I decided to take a drive around and get a feel for the lake.  This is what I discovered.  The lake had shallow flats infront of the docks which did or didn't have weeds.  In this finger lake the weeds were more sparse and hard to find.  I also found that some of the docks were in 20-30 feet of water.  That condition I had yet to find in New York.  But like seneca lake once you got into the 20 to 30 feet range then the water dropped off to 100 feet.  The lake is about 16 miles long with a creek in the South end of the lake.
Now lets get to some fishing talk. Thursday I devoted my first 6 hours to looking for smallmouth bass. Talked to some of the locals they told me that it was going to take 18lbs to win this tournament and that it would be smallies. I was drop shotting, dragging tubes and beavers, and powerfishing. I even gave jerkbaits a decent amount of time. I had no luck for bass, but the rock bass and perch were all over my drop shot rig in about 25 feet of water. Around 2:00 Thursday I decided that I was going to find some back up
largemouth bass. I went to the first set of docks that had weeds on them and started flipping. It didn't take long and I had caught 2 keepers and stopped sticking fish on this stretch. I started heading back up the lake trying points and good looking docks. Still convinced that smallmouth bass would win this event I spent most of my time trying to find them. I did hit a set of docks that looked perfect and my first flip I caught a 3lb largemouth. I spent some time throwing a homemade chatterbait in the weeds and all I managed to get were pickerel. They are a very pretty fish. The last bass I caught for the day was my lunker. I found 1 laydown on the lake that had good water under it and I flipped in and bam. 4+lb largemouth. I stopped fishing around 6:00 PM Thursday night. After that day I realized that I could get a limit of largemouth that was decent, but not going to win the tournament.
Friday, Jon and I head to the lake early to see if we could get an early bite. I had a couple points that I had marked to try and we ran right to the first one. 10 minutes into the day I caught a 2lb largemouth on a popper. Off of that point was a nice weed line and we worked it down shore about a 1/4 mile to the next point. Jon had a nice smallmouth bass follow his swimbait to the boat twice but couldn't get it to commit. We decided to keep looking for smallmouth. After alot of looking around we came back to the point where Jon had the smallmouth follow his lure in. The sun had came out at this point and all of the sudden there were smallmouth everywhere and they were big. We fished for these 4 and 5 pound fish for about 1 hour and the only bite I managed to get was a 2lb smallmouth. After that bit of frustration I decided I need to find more largemouth spots. Around 4:00 PM we called it quits for the night and went to eat and charge the batteries.
Now it is tournament day and we arrived at the launch at 5:30. The tournament was set to launch at 6:30 so we had plenty of time. Or I thought I did. I started pulling rods out and testing the equipment. I quickly realized that my front light wasn't working. After messing with it until 6:10 I gave up. I couldn't find anything wrong with the wiring and couldn't get it apart to check the bulb. The next crisis was that my rider for the day didn't get there until 6:15 and was getting a traffic violation. It doesn't stop there. Because the light didn't work we had to wait until 6:47 when safe light happens to leave the canal. We were the last one to leave and we were boat 12. If you think that is the end of my bad luck you are sadly mistaken. When I was finally able to run I went to pull my trolling motor up and I a couple strainds of my rope broke. I was lucky though and it made it through the day. Finally, we got to go fishing, but running full speed is out of the question because there is a 45 mph speed limit on the lake.
The first spot I wanted to start at was where I say all of the smallmouth. There were 5 boats sitting on that point so I decided to run to a largemouth spot. I didn't catch a bass until 9:00 AM. It was worth the weight though. A nice 3lber. 5 minutes later I put a 2lber in the livewell. We decided to go try the smallmouth spot, but once again there were 5 guys there. I then ran to another set of docks and caught a 14″ and 12 1/2″ keeper. Not big ones but I was glad to have them. Then the bad luck hit again. A nice 2lber hit in a dock and I ripped his lips off, and left him in the dock. I tried a couple other spots and decide at 1:15 to try to get some smallies. No luck because my head took me to the docks in from them. I am glad it did because my first flip I caught a 4 lb largemouth. Now I have my limit and decided to fly through the docks until the tournament was over. I lost 2 more fish that would have called my 12 1/2 by at least 1 lb. I finished the tournament with 5 bass that weighed 11.65lbs. It was good enough to finish 8th place.
Currently I am sitting in 4th place in the standings and the last tournament is the divisional championship at Oneida Lake. I will be looking to hold that spot, so that I can head to the Potomac River for the regional qualifier.