When traveling with the Bassmaster Weekend Series last year I came upon a couple fisheries that are truly amazing. Today I am going to focus on Oneida Lake in New York. Even though we are a Pittsburgh based website and try to keep the lakes local to Western Pennsylvania, I felt that I had to tell people about this lake. I will be the first to tell you that I am not an expert or even pretend to know a lot about this body of water. However, this is one fishery that you don't have to know in order to have a great day of fishing. Through the article I will touch on the most abundant species, camping, fishing techniques, and geographic features.
First, I feel that it is important to know what kind of lake you are going to be fishing before you get there. Oneida lake is twenty-two miles in length from East to West and is anywhere from one to five miles wide North to South. The surface are of the lake is 50,000 acres. This makes it the biggest lake in New York State. Oneida Lake is located just North of Syracuse and was formed by glaciers during the ice age. Because it is a natural lake the water is clear to slightly stained most of the time. However, you could hit it during the algae bloom and see why it was nicknamed the green lake.
The first thing I noticed about the lake was the pure size of the lake. I had been on some large bodies of water, but next to the great lakes it was the biggest. For its size this body of water is relatively shallow. I fished the lake for 4 days and the deepest water I located was 30 feet. What you have to watch for is the islands and shoals that are thrown throughout the lake. These shoals are not always marked on makes and could be completely submerged if the water level is high. It is my recommendation to get a map or rely heavily on your gps unit while travel on Oneida Lake. Another thing that I notice was that because the lake runs east to West the waves can build very fast and can be very dangerous. High winds don't necessarily have to seem high at this lake. 15 mph winds will cause three to five foot waves. You add in shoals that are all around and you can have a recipe for disaster.
Located at the South Western corner of the lake is Oneida Shores State Park. They have over fifty campsites which most of which have electric and water hook-ups. The bathrooms and shower house are very well kept. There is also a sand beach in the State Park. Launching your boat is free if you are camping in the campground, but there is a small launching fee if you are just using the launch for the day.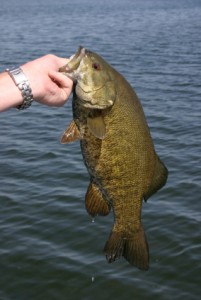 Oneida Lake may be one of the best smallmouth bass fisheries by sheer numbers that I have ever came across. There are many local bass tournaments held at Oneida Lake, but there are a surprising amount of professional tournaments held there ever year. Circuits such as the Bassmaster Elites, Bassmaster Weekend Series, Anglers Choice, and the BFL are just a couple of the many professional bass circuits to come to Oneida Lake every year. This species of smallmouth is somewhat shorter but very heavy. I was very surprised that a sixteen inch smallmouth bass was anywhere from 2.25 pounds to 2.75lbs. What I discovered was that when you found one of these guys there was a pack of them there. Once you turn on that school it was absolutely unbelievable. Prior to my trip to Oneida Lake I had probably only broke a spinnerbait about two times in my life. During my 4 days there I broke 8 spinnerbaits. Most of which were because of how vicious the hits are and how strong the fish are.
For anyone that heads up there in search of smallmouth bass I have a few suggestions as to what depth, structure, and lures to use. Knowing that smallmouth bass are predator fish the depth can vary throughout the course of the day. Also, the time of year will play a part in deciding what depth to fish at. As a rule of thumb, shallow points, points on the islands, or tops of shoals should be fished early in the morning or late at evening. The fish in these areas are aggressive can will hit topwater baits or other moving baits. My recommendation is to throw poppers with a rear red feathered hook or to throw a double willow spinnerbait. You may need to cover water until you find them but when you do watch out. The rest of the morning and the middle of the day I would focus on the eight to twenty foot depth range. I realize that this my seem pretty vague but typically eight to nine foot of water is a weed line that extend to the surface and when you back your boat off twenty-five or thirty yards (a minimum in clear water) you will more than likely be sitting in fourteen to sixteen feet of water. Several techniques seem to really work well in this depth range. I would start by covering water with spinnerbaits. Natural shad colors seem to work best and silver blades seem to be better than gold. Other moving baits that I would try are jerkbaits (hard and soft), lipless crankbaits, and in-line spinners. Yes, I said in-line spinners. These work surprising well up there and got bites when the bite would seem to have died. Dragging tubes and beavers were also effective. Drop shoting a wacky hooked 4" green pumpkin senko is also effective. The smallmouth bass in this lake are not hard to find but when you launch at Oneida Shores, drop your trolling motor and go to the right. There are a lot of tournaments that release a lot of fish there and it is well stocked. Just stay in the 8 to 10 foot range.
There is also a decent amount of largemouth bass in Oneida Lake. The largemouth bass tend to win bass tournaments but they are harder to find. I feel that the reason that they are harder to find is that most of the shoreline is covered in mat weeds and it looks very similar. Plus, the population of largemouth isn't as high as smallmouth. Unlike the smallmouth I would stay fishing in the mat weeds. I would start by working frogs and buzzbaits overtop of the mat. Once I found an area that I felt would hold fish I would punch the weeds with a minimum of ¾ ounce weight with your soft plastic of choice. Personally, when I flip mat weeds I am using a one-ounce weight with a beaver or tube. I find the sender profile help get it through the mat. Other options are heavy jigs. Something that I noticed was when I can across a log that was in the weeds I typically got bit there. Big Bay and the channel have been known to produce big bags of largemouth bass. If you want to go off the beaten path check out 3 Mile Bay. I had some success there.
Walleye and perch are also abundant. I was able to catch multiple walleye while dropping my senko. I think if I had targeted walleye a little more we could have had a nice bag of walleye at the end of the day. Even more so than normal you are going to need light line because the water is so clear. May is supposed to be the best month for walleye fishing at Oneida Lake.
I found myself catching an unbelievable amount of Pickerel during my time at Oneida Lake. The pickerel were not always big, but they were a lot of fun. White buzzbaits in the shallow water over the weeds really seemed to get them going. Each day I was there I would say that I caught at least ten pickerel. If you like catching these guys this is the lake for you. I know I truly have a blast a throwing topwater and spinnerbaits for them. The first day of my tournament I managed to only land 3 bass, but caught about 30 pickerel. Not something I am proud of because I feel that I am a quality bass fishermen, but that just shows you how many pickerel are in the lake.
If you are heading up I recommend throwing a few other lures. For all of the mentioned species I would try some swimbaits. It is a misconception that northern fish won't attack these big lures. Give them a try and you might be surprised. Another lure I would try are jigging spoons. I feel that the smallies would eat a lure falling down and hoping across the bottom just was well as a lure being cranked passed them. Don't be afraid to experiment as well. Burning a spinnerbait over twenty feet of water sounds crazy, but it works and works very well.
The next time you are looking at taking a fishing trip, I highly recommend visiting Oneida Lake. It is close to wine country and offers something for everyone. Not to mention that fishing is some of the best that I have ever experienced. If you have any questions about the lake or information that you would like to share with me or everyone else feel free to add a comment at the bottom of the article or shot me an email.