Do you want to go fishing on a lake that doesn't get a ton of fishing pressure? In Pennsylvania it isn't easy to find a lake that doesn't get a lot of pressure, but I have found one that is a short drive from Pittsburgh and is located just South of Kittaning. Crooked Creek Lake is an Army Corp. or Engineer Lake, and is the perfect lake to spend a day or weekend. This small 350 acre unlimited horsepower lake runs over 5 miles in length in one of the most relaxing settings an outdoorsmen can dream about.
If you enjoy fishing a lake with a lot of weeds then this is not the lake for you. Weeds are difficult to find in the lake. There is however a ton of lake downs and bushes throughout the lake. It is not unusual to find debris build up at certain points of the lake when the area experiences heavy rains or snow melt off. Depth of the lake varies greatly from end to end. When you come out of the boat launch and head toward the dam (left) you will find deeper water ranging from steep banks and 30-foot depths to shelved banks that drop to that depth at a slightly slower rate.
You can often find brush piles and fish habitats throughout this end of the lake. Some lay downs will be locate at this end of the lake and will be loaded with bass and crappie. If you head up the creek from the boat launch (to the right) you will find an abundant amount of lay downs, bushes, and debris jambs. This is a much shallow end of the lake and should be navigated very carefully. The water in the creek is usually muddy because the bottom is comprised most of slit run off from the creek. The dam end of the lake is usually clear or slightly stained in part because of the rocky bottom.
There are several species of fish that are abundant in Crooked Creek Lake. Let's start by talking about my favorite fish, the largemouth bass. I swear that this lake was built for fishermen like myself who love to flip and pitch heavy cover. Needless to say, that I usually come out of the launch and head to the right towards the creek. This is one body of water that you do not need a gas motor to get to a good spot. Usually, I don't even fire my gas motor until it is time to go home for the day. There is plenty of cover to flip and pitch all day long by heading up the creek.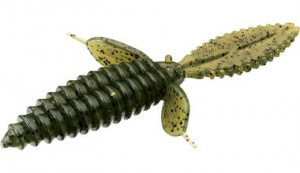 Some of my favorite flipping lures for the lake are tubes, jigs, beaver baits, and stick worms. Some other lures you should make sure you have with you include: spinnerbaits, chatterbaits, buzzbaits, and soft jerkbaits. I have found that sooner or later everyday you are on the water at Crooked Creek you are going to come across schooling fish feeding. You can catch a lot of nice sized bass in a hurry with the more aggressive lures once you see the baitfish busting on the surface.
While fishing for bass on Crooked Creek Lake, I have been able to catch a lot of good-sized crappie. There are plenty of areas to fish for crappie, but the larger schools of these fish tend to be in the 8-15 foot depth range. While fishing the main body of the lake I watch a couple of boats fishing slip bobber minnow rigs for crappie catch so many crappie that I changed my target species for the day. After the day was over I talked to them about their day as they took pictures of a stringer of 12" crappies. The group of guys told me that there was no reason to keep crappie under the 12" size because they are so abundant.
Some other features of this park include a swimming area, campground, picnic areas, spillway, hiking trails, and a horse park. There is a $4 per vehicle charge for use of the park. This includes the use of one or multiple features of the park in the same day. There are 6 pavilions for picnicking and can be reserved through the office. There is plenty of wildlife throughout the park and can be enjoyed while hiking the trails or just sitting in the fields. Campground information and reservations can be made by visiting the Army Corp or Engineer website. If you are looking for a great family location to relax and enjoy the outdoors, remember Crooked Creek Lake is right down the road.