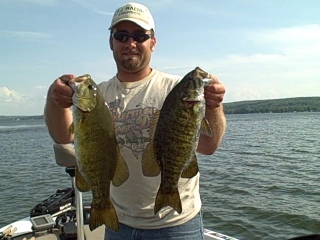 One of the best fisheries in Pennsylvania is located in Erie County. Presque Isle State Park on Lake Erie is home to some of the best fishing I have ever experienced. Everyone knows how good Lake Erie can be, but no one thinks about how fishing the Presque Isle Bay. There are many species of fish and certain times of year some species are more abundant than other times. The Erie area is thriving right now so there is plenty to do inside and outside the state park. It truly has something for everyone.
Let's start by talking about all of the species of fish that can be found in Presque Isle Bay. The most abundant species in the bay depends on the time of year in which you are there. The most consistent species you can find is largemouth bass. Fisherman can experience some of the best largemouth fishing in the state from the time the ice comes off the bay until the bay freezes over. From mid April until early July you can find a huge population of smallmouth bass that move into the bay to spawn. Panfish such as perch, crapie, bluegill, rock bass, white bass, and sunfish. During the cold water temperature time of the year you can find steelhead and trout that have migrated in from the main lake. There is a healthy population of northern pike. Some other species that can be found include: muskie, freshwater drum, carp, catfish, and alligator gar. Whatever your target species there are ample oppurtunies at Presque Isle State Park.
As many species as there are in the bay there are many more ways to catch fish depending on the species. In the spring and fall months fishing aggressive tends to be the best when fishing for largemouth and smallmouth bass. Spinnerbaits, chatterbaits, crankbaits, jerkbaits, and topwater lures are my favorite lures. During the water summer months I tend to switch gears and pull out more of my heavy punching gear because of the abundance of weeds. Heavy weights and heavy line are a must to get fish out of the mat weeds. No matter what time of year that I there I expect to boat 50 bass a day. It doesn't always happen, but it happens more often than not. Some of my favorite soft plastics include berkley chigger craws and tubes of various colors. Creature baits such as brush hogs are also very effective.
Early in the year steelhead move into the bay. You can effectively catch these fish on your typical lures for them. Spoons, blade baits, and jerkbaits are some of the common lures used. For muskie and northern pike you should start with white spinnerbaits and swimbaits. Everytime I fish this lake I catch a couple of these guys early in the morning while I am fishing aggressively for bass. Try fishing Misery Bay for these toothy guys. Try looking that the beginning of the penninsula for carp and panfish. However, panfish can be found throughout the bay. If you are looking to find an alligator gar you should look in the lagoons and horseshoe bay.
There are ample opportunities to fish from boats and from shore. There are e public boat launchs in Presque Isle State Park. There is the Vista Boat launch which is more for small water crafts and jet skies. Niagara Boat Launch and the Lagoons Boat Launch and handle small to medium sized boats. The largest boat launch is the West Pier Launch. It will handle whatever boat you choose to launch. There is a marina attached to the west pier launch with plenty of slips to accommodate. There is also a boat launch on the city side of the by on Chestnut Street.
Presque Isle State Park offers many more activities that just fishing. There is a paved bicycle trail that can be jogged, biked, or walked on that goes the entire way around the penninsula. At the beginning of the park there is a shop that you can rent bicycles. On Graveyard Point there is a boat rental where you can rent kayaks, canoes, or multiple types of boats. There are plenty of picnic shelters that can be rented or used on a first come first served basis. Scuba diving is permit is certain areas of the bay, but you must be a registered diver and check in with the park before doing so. Water skiing is also permitted as this is an unlimited horsepower body of water. Except for the no wake and lagoons (electric only) area.
My favorite time of year to be at Presque Isle State Park is May. At this time the trees are turning green and the flowers are blooming. Let's not forget that the smallmouth bass are in the bay spawning or getting ready to spawn. The largemouth bass fishing is unbelievable as well.