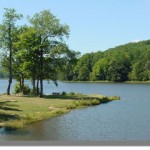 Warren County Pennsylvania is home to some of the nicest trout fisheries on this side of the state. Some of my best trout fishing memories came when I was fish in the Chapman State Park. In the state park is Chapman Lake which is located on the West Branch of Tionesta Creek. There are also several native trout streams that connect to these bodies of water in the area. The 805 acre Chapman State Park is between state game lands 29 and the Allegheny Nation Forest. This state park is very peaceful, has abundant wildlife, and is simply a joy to visit.
Let's talk about Chapman Lake. It is a 68 acre lake that the West Branch of Tionesta flow into and out. The water tends to be stained in the majority of the lake, but near the entrance of the creek the water can be very clear depending on the recent rainfall. The structure within the lake includes the main creek channel, laydowns along the bank, and weedbeds. You can also find some cattails along the shoreline. You are allowed boats on the lake, but they are restricted to electric motor or row boats. The target species of fish in the lake are Brook & Brown Trout. Chapman Lake gets stocked with these fish every year and has enough depth to keep the previous years stock alive. Fisherman may also catch largemouth bass, bluegill, sunfish, yellow perch and suckers. The lake is also stocked with trout in the winter months for the ice fisherman. See the DCNR rules for the seasons and creel limits.

If you are looking to catch fish other than bluegill and trout then this is not the body of water for you. You might get lucky and catch a bass or perch, but this is mainly a trout lake. If you are on a boat your best tactic is to troll with your electric motor. Roster tails, joe flyies, spoons, tread minnows, and streamer flyies seem to work best. When fishing from shore it seems like livebait or powerbait works best for trout. The lakes best colors of powerbait are pink and purple. Nightcrawlers, magots, milworms, waxworms, and minnows are popular livebait options. Fly fisherman can have great success during the month of my when the mayflyies are hatching. Minnow streamers are also good options.
Fishing the West Branch of Tionesta Creek can be difficult because the creek isn't very large. However, it is well stocked with trout during the spring months. There are several nice holes that will hold groups of fish. Pay close attention to the laydowns and undercut banks. These seems to be the best places to get fish. I have 2 main lures that I take with me. First, I like to throw joe flyies with a small split shot about it for casting accuracy. The other one is a silver or gold niti. Both can be very effective when the fishing is good. Other times I prefer to fish with milworms on a split shot rig. Powerbait and livebait are also good options. If you are a skilled fly fisherman you will be able to fish this stream. If not I would leave the fly rod at home.
Chapman State Park has it's own campground as well. There are 82 campsites and 3 cottages available to rent for the night or for the week. Also, they offer rustic group camping that is great for youth groups. The campground has modern bathhouse facilities that include sinks, showers, and tiolets. To reserve a campsite visit the DCNR website.
There are many other activities you can take part in while at Chapman State Park. There are 12.2 miles of hiking trails. Although most of them do not permit bicycles there are certain roads and paths that you can use them on. On Chapman Lake there is a swim at your own risk beach. During the hunting season Chapman State Park has over 400 acres of huntable land. You just have to follow the PA Game Commission season and regulations. In the winter months you will find people ice skating, snowmobiling, and taking part in the sled riding on the acre sloped hill. This is a great park for the entire family. For more information about the park please visit the DCNR website.