Tested Size(s): 3/8oz and 4 1/2″ length without the lures bill.
Tested Colors/Patterns: SX Shad and Ultra Slick
MSRP: $5.00
.
First Impression: This jerkbait has more of a wide wobble action than any I have ever seen. The thin tall body creates the action and show a different profile than other baits.
FishPittsburgh Scorecard – Norman Lure Company - Razor Minnow
Durability
The body, paint, bill, and o-rings on the razor minnow are top notch. However, the hooks on this lure should be changed when you purchase the lure. They tend to bend very easily.
Fish Appeal
We have found that walleye, largemouth bass and striped bass aggressively and consistently hit the razor minnow.
Special Traits
The tall thin body that creates the wide wobble action of a crankbait has this jerkbait in a class of its own.
Price
The Norman Lures Razor Minnow is reasonably price and leaves you money to replace the hooks.
Diversity
Razor Mnnows can truly only be working in two ways. First, you can slowly retrieve the lure using a cast and reel or cast in pull method. Second, these lures are very effective when trolled.
Overall
The Razor Minnow is one of the best trolling jerkbaits that I have seen. With the price of jerkbaits and lures on the rise the Razor Minnow is still a bargin as well.
| | |
| --- | --- |
| Pros | Cons |
| Unique Wobbling Action | Will Not Slash Like Most Jerkbaits |
| Excellent For Trolling | Hooks Straighten Easily |
| Good Profile Size | Not Easy to Find Locally |
| Unique Color Patterns | |
| | |
RECOMMENDATIONS: Here are a few recommendations that you should consider before throwing these lures that will make you more successful. The first thing to do is change the hooks out. I am not sure what hooks came standard on these lures, but I would switch them to short shank VMC or Mustad hooks. Adding red hooks seemed to make a slight difference as well. This lure seemed to work best while you had a constant retrieve. Trolling seemed to be the most successful, but making long casts and retrieving with a sweeping motion and only using the reel to bring up the slack also worked. Another thing to consider is matching the forage of the lake which you are fishing. Color does matter! This bait has a perfect profile for most baitfish in our local lakes. You will not be disappointed.
You can find more information about getting the Norman Razor Minnow.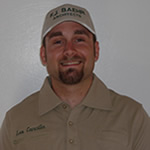 ABOUT THE CRITIC : You must know that I am very critical of my lures.  I only have about 3 lures that I use that would receive a perfect 50 and I personally modify those lures once I have them.  I consider any lure over 8 great and any lure over 6 good.  Anything less than 6 and you probably won't see it in my tackle box.
.
.