In my last post I stated that we would discuss the difference between injection and hand pour molds for making soft plastic lures. First, you need to know the basics about molds. Molds can be bought or made out of multiple materials. The highest end molds are made from aluminum. These molds have great detail and last the longest with little wear. You can also purchase molds made from resins and copolymers. Some guys make molds from wood and plaster of paris or POP molds. All molds can have the same amount of detail, however, if you want a mold to last stick with aluminum.
Let's talk about injection molds a little bit. When it comes to injecting soft plastic the most important thing to remember is safety, safety, and safety. Start by wearing a respirator, protective glasses, and gloves. Injectors are very good, but all parts on them can come loose, or you can over shoot plastic. The plastic you are injecting is between 300 and 340 degrees. Injection molds will have multiple wing nut and bolt combinations or call for multiple clamps. Do not try to use the molds without all the bolts or clamps secured. Injection molds can come from as few as single cavity and can have as many chambers as the injector can hold plastic. Typically there will not be more than 20 cavities. My recommendation is to find a mold that has at least 2 cavities. It will be worth the extra money in the long run. After experimenting with molds I have found myself buying the highest cavity quanties that I can find.
Injection lures is not something that will come easily. You have to learn the ins and outs of using them and it is best to learn by trial and error. You will get frustrated but once you master the system you will be producing perfect baits at a much faster pace.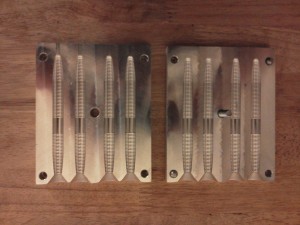 Hand pour molds come in many forms. They can be made from wood, plaster of paris, resin, aluminum and just about any other material. The molds can be 2 pieces or they can be 1 piece that is open to one side. Open face molds will always have a flat edge to them. Open face molds are good molds to learn from because they often take less skill and you can tell if you have made a mistake as you are pouring the lure. Two piece hand pours are typically made from aluminum and most of the time you will be able to use an injector in them once you mastered using the injector. Do NOT try to learn how to use an injector on a hand pour mold. Stick worm and beaver molds are very good hand pour molds that are 2 pieces. The 2 piece molds require you to pour the hot liquid plastic into a small hole in the top of each chamber. This takes a steady hand and some patients, but you will master these molds in a hurry.
There are many websites that you can use to buy molds that are premade. I recommend visiting them before you start. Often times the guys on those websites are willing to help you along and can really help you get started. Some of the companies will even send you samples of the lures so you can make sure that you like the lure the mold produces. Those companies charge for the samples, but it is worth the little bit of money to make sure you are getting the right mold for you.
In my next post I will discuss how to pour stick baits and what makes a stick bait sink and how you can change the fall rate when rigged weightless.