Mounting Type: Transum Mount
MSRP: Starting at $215 which includes shipping, pole, and 5″ offset aluminum transum mount with screws. See Dig-In website for pricing options by clicking our links.
.
First Impression: The mount seemed to be well constructed and very strong. The 8′ fiberglass pole has a decent amount of flex, and seemed to be very strong. The transum mount appeared to be beneficial in that the rod will not be in the way of the anglers on the boat. It should also allow us to anchor in slightly deeper water that the bow mount.
FishPittsburgh Scorecard – Dig-In Shallow Water Anchor
Durability
I have put the mount and pole through a series of strength tests which include strong river current, putting the pole down while the boat is moving 5 mph, and using the pole as a push pole and the result is that they both hold up incredible well.
Mounting
This category depends on the type of boat in which you are mounting too. The transum of my carolina skiff is completely flat and gave me plenty of mounting surface. Just make sure the mount is straight and screw it into the transum and you are done.
Availibility
Currently, the only way for guys in our area to get one of these products online. Click on our affiliate link and it will take you to Dig-In's website. You will soon find this product in Bass Pro Shops as well.
Diversity
Not only does this mount hold you in position, but it is a stealthy way to move around in shallow water. No matter the water type the transum mount system is usable in the depth of water the fiberglass pole permits.
Overall
Dig-In Shallow Water Anchors have produced a product that is a must for any level of angler. This product will help you catch more fish throughout the course of the year.
| | |
| --- | --- |
| Pros | Cons |
| Extremely quiet. | Not sold locally. |
| Works in all bodies of water. | Doesn't mount to all transums depending on the transum shape. |
| Mounts easily. | |
| Very durable. | |
| Availibe in multiple sizes and colors. | |
| | |
OPTIONS: Here are a few options that are availible with the transum mount. First, it is availible in black and chrome models, to better match the color scheme of your boat. Second, it is availible with a 5″ or 10″ offest on the bracket. What this does is allows the pole to reach a distance further away from the transum. The main reason for this is that some boats have a transum that cuts back and you need the extra 5″ to clear the boat. The last option is the length of the fiberglass pole. These poles are availilble in either a 8′, 10′, or 12′ length. Know the depth you will be fishing most of the time will enhance your decision making. See the Dig IN Shallow Water Anchors website for pricing details on the varying options.
RECOMMENDATIONS: Here are a few recommendations that you should consider before purchasing a Dig-In Shallow Water Anchor system. First, knowing the style of fishing that you prefer to use makes a difference. If you are fishing less than 6 feet of water at specific spots then keeping the boat still makes a difference in your success rate. Some guys will argue that keeping their boat in place with a trolling motor is the same. In some instances when the fish are feeding heavily they may be correct. However, if the fish are spawning, over pressured, or short striking then any extra noise or motion can hinder your ability to catch fish. This anchoring system has helped me catch many fish over the last year. Whatever pole length you purchase you should figure that you will be able to hold in water 1 feet shallower than the pole. For example, I have an 8 foot pole and I am able to hold in water up to 7 feet deep. If you remember the bow mount would only allow you to anchor in 6 feet of water or less. Because the mount is on the transum you can get it close to the water. You just have to make sure that it is not too low so that the mount is in the water when you are operating the outboard motor. Now depending on your boat boats transum design the depth may vary or the mount may not work. This system works best in mud or gravel bottoms. Although, I have been able to get my boat to stay in place in the rapids on the Allegheny River by wedging the pole into the rocks. The pole was no worse for wear. In closing every fisherman should consider getting rid of there old anchor and rope and purchasing this great product. I am extremely confident my transum mount anchor has helped me catch fish and will continue to help me catch fish.
You can find more information about the Dig IN Shallow Water Anchors visit their website by clicking on any of their icons or links on the fish pittsburgh website. Coming soon to Fish Pittsburgh is an entire page dedicated to this anchoring system. It will have installation videos, product reviews, and the system in action.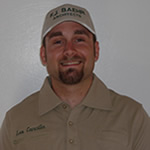 ABOUT THE CRITIC : You must know that I am very critical of my lures and fishing products. I only have about 3 lures that I use that would receive a perfect 50 and I personally modify those lures once I have them. Accessories have to prove to me that they are worth keeping on the boat taking up valuable storage space. I consider any lure over 8 great and any lure over 6 good. Anything less than 6 and you probably won't see it in my tackle box. Acessories are a little different because if I only value them for certain bodies of water or conditions they may or may not be in the boat no matter what the rating.
.
.