News
–       Weather & Water: Although the temps have dipped slightly and there were a few more thundershowers recently, it wasn't enough rain to help surface water conditions.  Water levels are critically low and too warm – from the smallest streams to the Allegheny.  Lakes are near record high water temps.  The best bets for fishing may be smaller lakes that are fed by springs or canopy-covered tributaries so their water temps are a few degrees cooler.
–       My fishing forecast for coming week: (1) I plan to fish frog lures on LakeLeBoeufand Edinboro, especially to test out the new River2Sea Diver Frog and Tuscaroran Rude Frog. (2) I plan a night fishing trip for smallmouth later this week. (3) I still hope to get to Pymatuning or Shenango for crappie trolling with some new crappie baits.  (4) And I want to gather hellgrammites to fish for smallmouth in French Creek and Allegheny River.
–       Prize Patrol: For August, the weekly giveaway lure packet will be a Booyah Jig and bag of Craw Papi trailers.  And Gamma will also award a spool of line drawn from among the photos sent in and used in the Report.  Lure packet winner this week for Report contribution is Edward Lawrence of Corry.  Gamma Line winner this week for Photo contribution is Hunter Cascio of Greenville.
French Creek

(Erie, Crawford and Venango Counties)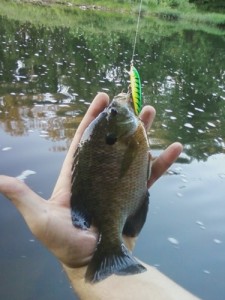 Dustin Shay (Meadville): Dustin and his fishing buddies have been on both French Creek and Cussewago this past week.  "Both waterways are unbelievably low and warm; fishing success has been mixed.  We caught a number of northern pike between 25 and 35 inches on Yum Money Minnow and jointed Sebile Swimmer.  The crayfish are pretty much done molting, so smallmouth are hitting topwater and live creek minnows again.  We got into big bluegills on French Creek – caught some on a small Rapala Husky Jerk.  We've struck out on walleye.  But had several muskies explode on a Top Raider musky plug on Cussewago.  We watched one big musky chase down and swallow a 20-inch plus sucker."
Crawford County Waters
Pymatuning Lake
Chris Hall (Espyville Outdoors): "A limit of walleye was reported by an angler trolling around Harris and Clark Islands in 4 feet of water using Hot-N-Tots and worm harnesses.  The crappie bite has been good underneath the PA bridge on the Andover causeway; crappies running 12" to 14", plus smaller ones.  Catfish activity has been good all over the lake; Magic Bait Dough and Van-Do Strawberry have been hot sales leaders at the shop."
Dave Richter (Richter's General Store): "All fishing action except catfish has slowed with the summer heat.  However, even with the slow down, the walleye and crappie fishing is better than it has been in recent summers.  A few dedicated anglers are getting 16 to 17-inch walleye.  Anglers are still hauling in nice crappies on deepwater brush and stumps in 12 to 18 feet of water.  Bass anglers are catching largemouth on buzzbaits in the evening around weedbeds.  Several C&R musky in the 30 to 40-inch range reported."
Ken Smith (Sharon): "I fished Pymatuning on Friday, finding a school of crappies in 13 feet or water; they were big crappies, going 12 inches and longer.  I fished a slip bobber with a new lure I have been field-testing: Joe's Jigs' Shark; it is available online at Crappie.com.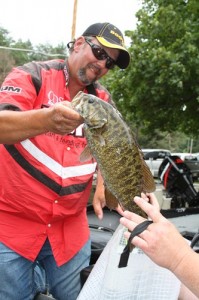 Conneaut Lake
Steve Hughes (Clarion) and partner Lon Wilson (Meadville) won the United Way Charity Tournament on Conneaut Lake on July 29 with a limit of 8 bass going 21.43 pounds – three pounds ahead of the second place team.  Their catch included two smallmouth over 4 pounds.  They caught fish on a variety of lures, but most bass came on drop-shotting the outside weedline with Yum Houdini Worms.
Derek Severns (Pittsburgh) reports Mingo Creek Anglers had a tournament at Conneaut over the weekend.  Dan Mincin won with 5 bass going 8.8 pounds.  Mike Jones had lunker with a 2.68 pound largemouth.
Bryan Stuyvesant (Meadville) has been catching 2 to 3 pound largemouth and smallmouth bass by jerking Yum Houdini Shads and by drop-shotting Yum Houdini Worms.
Chub Hornstein (Meadville) has fished ConneautLakeseveral times in the last couple weeks.  He enjoys battling 20 to 35 largemouths mostly in the 1- to 2-pounds range on each trip.  "I like to fish for numbers and let the big fish come when they do.  My secret is a Zoom French Fry on a Brewer Slider Head fished on the weedline."
Chuck Papinchak (Cochranton) phoned in a report from Conneaut this morning.  "I've caught five largemouth, including one 3.5 pounds – all taken on a Rebel Pop R."
Tamarack Lake
John Ensworth (John's Bait) reports that over a dozen of his customers this past weekend were buying minnows to fish crappies at Tamarack; they say the bite is still good.
Ken Anderson (Tionesta): "I fished for bass at Tamarack from 7 AMto noonone day last week.  Slight breeze and overcast skies early, then glass surface and sun from mid morning.  I caught 6 largemouth bass.  I got two fish on a Jewel Eakins Jig with Powerbait Chigger Craw trailer on deep wood.  The other 4 fish – including a 16.5-incher – came on a Z-Man Chatter Bait.  The big fish was in the pads, but all other on shoreline wood.  Only one other boat on the lake."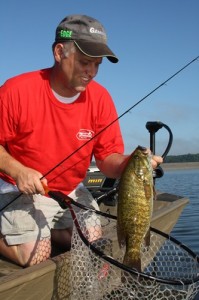 Woodcock Lake
Darl Black (Cochranton): "The recent issue of the PA Angler carried my article about my long history of fishing Woodcock Lake, noting I had not fished the lake in several years.  Dale Black and I decided to try it on Saturday because the Allegheny Riverwas so low and smallmouth running oh so small.  Dale had never been on the lake.  Both of us were pleasantly surprised to catch smallmouth at every spot that I directed us to – including one over 4 pounds.  Our bass came on Get Bit Tubes and Yum Dingers.  I broke off one fish that was likely a musky.  Lots of musky fishermen trolling, but didn't talk to anyone who caught a fish."
Edward Lawrence (Corry) reports catching several small walleye at the Woodcock Spillway this past Wednesday.
Erie County Waters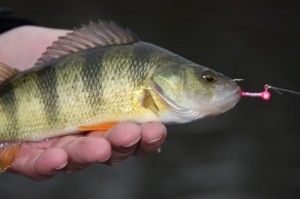 Lake Erie
Mike Tome (B.A.C. Bait): "I'm still finding bigger perch in shallower water than out deep.  I'm fishing 39-40 feet for the last couple weeks.  Most boats are out in 50-60 feet – probably because there are more fish and can quickly limit out; but bigger perch are inside that range.  Walleye fishing off the Condos on the west side of thePeninsularemains strong."
Jeff Staaf (Poor Richards): "Perch are in 55' north out of Walnut.  Walleye are in 65' to 68' both east and west of Walnut.  Crawler harnesses with purple, copper or watermelon blades are taking most walleye."
John Fuhrmann (Visiting from Arizona): "Erie Dearie success continues to provide fun.  A black Dearie with stinger hook and four-inch crawler was the ticket.  My buddy and I fished Wednesday from9 AM to4 PM in 20' to 25' depth, drifting with the NW 10 knot winds and sunny sky.  The first cast brought a walleye.  My partner and I kept six 'eye from 3 to 5 pounds.  We returned more than thirty walleye in the 13 to 16 inch range.  Those young fish left no doubt the next couple year's walleye fishing will be excellent.  We also boated largemouth, smallmouth, bluegill, rock bass, drum and a 3 lb. golden sucker – a first for me.  All onErie Dearies.
Mercer County Waters
Lake Wilhelm
Vicki (Fergies Bait) reports not many anglers fishing; she had one good report of several nice walleye in 12' to 14' of water on worm harnesses.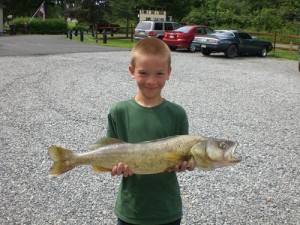 Laurie Frantz (R&L Bait): "Three generations of Cascios from Greenville went fishing at Wilhelm for walleye this week and had great luck drifting worm rigs.  Gary, Chris and Hunter all caught some fish.  But Hunter caught the largest.  It was 28 inches long and weighed 6 pounds 4 ounces.  This was the first time they had all gone fishing together.  Hunter, the youngest, usually outfishes everyone, and he did it again this week.  It warms my heat to see a grandfather, father and son all enjoying themselves so much.  These are memories Hunter will carry the rest of his life!"
Shenango Lake & River
Laurie Frantz (R&L Bait): "Several customers are fishing for catfish at the Shenango Reservoir and ShenangoRiver.  The hotter the weather, the better cats seem to bite.  At customer request, I special ordered catfish bait called Wicked Sticky, which I am told is the cat's meow.  Catch & release musky fishermen are having some luck at both Shenango and Pymatuning, but nothing of trophy size.  Grandma Lures is again manufacturing a jointed 7" lures, which I will carry in the shop.
Stoneboro Lake (i.e. Sandy Lake)
Chuck Papinchak (Cochranton) fished Stoneboro this past week, catching a 30" pike on a blue back Bomber crankbait and 7 largemouths by drop-shotting a Yum Dinger.
Neshannock Creek
Bob Shuey (Neshannock Creek Outfitters) says it is way too hot for remaining trout in freestone streams.  Some smallmouths are being taken early and late in the day.
Venango County Waters
Allegheny River
Eric Heil (Franklin): "A co-worker and I fished the Allegheny on Friday evening for three hours after work.  We focused on areas south of Franklin.  We fished primarily soft jerkbaits including the Zoom Super Fluke.  Action was spotty but we managed to land about 10 smallmouths and saw several chasers.  The up river wind made casting difficult.  Water temp remains in the 80s and the water is very clear.  The more active smallmouths were in moving water, and color of our baits didn't seem to matter.  I was using a 7' MH action Kistler Helium spinning rod with 8 pound braided line with a 10-pound Gamma Edge leader."
Edward Lawrence (Corry): "We caught a small flathead at Kennerdell bridge on Saturday night using a sunfish as bait.  We had lots of snags and lost lots of jigs."
Fishing Tip of the Week
Mike Horrobin, CLTackle: "Late summer is a great time to take kids out for bluegills, panfish or catfish.  Kids don't seem to mind the summer heat as much as us older folks – as long as there is a fish or two to pull on the line.  However, don't forget the bug dope as youngsters' skin seems to attract mosquitoes like candy.
"It may not be the best time for big fish, but if you start the kids off with a live worm, or a basic artificial like Mike's Ants, Black Gnat Fly or small curly tail jig – each sweetened with maggots – kids will catch something.  Don't start the little ones out with spinning gear because their fingers are not long enough to control the line.  Instead, go with a push-button reel, but not the cheap 'toy' category outfit; get a decent rod & reel combo.  Expect tangles, know how to take the cone off the reel and bring some extra line to spool on if necessary.
"Remember the objective is for the kids to have a good time and learn something about the outdoors.  If they get bored and want to skip stones or chase frogs – let them, it's only natural.  The most important thing to accomplish is to instill in them a love for and respect of the outdoor life."
Shop Talk
Chris Hall (Espyville Outdoors): "Archery season is approaching.  Espyville Outdoors is able to "special order" items such as complete bows or crossbows, arrows, broadheads, tree stands, etc.  Anyone mentioning this Fishing Report will save 10% off their entire archery order!"
Outdoor Calendar of Events
Monthly          Fly-Tying Class – Free, Walk In                814-590-1366
Farrell's Hook, Line & Stitch (At the Bank Mall),Meadville
2nd Tuesday of each month;6 PM to 7:30 PM
Aug 27           Walt's Tavern Bass Benefit Tournament; $100.00/team
Information contact: Dan Mincin at 724-986-6557
Sept 18         Allegheny RiverBass Team Tournament #1
$100 per team; for info contact Eric Heil lt.heil@yahoo.com
Oct 16            Allegheny RiverBass Team Tournament #2
$100 per team; for info contact Eric Heil lt.heil@yahoo.com
Nov 5              PA Steelhead Expo atRainbowGardens,Erie,PA
Details to come
Information contributed by:
–       Chris' Tackle Box, Jamestown, PA
–       Maurer's Trading Post, Franklin, PA
–       Oil Creek Outfitters, Titusville, PA
–       John's Bait & Tackle, Meadville, PA
–       Van Tassel's Timberland Bait, Canadohta Lake, PA
–       Fergie's Bait & Tackle, Sandy Lake, PA
–       R & L Bait & Tackle, Greenville, PA
–       B.A.C. Bait & Tackle, Erie, PA
–       Poor Richards Bait & Tackle, Fairview, PA
–       Presque Isle Angler, Erie, PA
–       Neshannock Creek Fly Shop, Volant, PA
–       Erie Sports Store, Erie, PA
–       CLTackle.com
–       Espyville Outdoors, Espyville, PA
–       Farrell's Hook, Line & Stitch, Meadville, PA
–       Consumer Direct Sports, Grove City, PA
–       Jigger Wholesale Tackle, Franklin, PA
–       Area anglers
Sponsored by: PA Great Lakes Region
& GAMMA Fishing Line (now owned by Black Knight Industries of Oil City)
–       Crawford County Convention &Visitors Bureau at www.visitcrawford.org
–       VisitErie at www.visiterie.com
–       VisitMercerCountyPA at www.visitmercercountypa.com
–       Oil Region Alliance at www.oilregion.org
 Note: The information in the NW PA Weekly Fishing Report is based on the observations and opinions of individuals at the reporting tackle shops and expert area anglers.  Although the information is reliable, it is not independently verified.
If you have fishing information or a picture of your catch from one of the waters in the following counties, please contact Darl Black at darlblack@windstream.net
In providing a picture, you are agreeing to it being posted on the Fishing Report.
Keep Up with More NW PA Fishing at http://darlblack.blogspot.com