News
– The upper Shenango River from Pymatuning Dam Outflow to Greenville is now clear of blockages and may be paddled by canoe or kayak – thanks to the Shenango River Watchers and both the Jamestown and Greenville Lions.  See "ShenangoRiver" section for more details.
Crawford County Waters
Pymatuning Lake
Chris Hall (Espyville Outdoors): "The water temperature continues to drop!  That is a good thing!  The crappie bite has slowed a little by the causeway, but anglers are still pulling out good fish.  Anything 'white' seems to be effective.  Walleye catches have started to pick up slightly. StockerIslandand off Snodgrass ramp have produced decent-size 'eye this past week.  Green blade worm harnesses and Hot-N-Tots were most productive.  Largemouth bass were hitting small shad-colored crankbaits around lily pads."
Dave Richter (Richter's General Store): "The few anglers who are chasing crappies are still catching some nice ones – just as they have all summer.  These are 12- to 14-inch fish, being taken in deepwater; nothing shallow yet, although the water temp is dropping.  Some keeper walleyes were reported this week – just not a lot of guys fishing.  That will change as the water cools.  I had reports of smallmouth bass caught on shallow-running square-bill crankbaits."
Ken Smith (Sharon): "I fished Pymatuning twice last week.  The water temp was 72 degrees, and the bite was good.  I caught crappie, bluegills and perch on jigs tipped with maggots in 13 feet of water over brush.  MicroSpoon's new Triple-Tail Grubs accounted for almost all of my catch.  I spooled up the Gamma PloyFlex line won in a Fishing Report drawing; it is a very good line.  No pictures because it was raining both days – anyways, I left my camera at home!"
Conneaut Lake
Al Moore (Cochranton): "I went to ConneautLakeon Sunday morning for a few hours.  In three hours, I caught seven bass flippin' the weedbeds and docks.  I used a Berkley Chigger Craw.  I pulled up on one particular weedbeds, pitched in and caught a 21-3/4" smallmouth!  What a fight!!  I also caught two northern pike and bowfin on the Chigger Craw."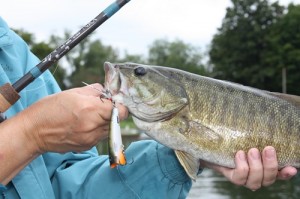 Marilyn Black (Cochranton): "Darl and I fished Conneaut for just over three hours on Saturday morning, September 9.  We were looking for big smallmouth.  Using a variety of different topwater plugs on an extremely calm and overcast morning, we had some nice brown bass blow up on our surface lures.  But most strikes were more tail slaps than trying to grab it; hook-ups were few and far between, with only one decent smallmouth landed.  On one occasion, a pack of 3-pound smallmouth made a beeline from a weedline for Darl's prop bait, but all veered off before striking it.  Another time a huge smallmouth came up and rolled over his bait.  Darl blamed it on five days of steady, unchanging low barometer that have smallmouth in a strange mood."
Chuck Papinchak (Cochranton): "On Saturday, September 9, I caught 15 northern pike with the biggest one 26.5 inches, along with four small largemouth bass; almost all fish came on drop-shot worms.  I was back out on Sunday with my buddy Robbie.  We caught 8 largemouth and several small pike.  Again, drop-shotting caught most fish, except for Robbie's 16" bass which fell for a Strike King crankbait."
Chad Templin (Meadville): "My fishing buddy and I fished Conneaut this week.  Water temperature was in the 70s.  Each of us caught about a half dozen small bass and half dozen small pike.  Most of the fish came on Strike King KVD Spinnerbaits and locally-made BS Jigs fished along the weed edges."
Erie County Waters
Presque Isle Bay
Al Napocopoulos (B.A.C. BaitErie): "Some of my regular customers are catching nice perch off the North Pier, and one of them got a 12 pound catfish.  They are also getting a few crappies inMarinaBay.  There are scattered reports of largemouth bass in the Bay – but no reports of steelhead in PIB.  Perch are still out deep, but I expect to see more perch in PIB by the end of September."
Lake Erie
Mike Tome (B.A.C. Bait Fairview): "I wish there was a better report for steelhead, but there isn't any water in the tributaries to get the fish moving.  A few trout are being caught at the mouths of the tributaries, mainly by casting spoons into the surf.  We have the most popular colors plus some custom colors for the Little Cleo, Kastmaster and KO Wobbler.
Jeff Staaf (Poor Richards): "Perch are still going strong in 50 to 62 feet of water.  That bite should continue into the fall until it simply gets too rough to get out to the perch.  The big school of walleye that was down east off the point appears to be moving west.  Anglers were catching them good in 75 feet of water just north ofWalnut Creek.  There are a few steelhead being caught by walleye trollers out deep, and there are a few steelhead being caught at stream mouths.  Last year at this time, there were some trout in the streams but this summer was warmer and it's taking longer to cool down.  Overall, it's not worth a trip toEriefor steelhead yet.  We need water temperature in the streams to drop into the mid 60s before we see a run – and of course we need water in the streams, which we do not have right now."
Chad Templin (Meadville): "I fishedEriefor perch with Don Ishimaru this week.  We had our limit in two hours.  Live minnows from B.A.C. Bait did the trick.  Minnows were fished on standard perch rig.  We actually caught some fish on a bare hook with fly-wing attractor!"
Lake Erie tributaries
Bait shops report a few steelheads beginning to stage at mouths of stream, and anglers picking some up casting into the surf.  But tributaries are without water flow and no significant rain is in the forecast.
Mercer County Waters
Lake Wilhelm
Bob Mohra (Fergies Bait Shop) reports that with the cooling of water a bit, largemouth bass have started to hit again.  He had anglers say they caught good largemouth on a white Moss Boss as well as purple plastic worms – size and brand not mentioned.  Bluegills are hitting Sam's Ant tipped with a waxworm.  "The bigger crappies are being taken down near the dam on minnows.  Crappies are suspended five feet below the surface."
Al Moore (Cochranton): "I went to Wilhelm on Labor Day Monday for three hours.  I caught nine bass, including two in the 18- to 20-inch range…and broke off a big fish.  All fish were taken on a black Berkley Chigger Craw."
Laurie Frantz (R&L Bait): "My daughter was fishing at Wilhelm this week from the causeway.  She caught 50 bluegills with 25 of them being keepers.  But the big surprise: she caught most of them on a Heddon Sonar jigged along the bottom!  She also caught a catfish and couple bass by casting a Storm Hot-N-Tot – again from shore of the main lake causeway."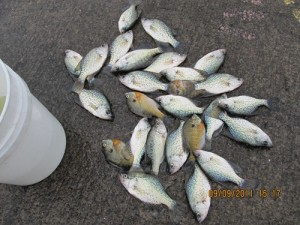 Shenango Lake
Ken Smith (Sharon): "ShenangoLakeis cooling down quickly.  It went from 78 to 71 degrees this week.  The crappies haven't moved shallow yet, but I expect that to happen in the next week when temperatures drop into the 60s.  I found a bunch of crappies on deeper brush; they hit just about any jig I threw at them."
Shenango River
Hugh Clark (Shenango River Watchers) on theShenangoRiverproject that removed obstructions from the river: "The purpose of the project is to return the upperShenangoRiverto the community and region as a recreational amenity, suitable for safe and accessible paddle craft use.  We plan to incorporate the stretch into the PF&BC's Water Trail system, thereby projecting the river's profile on a state platform.
"PaddleFest 2011 will be on Saturday, October 1," continues Hugh.  "We'll shuttle paddlers fromRiversideParkinGreenvilleback to their boats at the put-in site just below Pymatuning Dam.  Drop your canoe or kayak at the dam outflow, drive toGreenvilleand leave your car at theRiversidePark.  We will drive you back to your boat for the float.  The free shuttle will operate between8:30 AMuntil about10:00 AM.  At the end of the float (about 3 hours), we will serve a free hot dog lunch inRiversidePark."
Venango County Waters
Allegheny River
Dale Black (OilCity): "On Sunday, September 11, just before the big storm arrived, I got out on the river at OilCityto fish for less than 30 minutes.  I was fishing the mud line of Oil Creek merging with the river water.  Before the storm, the smallmouth bass were biting like crazy.  I was using a shad-colored Houdini Shad soft jerkbait.  On my first cast, I had a big bass throw the bait.  I landed two bass in the 15-inch range, and missed four other fish – then the lightening arrived and I left."
Rob Genter (Tidioute): "I fished a club tournament out of OilCityon Sunday, September 11.  The mud from Saturday's rain up river had not reached OilCityarea until afternoon.   I caught 15 to 20 bass in the morning on a Chug Bug and Fluke; my boat partner had another 11 bass.  I won the tournament with five bass for 13.63 pounds, which included three smallmouth over three pounds."
Darl Black (Cochranton): "With high expectations on Friday, September 9, Dustin Shay and I set out with some jumbo riffle runners which Dustin had caught to target big smallmouth.  A fall onto the rocks at theFranklinramp almost ended the day for me.  Even though sore, stiff and bleeding a bit, we pushed on figuring things would get better.  Not really.  I hit a big rock with my jet going through Belmar riffle – first bump ever in that riffle.  And the hoped for bite on live bait did not materialize.  Lots of short strikes simply killed our riffle runners.  Few fish hooked, and none in the lunker class."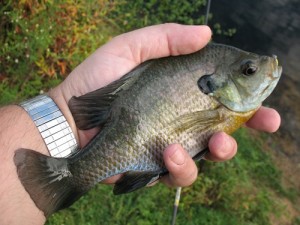 Kahle Lake
Steve Fleckenstein (Clarion): "Haven't had much to report this summer as I spent most days after work at home in air conditioning!  However, I'm getting out again, and I started catching some decent bluegills at Beaver Creek Ponds (near KahleLake).  I've been using 1-inch split-tails, hair jigs and some home-made ice jigs tipped with live maggots or Gulp!.  I'm waiting for the water to cool some more; then I hopefully will get into some perch."
French Creek (Erie, Crawford andVenangoCounties)
Lou Letterle (Franklin): "I had a great fishing trip on French Creek on Thursday, September 8.  I was initially going to the river, but with heavily overcast skies and the threat of rain, I didn't feel like launching the boat for what may have ended up as a short trip.  I decided to wade-fish French Creek.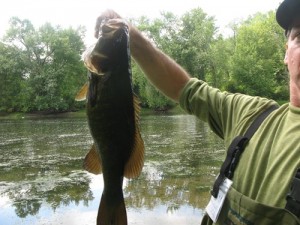 "I ended up fishing near Utica," continues Lou.  "I had consistent action with smallmouth using topwater baits – primarily a Rapala Floating Minnow and a Heddon Torpedo.  Aroundnoon the skies cleared and the topwater bite ended.  I switched to a Senko rigged on a jighead, and ended up catching a 20-inch smallmouth (measured without squeezing the tail).  I tried to take some 'one-arm' photos since I was alone.  But to get the fish in the picture, I had to hold the fish behind me – making it look smaller.  Tally for the day was 19 smallmouths – a very nice 'early fall' day on French Creek!"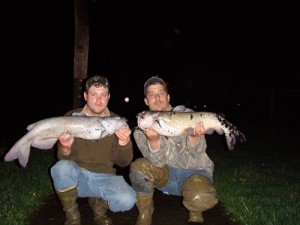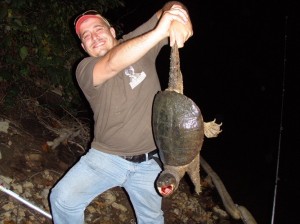 Dustin Shay (Meadville) had a darn good week on French Creek.  Early in the week during his quest for a big flathead catfish, both he and his buddy Russ Chaney caught a couple nice channel cats (14 and 16 pounds) using 9- to 14-inch hog suckers as bait.  They also caught a mess of smaller eating-size cats on fresh dead baits at night – along with a snapping turtle.  (See Photo #7, #8)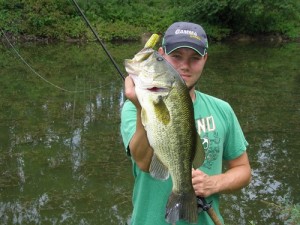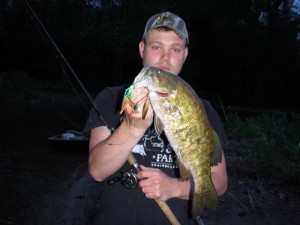 Dustin continues: "On September 10, using a SPRO Frog, I caught seven largemouth bass from weed mats on oxbow ponds off French Creek.  Two of those bass were in the 3.5 to 4 pound range, and the biggest one was a thick five-pounder.  That was my best day ever for largemouth on the Creek.  On the Creek proper, I caught a couple smallies; both fish came on a 3/8-ounce Terminator T-1 Spinnerbait in a new perch pattern."  (See Photo #9, #10)
Gamma Salutes
This week the spool of Gamma Line goes to Dustin Shay.  Having submitted numerous photos of fish from French Creek., four of them were used in the Report.  Gamma Line may be purchased in Northwest Pennsylvaniaat CDS, Espyville Outdoors, John's Bait, or Poor Richards.
Rapala Lure Pack Winner
Al Moore of Cochranton was the name drawn from contributors this week for the Rapala Lure Pack.  Watch for it in the mail.
Fishing Tip of the Week
Mike Horrobin (CLTackle.com): "Well, we needed the rain this week to fill the creeks and cool things off.  Surprisingly, given all the water that came down, it didn't fill the mountain streams that much.  I love to fish the fall season for trout.  By summer's end, trout have gotten pretty fussy having seen all the offerings by now.  Before the real bite gets started, right now is great time to try out a few new things that will hit the market in the spring.  I've seen some new fly tying materials and tools from J:son of Sweden; they are in the WOW category.  Fish Skulls has a new head for sculpin imitations that should tie up real nice for this bait imitation when fishing smallmouth on French Creek andAllegheny River.  These items should be in shortly.
Dock Talk
This fall at Jigger Wholesale on Georgetown Road, Mike Horrobin will conduct free fly-tying and tackle-making classes.  Call Mike at 814-437-6987 or cltackle@hotmail.com for details.
Outdoor Calendar of Events
Sept 18         Allegheny RiverBass Team Tournament #1
$100 per team; for info contact Eric Heil lt.heil@yahoo.com
Oct 1               River Watcher Float on Shenango; Pymi Outflow toGreenville
Info: Hugh Clark greengrass@windstream.net
Oct 1&2          Antlers and Anglers Showcase, CrawfordCountyFairgrounds
For information, contact Joan Kocan at jkocan@agoc.com
Oct 16            Allegheny RiverBass Team Tournament #2
$100 per team; for info contact Eric Heil lt.heil@yahoo.com
Nov 5              PA Steelhead Expo atRainbowGardens,Erie,PA
1 PM to 9 PM; contact steve@steelheadexpo.com for info
Information contributed by:
–       Chris' Tackle Box, Jamestown, PA
–       Maurer's Trading Post, Franklin, PA
–       Oil Creek Outfitters, Titusville, PA
–       John's Bait & Tackle, Meadville, PA
–       Van Tassel's Timberland Bait, Canadohta Lake, PA
–       Fergie's Bait & Tackle, Sandy Lake, PA
–       R & L Bait & Tackle, Greenville, PA
–       B.A.C. Bait & Tackle, Erie, PA
–       Poor Richards Bait & Tackle, Fairview, PA
–       Presque Isle Angler, Erie, PA
–       Neshannock Creek Fly Shop, Volant, PA
–       Erie Sports Store, Erie, PA
–       CLTackle.com
–       Espyville Outdoors, Espyville, PA
–       Farrell's Hook, Line & Stitch, Meadville, PA
–       Consumer Direct Sports, Grove City, PA
–       Jigger Wholesale Tackle, Franklin, PA
–       Area anglers
Sponsored by: PA Great Lakes Region
& GAMMA Fishing Line (now owned by Black Knight Industries of Oil City)
–       Crawford County Convention &Visitors Bureau at www.visitcrawford.org
–       VisitErie at www.visiterie.com
–       VisitMercerCountyPA at www.visitmercercountypa.com
–       Oil Region Alliance at www.oilregion.org
 Note: The information in the NW PA Weekly Fishing Report is based on the observations and opinions of individuals at the reporting tackle shops and expert area anglers.  Although the information is reliable, it is not independently verified.
If you have fishing information or a picture of your catch from one of the waters in the following counties, please contact Darl Black at darlblack@windstream.net
In providing a picture, you are agreeing to it being posted on the Fishing Report.
Keep Up with More NW PA Fishing at http://darlblack.blogspot.com