Posts Tagged Carolina Rig
This is a great method that I started using about 5 years ago when I was in Tennessee with Jon. We could get bit on Douglas Lake and we came to a rock point that was loaded with fish. Once we went to light weights it was on. Between the 2 of us we caught 60-100 fish per day using this rig off of that one spot. I have had success on the Lake Erie, and during the spawn at multiple lakes with this technique. Boyd Duckett really show you how he uses a Revo baitcasting reel, crankbait rod, light line and berkley chigger craw to catch a lot of fish with a finesse carolina rig.
Some friends, my dad and I spent the weekend camping and fishing at Shenago Lake. The campground was not crowded at all. Which was due to the forecast of rough weather that was going to hit that area. With the recent rains the water had risen, but not an excessive amount. My estimate was that the water was nearly 1 foot high when we arrived, and rose another foot while we where there. The water clearity varied greatly. On the main lake there was 4 feet of clearity, but in the feeder creeks you were lucky to see 6″ in the muddy water.
Friday evening we started fishing around 8:00 pm and fished until 9:30. We wanted to see if the striper were active, and if we could get a topwater bite. The night was pretty successful with the 3 of us catching over 10 bass. Most of which were on top water. None of the fish were big, but topwater is fun no matter what the size of the fish is. Tony, one of my best friends, even managed to hook up with a nice walleye on a spinnerbait.
Saturday Dad and I headed out on the water and fished from 7-12 in the morning. It was probably the single best morning I have ever had at Shenago. We managed to boat 26 bass and a catfish. We caught fish on buzzbaits, spooks, multiple crankbaits, tubes, beavers, and brush hogs. Colors were wide ranged, but the ones that seemed to work best were transparent/natural colors. The depth of water we caught fish varied greatly. We caught them flipping the shallows, topwater shallow, and deep and shallow cranking. It seemed like the fish were all over the board, but when you found 1 you found multiple fish. We headed in for lunch and ended up sitting out a pretty severe storm until 3. At that point we wanted to get on the water. The three of us started fishing again. I tied a crankbait on and never put it down for the next 2 hours. I caught 2 pike, catfish, multiple bass, and a couple crappie. Then the next severe storm came through so we called it a day.
We woke up Sunday to bad weather and high winds. That being said we thought it best not to head out on the water. For the amount of time we were able to fish we were pretty successful, which makes me anxious to get back out there.
Product Type: Crawfish – Soft Plastic
Tested Size(s): 3" and 4"
Tested Colors/Patterns: Black/Blue, Green Pumpkin, Green Pumpkin Party
MSRP: $3.49

First Impression: This craw has good profile with large claws.  The Chigger Craw has the scent Berkley is known for.
FishPittsburgh Scorecard – Berkley Chigger Craw
Durability
Multiple fish can be caught on the same chigger craw, but watch those warm summer days because the claws seem to tear easier then.
Fish Appeal
The advantage to this craw bait is that it can be used on multiple methods: jig trailer, texas rig, Carolina rig, shaky head, and drop shot. The fish love this lure.
Special Traits
Unlike some craws the Berkley Chigger Craw has a ton of scent. Not just any scent, it is the Berkley Powerbait Scent that seems to drive fish crazy.
Price
The count size to the price is very reasonable. Add in the fact that you will more than likely catch multiple fish on each lure and it is a definite buy.
Diversity
I have caught fish on these lures on just about every body of water, every structure type, and every technique that I have tried with them. This lure is a winner.
Overall
Great overall Bait. See My Recommendations below
Mike Iaconelli shows you how he uses the Berkley Chigger Craw as jig trailer…Watch
| | |
| --- | --- |
| Pros | Cons |
| Berkley Scent | Claws Tear Easily |
| Size Availability | |
| Color Selection | |
| Used in Multiple Techniques | |
| Good Action | |
RECOMMENDATIONS: The first this I recommend is buying some of these great lures.  Go with the colors that you are most confident in.  You will find that these lures really work well in multiple situations.  Personally, I have two methods that I really like.  First, I love texas rigging these lures and flipping them into tight cover.  No matter what stage of the spawn the bass are in and the time of year, I always managed to catch a couple pegging a ¼oz. bullet weight with a 3/0 hook and a size 4 chigger craw.  I will recommend varying the size of your hook for different cover.  My other favorite technique to use with the chigger craw is using it as a jig trailer.  I have caught more bass on bass jigs with chigger craws as trailers that I have with regular jig trailers.  They add bulk to the jig and don't forget about the powerbait scent that is in them.  Other techniques to try with the chigger craws include:  using them on a shaky head jig, drop shot, and Carolina rig.  The 3" version is especially good for the shaky head jig and drop shot method.  Although the 4" bait is a little small and sinks it can still be effective on a Carolina rig.  Don't be afraid to try some of the different colors that Berkley makes.  Go to www.berkley-fishing.com to find more tips and see which professional fishermen endorse this product.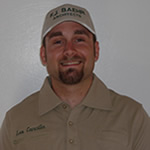 ABOUT THE CRITIC : You must know that I am very critical of my lures.  I only have about 3 lures that I use that would receive a perfect 50 and I personally modify those lures once I have them.  I consider any lure over 40 great and any lure over 30 good.  Anything less than 30 and you probably won't see it in my tackle box.
.
.