Posts Tagged rattletraps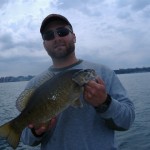 Saturday my dad, Dave, and myself went up to Presque Isle Bay because we heard that the smallmouth bass had started to move into the bay. For anyone who hasn't been to the bay in the spring you have to make the trip. We started by fishing for largemouth straight across from the launch. It didn't take long and Dave caught one on a tube and I hooked up with a swimbait. I was determined to use the swimbait because I knew the chatterbait would catch a bunch of fish. I managed to catch 3 largemouth on the swimbait through the day. that isn't impressive, but it is a little confidence builder to keep trying them. throughout the day we caught smallmouth on jerkbaits, tubes, and drop shot worms. We spent most of the day fishing for them. I believe we caught over 20 between the 3 of us and we caught over 25 largemouth. We caught largemouth on brush hogs, swimbaits, chatterbaits, tubes, beavers, and jerkbaits. The water temperature was 58 – 60 degrees. The fish were not spawning, and the males were not making beds yet. I believe in 2 weeks there will be an explosion of fish getting on the beds.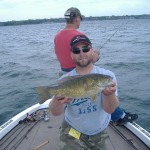 Sunday even though there were bad weather predictions I decided to head to Pymatuning Lake to fish a club tournament. The club I belong to (West Penn Bass Hunters) was launching from Jamestown Marina. With strong winds predicted to come out of the South we were protected from the wind to some degree. I pulled up to my first tree and caught a nice 2.5lb fish. I started throwing rattletraps to my next tree and caught a nice 15 inch largemouth out of a small weed bed. I started work the tree and nothing. I decided to just keeper moving down the shore throwing the rattletrap because I have had some success for smallmouth bass there. It didn't take long and I had caught 5 more keepers, and lost 2 on the rattletrap. Even though they were keepers I released them all because I feel that stressing 12-14″ bass is unnecessary at that lake. You aren't going to win with one of them in the well anyways. Jumping spot to spot landed me catching another nice 2.86lb largemouth on a chatterbait. My gut told me to run north, but with building wind and aready high waves I decided to stay in the south. I caught some fish flipping, but decided to try a variety of different tatics with no success. During the last hour I decided to run around the lake and flip every tree I could find. It turned out to be the right move. I culled five bass in the last hour. I won the tournament with 3 fish that weighed 7.45lbs. I also won lunker with the 2.86lb fish. Not a very impressive day, but it was fun none the less.