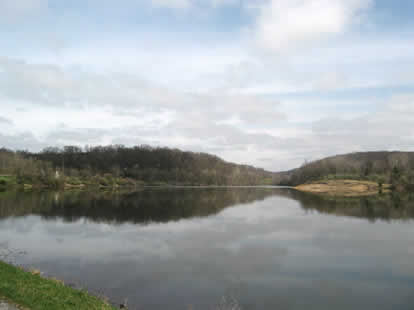 All through my childhood I can remember trout fishing early in the year at Hereford Manor.  Fishing from the shore line or from a boat you can be very successful.  If you are going to boat at Hereford Manor Lake you can only use an electrical motor or row boat.  At normal pool there is about 45 acres of water surface.  The lake is well stocked with rainbow trout and may be the best kept secret for trout fishing besides the opening day of the season.  Opening day can be very good as well, but it tends to get crowded.  Although, it is not considered a primary fish in the lake, the crappie population is very high and very nicely sized.
Lures:
 For trout I prefer using a threaded minnow, but I have seen anglers do very well on flies.   There is a decent amount of fishing pressure, so powerbait, salmon eggs and other live baits, such as red worms, maggots, mealworms, and wax worms, are somewhat over used.  Still under the right conditions this baits can be very effective.  For example, after a hard rain you will have good luck using a red worm or wax worm on a split shot rig (put one small bb sized split shot up your line about 6 inches from the hook) as the rain will wash worms and grubs off the bank, into the water.  If you can find any area where water is running off the bank you will do especially well. You may also want to consider using a small spinner or a niti and move around covering water.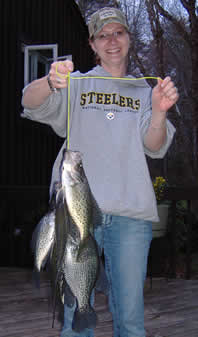 For crappie I would once again recommend minnow rigged on a jig head under a slip bobber.  Or you can try tipping a roadrunner with a minnow.  As far as artificial lures I would go with small spinners or small rapala. There is very little fishing pressure for species other than trout so your favorite lures will more than likely work for you.  Just remember that crappie will be in schools and that if you get one there are more in the area.  Crappie are also a fish that will normally hold tight to cover, wood or rocks, or weed beds.  So a good place to start when you're looking for spring crappie is close to a patch of weeds or a tree that has fallen into the water. 
Location:

  
Hereford Manor Lake is located west of Zelienople off of route 588.  For driving directions to Hereford Manor please visit our Local Fisheries tab on the home page.