News
–          Not news to the anglers who have been out, but we are in the late summer slump.  However, there is a noticeable drop in water temperatures by several degrees this past week.  As temperatures slide downward, fishing success for many species will climb over the next couple months.
–          For something a little different this coming weekend, stop by Franklin's River Front Park between 11 AM and 4 PM for the Rock-N-River Festival – youth activities, live music, barbeque, and of course the PA Stone-skipping Championship.  This is the site where the Word Record Stone Skip was accomplished by Russ Byers ofFranklin; Russ will be there competing.
Mercer County Waters
Lake Wilhelm
Fergies Bait Shop report is the same as the past several weeks – anglers catching mostly small panfish.  Ernie Pate (Butler) called in to report low-catch rate of bass this summer on Wilhelm – a lake so popular with the bass-fishing crowd in previous years; he asks what the problem might be with the largemouth at Wilhelm.
Shenango Lake
Darl Black (Cochranton): "Marilyn and I headed to Shenango on Saturday afternoon to fish for crappies.  Over the years I've had decent success in the late summer on this reservoir.  But this time my usual spots didn't pay off.  We fished several hours without a bite, before finally catching a few black crappies on stumps in 8 to 10 feet of water near the old river channel.  We also stumbled into a couple chunky smallmouth bass that were interested in our 1/16-ounce crappie jigs.  Lots of pleasure boat traffic, but few fishermen.  Better fishing will be coming this fall."
Shenango River
In case you have not heard, the Shenango River Watchers are currently funding an effort to remove the many downed trees blocking the Shenango between Jamestown and Greenville.  When the work is completed, it will be possible to canoe or kayak this section of the river.  Fishermen with paddle craft should look forward to being able to float this section next spring.  There are some hotspot holes on this section for crappie and walleye in the late spring, but you have not been able to get a canoe or kayak down this part of the river for years.
Venango County Waters
Allegheny River
Mike Horrobin (CLTackle.com and Jigger Wholesale): "This was a goofy week of thunderstorms and heat with some decent in-between moments.  Catfish are still being caught in the River.  Smallmouth are hitting in both the River and French Creek.  Most of the decent fishing seems to be in the morning and evening with topwater baits."
When the bass bite gets this tough on the River, Rob Genter and Darren Potts say it's time to collect live bait.  Riffle runners and sand pike are the minnows to have for bass and walleye right now.  Both species are caught from riffles with a #14 hook and maggot as bait.
Justus Lake
Bill Logan (Pleasantville): "On Monday I caught four smallmouth on tubes in the Allegheny and on Tuesday I had four bass hooked onJustusLakebut landed only one.  There were two idiots running around on a gas-powered outboard on this electric-motor-only lake."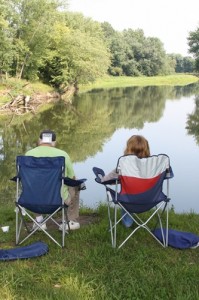 French Creek (Erie, Crawford andVenangoCounties)
John Ensworth (John's Bait): "Most of the fishing action seemed centered on French Creek this past week.  One of my customers caught a 23" flathead catfish from the Creek.  He said his fist fit entirely in the mouth of the fish."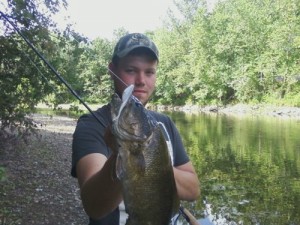 Dustin Shay (Meadville): "Fishing was difficult for me this week due to both hands being injured last Monday.  I tried to fish mid-week and the first smallmouth that hit almost ripped my new Fenwick Rod from my sore hands.  The swelling is down and dexterity is improving but still painful.  Hope to be back at it next week.  My buddy Russ Chancey ofMeadville caught a nice channel cat from French Creek but we are still looking for our first flathead."
Crawford County Waters
Pymatuning Lake
Chris Hall (Espyville Outdoors): "Crappies are still biting around the causeway, with anglers catching decent numbers of 9" to 12" fish.  White curly tails on jigheads and Leland's Crappie Magnets are the hot items for crappie.  We sold out of Crappie Magnets over the weekend, but will have more before this next weekend.  Two anglers stopped in Sunday afternoon to report catching 7 keeper walleye off Snodgrass on Saturday night.  They were using nickel and green colored worm harnesses.  The largest 'eye was 21 inches."
Al Moore (Cochranton): "I fished Pymatuning yesterday, Saturday the 20th.  The flippin' bite is still strong.  I had 4 bass for 12 pounds in just an evening of fishing.  Fish came on a black & blue Jigger Craw."
Ernie Pate (Butler) reports the bass fishing on Pymatuning has been excellent this summer.  One day last week, he caught 23 bass of which 17 were smallmouth.  Several of the bass were over three pounds.  No word on how he caught them.
Dave Richter (Richter's General Store): "The crappie bite is still fairly good for the few anglers still pursuing them.  Lots of catfish being reported, with most taken while anglers are trolling worm harnesses for walleye.  I fished one evening this past week, catching four legal walleye in two hours.  Jim Bresman of Greenville caught a 48.5 inch musky this past week."
Conneaut Lake
Chris Hall (Espyville Outdoors): "The northern pike have been really active onConneautLake.  No reports on sizes; most fish are reportedly caught on golden shiners along the weed edges.  Bluegills are being taken from 20 to 25 feet of water on the bottom; redworms or piece of nightcrawler works best."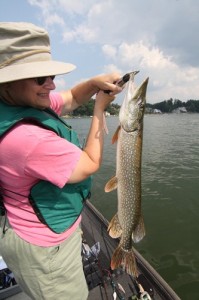 Marilyn Black (Cochranton): "Darl and I fished Conneaut on Friday afternoon, August 19, attempting to catch some decent largemouth bass for photos on Lunker City's Ribster Drop-Shot Worm.  Best he could do was 8 or 9 under 12 inches.  On the other hand, while fishing for big bluegills using leeches, I caught two northern pike – one at 22 inches and one at 30 inches – plus jumbo 'gills.  Bryan Stuyvesant came out to the lake about5 PM.  He caught a number of smallish largemouth on a jig, and then nailed a 4-pound smallmouth on a shaky worm from the very rock pile that Darl and I fished about an hour before."
William Logsdon (Pittsburgh) fished Conneaut on Saturday the 20th.  "The bite was slow.  We caught one nice pike and some small largemouth bass."
Chuck Papinchak (Cochranton): "My buddy Robbie and I went to Conneaut on Saturday morning about5:30 AM.  We caught 5 bass on surface poppers before the fog cleared.  When the fog lifted, Robbie got a 3.5 pound largemouth on a drop-shot worm, and I got a 30 inch pike on a drop-shop."
Canadohta Lake
Jerry VanTassel (Timberland Bait): "We had our annual kids Fishing Day this past week; 45 kids caught 158 fish in 3 hours from our bait shop lake.  A big snapping turtle caused the most excitement.  Sort of a late summer slump on Canadohta – seem to only be catching a few panfish.  This coming week of Crawford County Fair means few anglers on the water.  Fall musky bite should pick up in October."  Bill Logan caught a 34-inch musky on a Lindy Musky Spinnerbait on Wednesday.
Conneaut Marsh
Mike Horrobin (CLTackle.com): "Several customers ventured into the Conneaut Marsh aroundGenevato fish for bowfin.  Live shiners are the best bait, although several anglers were using minnow-type lures.  Although not a glamour fish, bowfins put up a good fight and are a lot of fun to catch.
Erie County Waters
Presque Isle Bay
Al Nacopoulos (B.A.C. Bait) says fishing over the weekend was extremely slow due to the unsettled weather and high winds.  "During the week, anglers were catching a perch and a few crappies from the North Pier.  On the East Pier they have been getting bluegills and crappies.  Also a bass caught here and there but not much more to report recently.  Water temperatures are beginning to drop, so fishing success should turn around in the near future."
Lake Erie
Jeff Staaf (Poor Richards): "Anglers are still hauling in the perch in good numbers and respectable size; try north of Walnut Creekin 52 to 58 feet of water.  The walleye are out deeper.  Over by the Ohioline, 'eyes are in 72 to 80 feet, and off the Point on the East Sidethe fish are in 80 to 100 feet.  Most anglers are fishing worm harnesses with watermelon or purple blades to catch their fish.  But a few fishermen are still scoring with Renosky or Reef Runner stickbaits.
"Fishermen are getting a few steelhead out with the deep walleye; the trout should be heading in sometime in September.  This past spring we saw more jacks than usual, so we are hoping for a strong fall run."
Ken Smith (Sharon): "I went up to the Big Water with my friends Adam and Quentin.  We caught our three man limit of walleyes using Dreamweaver's Spoon-Harness combos.  Adam had the biggest 'eye – a 31" 10.7 pound hog." (See photo #7)
Steve Hughes (Clarion): "Gus Glasco and I fished Erieon Sunday, August 20.  We launched out of Lampe.  There were lots of fish from 24 feet clear out to 45 feet.  But the best depth seemed to be the humps in 26 feet that rose up to 20 or 18 feet.  We caught over 40 nice smallmouths on tubes and drop-shotting 3" Yum Wooly Bugs.  Most of the bass were in the 3 pound range.  But we did get several in the 4 to 5 pound range, and one over 6 pounds."
Gamma Salutes
Gamma salutes Ken Smith for sending photos of his Lake Erie walleye trip this past week.  A spool of Gamma line will be mailed to Ken.  Locally, Gamma is available at CDS inGrove City, Espyville Outdoors in Espyville, John's Bait inMeadville and Poor Richards inErie.
Booyah Winner
Ernie Pate's name was drawn as the winner for the Booyah/Yum bait combo.  Good luck Ernie!
Dock Talk
Mike Horrobin (Jigger Tackle): "We received information on a new Rapala Minnow that is an ultra-light configuration, but made heavier to cast better.  That is why I favored the AC Shiner minnow lure – heavier and easier to cast.  I'm anxious to test this new Rapala Minnow. Watch for it in our store."
Outdoor Calendar of Events
Monthly           Fly-Tying Class – Free, Walk In                   814-590-1366
Farrell's Hook, Line & Stitch (At the Bank Mall),Meadville
2nd Tuesday of each month;6 PM to 7:30 PM
Aug 26            Rock-N-River Festival from 11 AM to4 PM
FranklinRiverfrontPark
Aug 27            Walt's Tavern Bass Benefit Tournament; $100.00/team
Information contact: Dan Mincin at 724-986-6557
Sept 3             Family Fishing Festival, 9 to 1,PymatuningState Park
Mandatory registration at www.fishandboat.com/fishforfree.htm
Sept 4             Oil Creek Fly Fishing Presentation by Mike Laskowski
Petroleum Centre next to State Park office;4:30 PM to 6 PM
Sept 5             PF&BC Fish For Free Day; more info kedwards@state.pa.us
Fishing license not required but all fishing regs in effect
Sept 18         Allegheny RiverBass Team Tournament #1
$100 per team; for info contact Eric Heil lt.heil@yahoo.com
Oct 1&2          Antlers and Anglers Showcase, CrawfordCountyFairgrounds
For information, contact Joan Kocan at jkocan@agoc.com
Oct 16            Allegheny RiverBass Team Tournament #2
$100 per team; for info contact Eric Heil lt.heil@yahoo.com
Nov 5              PA Steelhead Expo atRainbowGardens,Erie,PA
1 PM to 9 PM; contact steve@steelheadexpo.com for info
Information contributed by:
–          Chris' Tackle Box, Jamestown, PA
–          Maurer's Trading Post, Franklin, PA
–          Oil Creek Outfitters, Titusville, PA
–          John's Bait & Tackle, Meadville, PA
–          Van Tassel's Timberland Bait, Canadohta Lake, PA
–          Fergie's Bait & Tackle, Sandy Lake, PA
–          R & L Bait & Tackle, Greenville, PA
–          B.A.C. Bait & Tackle, Erie, PA
–          Poor Richards Bait & Tackle, Fairview, PA
–          Presque Isle Angler, Erie, PA
–          Neshannock Creek Fly Shop, Volant, PA
–          Erie Sports Store, Erie, PA
–          CLTackle.com
–          Espyville Outdoors, Espyville, PA
–          Farrell's Hook, Line & Stitch, Meadville, PA
–          Consumer Direct Sports, Grove City, PA
–          Jigger Wholesale Tackle, Franklin, PA
–          Area anglers
Sponsored by: PA Great Lakes Region
& GAMMA Fishing Line (now owned by Black Knight Industries of Oil City)
–       Crawford County Convention &Visitors Bureau at www.visitcrawford.org
–       VisitErie at www.visiterie.com
–       VisitMercerCountyPA at www.visitmercercountypa.com
–       Oil Region Alliance at www.oilregion.org
 Note: The information in the NW PA Weekly Fishing Report is based on the observations and opinions of individuals at the reporting tackle shops and expert area anglers.  Although the information is reliable, it is not independently verified.
If you have fishing information or a picture of your catch from one of the waters in the following counties, please contact Darl Black at darlblack@windstream.net
In providing a picture, you are agreeing to it being posted on the Fishing Report.
Keep Up with More NW PA Fishing at http://darlblack.blogspot.com