Posts Tagged Jig Trailer
Tested Size(s): 3/8oz,  1/2 oz, and 3/4 oz
Tested Colors/Patterns: black/blue, natural craw
MSRP: $3.29
.
First Impression: This football head is a little different then others.  It has grooved head that should help it grab the bottom and give you a better feel for what you are fishing.
FishPittsburgh Scorecard – All Terrain Tackle - Football Head Jig
Durability
These jigs holding up pretty well given the areas that you fishing them. Even after banging them off rocks, roadbeds, and wood all day, the hook is still sharp and the head is not too banged up.
Fish Appeal
The largemouth have been eating them up, so what else can you ask for.
Special Traits
The grooved head really does help you feel what you are fishing, especially wood. Those grooves also seem to help the jig stand more upright when it crawls a crossed the bottom
Price
The All Terrain Tackle Football Heads are some of the more affordable on the market.
Diversity
Great diversity, you can put just about any trailer you want on them and change the action, shape, and size of the bait. These jigs are just as affective in 3 feet of water as they are in 30 feet.
Overall
These football heads are some of the better ones on the market. Good hooks, good skirts, the grooved heads, all at a good price. They work great, just casting them out and dragging them back to you.
| | |
| --- | --- |
| Pros | Cons |
| Holds up well | Limited number of colors |
| Brush guard match the bait nicely | Limited sizes |
| Strong hooks | |
| | |
RECOMMENDATIONS: Here are a few recommendations that you should consider before throwing these lures to make you more successful.  Consider what you are going to be fishing with these lures, rocks, stumps, ect. You want to be sure to use a good fluorocarbon line, 15-20 lb test.  Fluorocarbon line has many advantages, it's more abrasive resistant, has lower stretch, and it's virtually invisible under the water.  Another thing to consider is the trailer that you put on your jig.  Twin tail grub, craws, and creatures are all good choices.  As far as color goes, a black and blue jig with a black or black with blue fleck trailer is a classic .
You can find more information about All Terrain Tackle Football Head Jigs.
Product Type: Crawfish – Soft Plastic
Tested Size(s): 3" and 4"
Tested Colors/Patterns: Black/Blue, Green Pumpkin, Green Pumpkin Party
MSRP: $3.49

First Impression: This craw has good profile with large claws.  The Chigger Craw has the scent Berkley is known for.
FishPittsburgh Scorecard – Berkley Chigger Craw
Durability
Multiple fish can be caught on the same chigger craw, but watch those warm summer days because the claws seem to tear easier then.
Fish Appeal
The advantage to this craw bait is that it can be used on multiple methods: jig trailer, texas rig, Carolina rig, shaky head, and drop shot. The fish love this lure.
Special Traits
Unlike some craws the Berkley Chigger Craw has a ton of scent. Not just any scent, it is the Berkley Powerbait Scent that seems to drive fish crazy.
Price
The count size to the price is very reasonable. Add in the fact that you will more than likely catch multiple fish on each lure and it is a definite buy.
Diversity
I have caught fish on these lures on just about every body of water, every structure type, and every technique that I have tried with them. This lure is a winner.
Overall
Great overall Bait. See My Recommendations below
Mike Iaconelli shows you how he uses the Berkley Chigger Craw as jig trailer…Watch
| | |
| --- | --- |
| Pros | Cons |
| Berkley Scent | Claws Tear Easily |
| Size Availability | |
| Color Selection | |
| Used in Multiple Techniques | |
| Good Action | |
RECOMMENDATIONS: The first this I recommend is buying some of these great lures.  Go with the colors that you are most confident in.  You will find that these lures really work well in multiple situations.  Personally, I have two methods that I really like.  First, I love texas rigging these lures and flipping them into tight cover.  No matter what stage of the spawn the bass are in and the time of year, I always managed to catch a couple pegging a ¼oz. bullet weight with a 3/0 hook and a size 4 chigger craw.  I will recommend varying the size of your hook for different cover.  My other favorite technique to use with the chigger craw is using it as a jig trailer.  I have caught more bass on bass jigs with chigger craws as trailers that I have with regular jig trailers.  They add bulk to the jig and don't forget about the powerbait scent that is in them.  Other techniques to try with the chigger craws include:  using them on a shaky head jig, drop shot, and Carolina rig.  The 3" version is especially good for the shaky head jig and drop shot method.  Although the 4" bait is a little small and sinks it can still be effective on a Carolina rig.  Don't be afraid to try some of the different colors that Berkley makes.  Go to www.berkley-fishing.com to find more tips and see which professional fishermen endorse this product.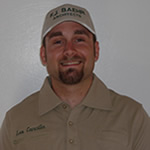 ABOUT THE CRITIC : You must know that I am very critical of my lures.  I only have about 3 lures that I use that would receive a perfect 50 and I personally modify those lures once I have them.  I consider any lure over 40 great and any lure over 30 good.  Anything less than 30 and you probably won't see it in my tackle box.
.
.