Posts Tagged pitching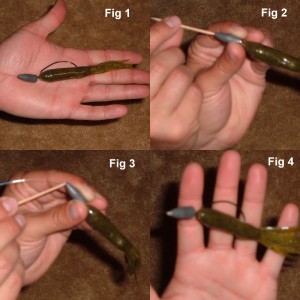 Are you having trouble getting your bait into the bushes without hanging up on branches.  The first improvement you can make is to peg your weight.  When flipping or pitching a texas rig you should always peg your weight.  This will improve your accuracy and will allow the lure to bust through those hard to reach places.  Certain weight companies have their own pegging system, but all you need is a tooth pick and any type of weight.  The following is how I like to peg my weight.  First I slide my weight on the line and tie my wide gap or worm work to the line (Fig 1).  Next, take a tooth pick and push it as far into the weight as you can (Fig 2).  Next, break the tip of the thooth pick off inside the weight (Fig 3) The weight is now pegged in place and you're ready to pitch it into some brush (Fig 4).
Although it was the opening weekend of trout fishing, I decided to head out bass fishing at a couple of my favorite locations.  With great weather on both days we had really high expectations. 
Saturday we decided that Presque Isle Bay would be a great place to go fish for largemouth bass .  The morning bite was the best part of the day.  We caught 13 bass in the first couple of hours, but only 12 more the rest of the day.  All of us were having trouble with short strike, but the only way we could get hit was slow rolling spinnerbaits, crankbaits, and swimming jigs.  The size of the bass which we caught was smaller than expected, but I feel that over half of them were 15 inches or better.  My dad also caught a Northern Pike that was around 36 inches long.  The water temperature varied from 48 degrees to 53 degree  in a couple small pockets.
Sunday Jon and I headed up to fish Pymatuning Lake because each of us have upcoming tournaments there.  The two of us got off to a good start in the morning working the weeds and some small brush on the bank, but our day turned around 11:00.  We stopped catching fish all together for a couple of hours.  Then we shifted to the other end of the lake to test a couple more patterns and really found some nice fish on wood.  It was hard to find wood that was in the right depth of water so that was more of the challenge than catching the fish.  In the afternoon we caught a bunch of 2-3 pound fish.  The water temperature varied from 52-61 degrees and the water clarity varied as well.
Overall it was a great weekend of fishing with guys I love to fish with.  I don't really know what could be better than that.