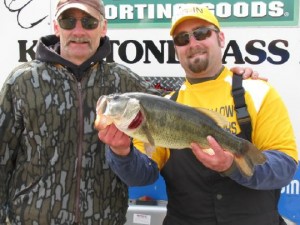 The last couple weeks of long anticipated fishing has been a difficult and trying task. With below freezing air temperatures at night and the fact that the air temperatures rarely reached 45 degrees during the day all the anglers were having trouble finding fish willing to hit. However, in practice I was able to find several fish flipping and working deeper weed patches when I could find green grass. Everyday on the water I was hooking several keepers and everyday I had one around 4 pounds. Most of the fish I could during practice were in part to the use of my Dig IN Shallow Water Anchors. By using the bow and transum mount together the boat would be held perfectly still and would allow me to focus on fishing and working the bait slowly without dealing with the trolling motor. Not to metion the fact that we were no longer spooking the fish with the trolling motor. I highly recommend this product to anybody that plans to fish this time of year.
The first KBBC (Keystone Bass Buddy Circuit) bass tournament was held on Saturday April 2 on Lake Arthur. Coming into the event with a better practice than most guys I felt confident that we were going to do well. My dad and I knew that the afternoon bite was going to be key, and we could not get discouraged if we didn't get a keeper until right before weigh-in. Just like we suspected the morning was extremely tough on us. In fact the entire day was tough on us. We hit all 7 spots that I had caught a keeper in practice, but couldn't get a single bite. At 2:30 we decided to head up into a cove that we have the most confidence in and decided we were going to live and die by it. I started by throwing jerkbaits, anyone who knows me as a fishermen knows I hate throwing them, and that lasted for about 10 minutes. I quickly looked at my dad and said I am either going to catch a big fish or no fish as I picked up a homemade chatterbait. This lure is typically my panic box lure. It always seems to save me. At 3:15 I hooked up and landed our only fish of the day. It was a 5.42 pound largemouth. The fish saved our day and gave us a 10th place finish.
My hat goes off to the KBBC staff and its sponsors for putting on another great tournament. It was run smoothly even though the fish didn't want to co-operate. Good luck to all of the guys at Raystown. See you there.