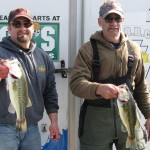 The second Keystone Bass Buddy Event (KBBC) was held this past Saturday on Lake Arthur. Dad and I came in with the points lead because we won the first event. We were just hoping not to give up any ground and get another top 10 finish. The ice had been off for a week and the water was much warmer than I had expected but the fish still were not eating actively.
Friday I had practice from 6:00 until 1:30 and decided that I would do more scanning, temperature reading, and checking water conditions than actually fishing. After searching for a while I decided that I would fish certain area and see if I could get bit on soft plastics so that I could not hook the fish. People are thinking to themselves isn't that the point of fishing to catch the fish. My answer is not the day before the tournament. All I need to know is that they are in the area and I will come back the next day and work the area hard. Needless to say I found a really good area that I was getting a bunch of hits and 2 other areas that I felt I could get 1 or 2 keepers from.
Tournament day we went straight to my good area. We fished that area until 1:30 and never caught a keeper bass. The only fish we were able to catch were a few short bass and 3 large stripers. We made a move and caught 2 keepers in my secondary spot. Had we been smart we probably should have worked the area back and forth trying to get more, but my head got in the way and we went to my other spot to finish out the day and never caught another fish. When we got back to check-in we were shocked to hear that everyone had struggle except for a couple of guys. Our two keepers ended up weighing 4.79lbs and would give us an eighth place finish. That good finish also allowed us to put a little more distance in the team of the year race standings. Now we have a 9 point lead heading into 2 events at our favorite lake to fish. With any amount of luck we will add to our points lead.