After fishing the Keystone Bass Buddy Circuit (KBBC) on and off for 12 years, my dad and I have won our first event. I am not surprised that we have won an event because we have been really close in the past couple years. What I am surprised about is where the tournament took place. For years we have been lucky to catch 1 or 2 keepers at Raystown Lake. This year we were able to catch 12 keepers which allowed us to cull 6 times! That may not be the most shocking part of this story. What most people will be shocked by is that we were only able to catch 2 keepers in practice on back to back casts, in two days of fishing!
All through practice we search spots we new, spots we have hit in the past, and spots that looked like we should have fish. As most fisherman do we made a lot of our decisions based on the water temperature and clarity. What we had found was that the river end of the lake was much warmer while the dam end had better clarity. What did we decide? Let's fish the middle and compromise both factors slightly. The decision really paid off as the water was 46 degrees and we could see about 3′.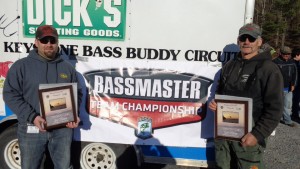 On tournament day we ran to the only spot we caught a keeper in practice and sat there all day. Now we had worked up and down a stretch of water that probably totaled about 1/4 mile but all of our fish came off very specific spots. Each time we hit one of them we would catch another fish. Go back to the same spots and catch another one. It was a classic case of maximize your fishing time and besides we have nothing else to run to.
This win puts us into the KBBC classic and is a great start to the seven event season. I am looking forward to the rest of the year and pushing for our first points title. Good luck to everyone this weekend at Lake Arthur.