Spring has officially arrived! That's right guys, if you haven't made it out on the water yet I suggest you make arrangements and get out there as soon as you can. The pre spawn bass are in an all out feeding frenzy right now. Most of the lakes around western PA are up quite a bit with all of the rain we have been having, pushing tons of bass into the new cover that's available to them on the shore line. The "pre frontal" day before the storm is one of the best days to be on the water, the fish are usually aggressive and it's also the best time to catch a real giant Bass. Any time I have the chance to get out on the water the day before a front I make it an effort to go, even if it's just for a couple hours. Yesterday was one of those nights and I was blessed with the best day of bass fishing I have had so far in 2013.
We started off shallow throwing a chatterbait over the flooded cat-tails and brush, almost instantly I was hooked up. Fish after fish came exploding out of there new found homes in the flooded cover along the bank. This was allot of fun but most of the fish were males in the 2-3 pound range. I don't want to sound like I am complaining about catching fish of this quality cast after cast, but this lake has produced fish near the 7 pound mark every spring and this is what I really wanted to catch. In the words of Paul Elias I was looking for "Nadine". I was pretty dialed in on how to catch numbers but told my dad I would trade all of these for one big one, so we were going to give the shallow fish a break for a little bit and go search for her. I went to a bank that we found some big ones on last year this time of year. This bank has a defined weed line that runs from the bank out to about 3 feet of water and then comes out to a ledge and it drops off to about 10 feet. With the water being up so high the weeds were now in about 6-8 feet of water, what a perfect place for some bigger fish to be staging in. I backed off the bank and started dragging a jig down the slope on my 4th or 5th cast my rod loaded up and when I set the hook the fish didn't move, it felt like I just set the hook on a truck. I have been fortunate to have caught fish of this size in the past and was pretty positive unless it was hung up on some cover I indeed had old Nadine on the end of my line. This was one of the hardest fighting largemouth I had ever hooked when it came up beside the boat for the first time and started thrashing I honestly thought it was close to 8 pounds after one last ditch effort to get to the bottom I got the fish turned and back up where my Dad could get put his hands on it. The Digital scale that I carry in my boat bounced back and forth between 6.50 and 6.56. We snapped some quick pictures and got the fish back in the water.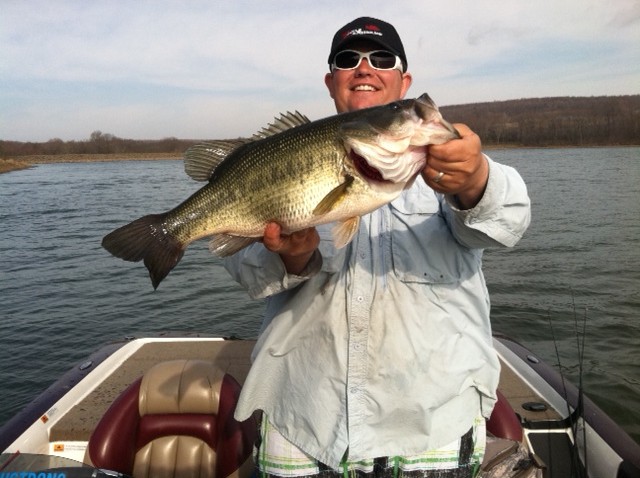 Catching big fish like that makes me shake, it is pretty much the same feeling you get after shooting a big Whitetail with a bow. That's about the only other thing I have ever experienced that makes me have the feeling of catching a 6-7 pound bass. I cant stress enough the importance of having good equipment when you have fish of this size hooked, any weak point in any of your equipment from the hook point to your reel will result in failure. This is why you hear so often about "the big one that got away" I make it a point to be meticulous about my fishing equipment. You might only have the opportunity once or twice a year or once or twice in your life depending on how much you fish so you want to make it count.
The window to catch a giant bass is short so get out there, there is another storm coming across the Midwest right now…..Nadine is waiting