Posts Tagged Smallmouth Bass
The ice came off this weekend, so we got a chance to head out to Lake Arthur.  I was excited to get on the water to play with my new Humminbird Side Imaging fish finder.  This weekend was the first time I got to try it out, so I spent most of my time on the water trolling around playing with some of the features of the new unit.   It's some pretty cool technology but it's definitely is going to take some time to figure out how to use it to its fullest ability. It was nice to be able to see what was down there.  I went to a brush pile, or what I thought was a brush, only to figure out it was really a tree.  It took a few passes around it to get a good clean scan but I was able to get this scan of what appears to be a tree top.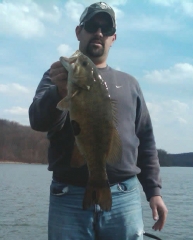 We did do some fishing while we were out too.  The fishing was pretty slow. The surface temp was in the high 40's in the coves and in the low 40's in the main lake.   We were only able to manage two bites.  Both bites we got came on a Luck Craft pointer while it was sitting suspended.  The first bite we got was short lived and shook off after a few turns of the reel.  The second bite of the day turned out to be a nice 4 lb smallmouth. The fishing wasn't great but it was nice to get back out of the water.  I  hope everyone gets to get out and do some fishing soon.
.
.
.
.
.