Archive for category Parker's Fishing Blog
I fished both days this weekend at Lake Arthur.  On Saturday my Dad and I put in at the 528 launch around 10 am and started fishing up in Shannon's bay.   We got a few largemouth on chatterbaits and spinnerbaits as well as had a few musky that were following our lures to the boat.  Next, we ran up to the old 422 finger and fished in the bays across from the launch with no luck.  Then we  ran back to fish some laydowns in muddy creek with nothing to show for it.   We only caught one keeper all day on Saturday so my hopes for doing well in my club tournament on Sunday were not very high.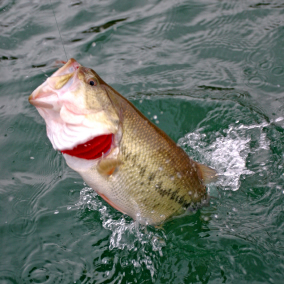 Sunday we put in at bear run at 7 am and I ran straight to Shannon's bay where we had caught a few fish the day before.  On my first cast I had a musky come up to the boat and bite off my chatterbait.   Then I picked up my spinnerbait, made a few more casts and had another musky hooked up that straightened out my trailer hook.   Still not having caught a bass, I grabbed my Red Eye Shad and within a few cast it was gone.  Something ate it off.  I'm guessing a musky.  I was getting a little pissed at this point, so I moved in close to an isolated weed patch and started pitching a beaver.  After about a dozen flips in a little musky or pike flash on it and bit it off.  That was enough of that so I picked up and ran down to old 422.  I made a few cast with my chatterbait and caught a small largemouth.  A few cast later, I hooked what looked to be a really good largemouth that came straight at me shaking her head but it came unbuttoned.  After loosing that fish, I stuck around for awhile but didn't get anything else.  For next few hours I ran around trying all kinds of different spots:  weeds, laydowns, piles, ect.  No fish.  Finally, I ran into muddy creek around one o'clock and started pitching a craw into some shallow brush that I have caught fish off of in the past.   I got hit on my first pitch but missed the fish.  I made a few pitches getting hit each time but missing the fish.  After about 15 pitches, I hooked up with a solid 3.69lb largemouth.  I put her in the boat and made a few more pitches and got a 3.5 lb largemouth.  I finished out the day fishing laydowns and managed to get my 3rd keeper, a 15″ largemouth.  My total weight with a three fish limit was 9.01 lbs.  All my keepers came in about three feet of water off wood on a green pumpkin craw.