This weekend was a mixed bag of fishing for me to say the least. My buddy and I were signed up to fish the Mcfeely Tournament at Lake Arthur on Sunday, which is a great tournament for a worthy cause, put on by the guys at Consumer Direct Sports Supplies every year.  I had been getting a few nice fish out of the weeds just about every trip out there this year, but it had been less consistent as of late.   I  wanted to go practice the day before the tournament to check some spots and try to find some more spots to make sure I was on fish.  I told myself going in I was going to stick one fish in each spot I hit just to make sure they were the quality of fish I was looking for.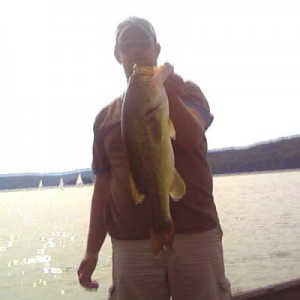 The morning started off better then I could have hoped for.  I punched my black and blue Picasso jig with 65lb braid into the first patch of weeds I came to and bang, a nice 4lb largemouth.  So I left and went to my next stop.  On the first cast, I got a small keeper.  I left that spot and went punching pads in th next area I wanted to fish and got a nice mid 40's musky.  The first of three musky I had hit in Bear Run that day, other two got off.  I did have to give her my jig because I couldn't even see it in her craw and I didn't want to killer her trying to remove it.  I didn't get any bass in the pad so I made a run down the lake to check some other holes I hadn't fished yet this year.  At my next stop I punched into some weeds and pulled up a nice 5lb 13 oz largemouth.  (Sorry for the bad picture all we had was a cell phone to take the picture.) After that I thought I was going to be in great shape going into the tournament the next day.
Well sorry to say my buddy and I never got a keeper during the tournament.  I'm not sure if it was the weather difference that changed everything or what.  Saturday was sunny and nice and Sunday was overcast and cold.  We did catch some fish but never got a good one.  We did, however, have another musky attack but it didn't hook up.  On that note, if anyone is looking for musky, Lake Arthur seems to be really picking up right now.
What can you do?  Sometime you get the bass and sometimes the bass get you.  What else can you say?  I think of it this way, it better to have caught some fish on Saturday and had a good day of fishing then to have never caught them at all.