News
-The bad news this week was all the rain, cold and wind which made fishing almost impossible or at very least, plain miserable.  The good news is we needed the rain to put water in the Allegheny, French Creek andErietributary streams and cold temperatures to cool inland lake waters down into the 50s.
French Creek (Erie, Crawford andVenangoCounties)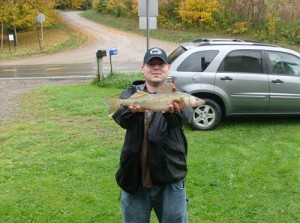 Ed Lawrence (Corry) reports catching a couple walleyes from French Creek on a ¼-ounce curly tail jig on October 11 before the heavy rains started.  His largest one was about 2.5 pounds.  He was only out for ½ an hour before work, but felt certain he could have caught more if he had the time.   Editor's note: Looking at French Creek right now, it will be several days before anglers will be able to enjoy fishing the stream.
Dustin Shay (Meadville): "Before the rains came this week, my brother Boone Shay caught several walleyes on live creek chubs.  I didn't fish the creek this week."
Crawford County Waters
Pymatuning Lake
Chris Hall (Espyville Outdoors): "The fishermen who braved the weather over the weekend actually caught fish!  Jigging blade baits (Heddon Sonars, Vibra-Max and Reef Runner Cicadas) around the bridges on the causeways produced numerous walleyes.  A limit of nice 'eye was reported on Thursday – nothing smaller than 18 inches.  The same angler also was fishing a minnow on a slip bobber at the same spot, catching crappies at the same time."
Hall continues: "The perch fishing has picked up some, with fish in the 9- to 11-inch range taken near Espyville boat launch.  Walleyes were picked up in the area north of Snodgrass and south of Orchard – mostly trolling Bomber Long A and Smithwick minnow baits.  Some success was reported by several anglers fishing from boats between Bridge 20 and the Spillway; they were using black/green Beetle Spins.  Hopefully the weather will get straightened out so everyone can get out and catch some nice fall walleye!"
.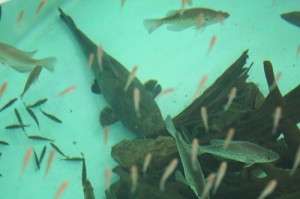 Richter's General Store reports good catches of walleyes on VibE blades on the south end of the lake.  Still catching a few crappies but they seem to be running small right now.  The hottest news is the exceptional perch fishing in the south end of Pymatuning with lots of 12-inch fish.
Conneaut Lake
Steve Hughes (Clarion) fished a few hours on Conneaut during Saturday's high wind and rain.  It was not a pleasant outing, and he could only fish a small area protected from the wind.  When I talked with him by phone in the mid afternoon, he had caught several small largemouth bass by drop-shotting Houdini Worms but no quality fish.
Tamarack Lake
John Ensworth (John's Bait Shop): "Several customers were in on Friday buying lots of minnows for crappie fishing on Tamarack.  They said the fishing is picking up."
Woodcock Creek
Dustin Shay (Meadville): "Russ Chaney and I had a pretty interesting day on Woodcock Creek fishing for hold-over trout.  We caught a number of nice keepers on creek bait we had trapped.  We took small dace minnow, squished them a little bit between our fingers and then floated the injured baitfish through the riffles into dark shadow areas.  Anglers would be surprised how many hold-over trout are in a stream."
Canadohta Lake
Ken Anderson (Tionesta): "On October 10, I fished the north end of Canadohta.  I was entertained by musky fishermen in a boat that were repeatedly having a musky follow their lures to the boat.  Those musky fishermen must have done 1,000 'figure 8s' along the gunnels of the boat trying to get the fish to strike.  You've got to give them an 'A' for effort.  A man at the ramp removing pontoon boats for summer residents mentioned a 53" musky was caught recently.  As for me, I caught three largemouth bass on a Senko from around shore grass and pads."
Erie County Waters
Presque Isle Bay
Al Nacopoulos (B.A.C. BaitErieStore): "The high winds and waves killed any fishing on the Bay or in theLakefor the past several days.  Still blowing up here this morning (October 17); customers can't even fish the North Pier.  Winds are to continue for several days."
Destin DeMarion (Grove City): "I managed to get out on PIB on October 13.  We picked up about a dozen largemouth bass on an assortment of lures – Kopper's Live Target Frogs, Santone Lures Spinnerbaits, Reaction Innovation Sweet Beaver on drop-shot rig, and even on fish on tube.  Nothing really big, mostly two pounders – but one going about 3 pounds.  But when we fished the edge of the North Pier, I managed to drop-shot a pair of smallmouth bass in the 4 to 5-pound range.
Lake Erie
Waves over the weekend were in excess of 14 feet, and rough seas will continue through mid week.
Lake Erie tributaries
Jeff Staaf (Poor Richards): "Streams were blown out Saturday, but are now receding.  Fishing should pick up today (Monday) and hopefully get some good catches in until ½ inch of rain comes in on Tuesday night.  Rain to continue through Thursday – may ruin the weekend fishing.  Fish are being taken on Power Bait, Sucker Spawn flies, skein and egg sacks.  The biggest steelhead we weighed so far was a 14.5 pounder, but there were a good number of 13 pounders too."
Mike Tome (B.A.C. Trout Run Store): "There were lots of fish in the lower sections of the tribs so they should be moving way upstream with this high water.
Walnut should be fishable by this afternoon (Monday) and Elk Creek should be down by Tuesday.  What's been working?  In the dingy water go to bigger baits – black Wooly Bugger, brighter Sucker Spawn, and skein.  When the water drops and clears, go smaller and less bold in color – single eggs, light color Sucker Spawn, minnows.  One of the hottest flies going is only available at our store, created and tied by one of our former employees – the P-Flash minnow imitator.  If the expected rain mid week isn't too heavy and the streams don't get blown out, we might have a great weekend of steelheading, but it's too early to tell."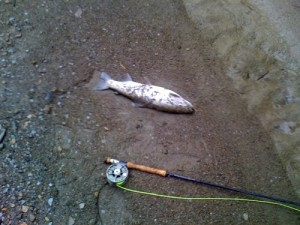 John Hall (Erie) reported that west side creeks were high and stained on Friday night but Twenty Mile was still gin clear at8 PMwith decent number of fish between the lake and Route 5.  Then the serious rains came on Saturday which pushed his fishing trip back to Sunday.  "Elk Creek was fishable on Sunday, October 16 – barely.  Attached is a picture of one hen I landed.  Not real big but a nice fish.  Caught it on upper Elk.  I was fishing solo today so no smiling faces to accompany the catch!"  (See Photo #4)
Ed Lawrence (Corry): "I went to Twenty Mile Creek on Wednesday, October 12.  I hooked a few steelheads but landed only one – it was 7-1/2 pounds and 26 inches in length.  Fish were striking both nightcrawlers and Wooly Buggers."  (See Photo #5)
Ken Anderson (Tionesta): "Last week I checked the Erie East Side tribs, although I did not fish personally.  Orchard Beach Creek (nursery waters) had been stocked with browns.  At Sixteen Mile Creek I watched one angler catch and release a nice steelhead on sucker spawn pattern, and another angler foul hook a small brown on a fly; another angler had 3 trout on a stringer at the mouth of the creek.  At Twelve Mile Creek at the Rt. 5 Bridge, I watched an angler take a medium steelhead on a Wooly Bugger.  An angler had 3 fish on a stringer at the mouth of Four Mile Creek and I observed fish at the base of the fish ladder.  Overall, there were many nice fish in the lower end ofEast Sidetributaries."
Mercer County Waters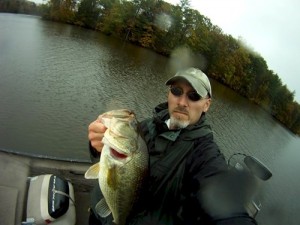 Lake Wilhelm
Scott Kinard (Butler): "I took a short trip to Wilhelm on Sunday for about 4 hours.  Despite the constant rain and windy conditions, I landed 5 largemouths up to 4.5 pounds.  Although not the best day for numbers, I had several other hits but could not get them to commit to a bait.  With the water temperature approaching 55 degrees, a stable weather day could activate the lake for the fall bite.  I caught my fish on crankbaits, soft plastics and All-Terrain Tackle Jigs."
Al Moore (Cochranton): "I've gone to Wilhelm several times in the past week without much success – usually one bass per trip and no size.  In frustration of the week's outcome, I went again on Sunday, October 16.  I headed up the lake into the 'sticks' (electric motor only area).  Arriving at the cover, I immediately got a hit but missed the fish.  I threw back at the log, felt a strike, set the hook and broke off the fish.  I continued fishing the sticks, ending up with five largemouths in the boat.  All were taken on a black-n-red fleck Berkley Chigger Craw.  Nice day despite the rain."
Destin DeMarion (Grove City): "I went to Wilhelm with a buddy on Wednesday, October 12.  We caught a dozen bass on Kopper's Live Target Frogs, Trigger X Flappin' Bugs and Strike King KVD 2.5s"
Shenango Lake
Ken Smith (Sharon): "ShenangoLakecrappies were biting strong this week. On both Tuesday and Wednesday, I could have kept a limit of fish, but only kept 20 for a friend's family fish fry.  I caught most of my fish this week by casting a jig-n-bobber to shoreline blow-downs.  Most crappies were over 9 inches and dominated by blacks.  The ones I kept were white and over 10 inches.  Sorry, no picture this week!"
Ken Anderson (Tionesta): "Last week I fished the east arm ofShenangoLakefor the first time this year.  I caught a 3-pound smallmouth bass, a 3.5-pound largemouth bass and a 25-inch northern pike.  I've got to remember a camera on my fishing adventures!  I observed several crappie fishermen on the lake, and noticed schools of baitfish and apparent crappies on the fish finder but had not brought a crappie outfit – darn."
Neshannock Creek
Bob Shuey (Neshannock Creek Fly Shop): "Last Tuesday, October 4, we had 700 trout stocked behind the shop and several hundred yards downstream from the bridge in town.  Anglers report fishing has been pretty good, so stop by and wet a line!  Our new guide Damon Newpher says the steelhead fishing is as good as it gets right now.  But you had better hurry to book because space is limited.  (Contact the shop's website for more information)  We still have a limited supply of select Orvis, Winston and Sage rods at 15% to 25% off.  Stop in, call the shop or email me while the supply lasts."
Venango County Waters
Allegheny River
Mike Horrobin (Jigger Wholesale & CLTackle.com): "They are getting a few walleyes using live bait, but not much fishing activity over weekend due to weather."
Steve Hughes (Clarion) with the FOPRiverBass Tournament report for Sunday, October 16: "The river came up two feet since Friday when I was last out and turned muddy.  Mark Hughes (Saegertown) and Wade Adams (Tidioute) won the tournament with just over 16 pounds.  All fish were caught on spinnerbaits and chatterbaits.  I started deep and caught a few small ones, then moved over a shallow flat and caught a small limit on a Booyah Boogee Bait."
Darl Black (Cochranton): "On Friday, October 14, I hosted an outdoor writer's event on the Allegheny Riveron behalf of Oil Region Alliance.  It was a windy, wet and tough day of fishing.  River was still low and clear with water temperature of 61 degrees.  Five anglers in three boats fished out of Franklinramp in the morning without catching a smallmouth over 15 inches.  Several small ones were caught by Steve Hughes (Clarion) drop-shotting in a deep pool.  After lunch, we moved up river to the OilCityramp.  Fishing alone, I could only put two smallmouths and one pike in the boat.  Steve Hughes and writer Larry Claypool (East Liverpool, OH) came up a good number of sub-legal smallies by drop-shotting Yum Dingers.  However, late in the day, Dale Black and writer Steve Chaconas (Alexandria, VA) figured out the smallmouth; in short order they both had a limit of fish on shad-colored Yum Houdini Shads – saving the day for a photo shoot undertaken between rain showers!"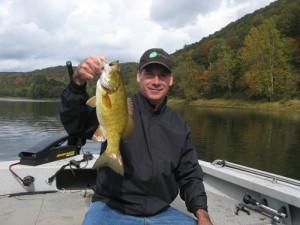 Lou Letterle (Franklin): "Good seeing you on the river on Friday.  Well, I don't know how you guys did, but I had to work for my fish.  During the morning hours, I only managed to land a pike, taken on a 4-inch live creek chub.  Most of my casts, as well as my jet water intake were continuously fouled by weeds and leaves.  The only area that I could find that was relatively free of weeds was in the middle of the river.  So I ended up fishing several mid-river pools and finished the day with 9 or 10 smallmouth – but no walleye.  Some of the bass were caught on a tube jig, but most were caught on live creek chubs."
Venango Trout Streams
Mike Horrobin (Jigger Wholesale): "The streams like Oil Creek with the fall trout stocking are getting some play, although it was slow with the bad weather weekend.  Actually, the bad weather was good for the fly-tying business since guys didn't want to fish in the rain and wind."
Gamma Salutes
The winner of the spool of Gamma Line this week is John Hall of Erie.  Locally, Gamma Line is available at Poor Richards Bait, John's Bait Shop, Espyville Outdoors and Consumer Discount Sports (CDS).
Weekly Drawing
The winner of the Road Runner Lure pack for October 17 is Ed Lawrence of Corry.  Your prize will be shipped direct from TTI-Blakemore.
Outdoor Calendar of Events
Nov 5              PA Steelhead Expo atRainbowGardens,Erie,PA
Go to www.steelheadexpo.com for more information
Nov 5              Steelhead Fishing Contest (in conjunction with Steelhead Expo)
Go to www.steelheadexpo.com for more information
Information contributed by:
–       Chris' Tackle Box, Jamestown, PA
–       Maurer's Trading Post, Franklin, PA
–       Oil Creek Outfitters, Titusville, PA
–       John's Bait & Tackle, Meadville, PA
–       Van Tassel's Timberland Bait, Canadohta Lake, PA
–       Fergie's Bait & Tackle, Sandy Lake, PA
–       R & L Bait & Tackle, Greenville, PA
–       B.A.C. Bait & Tackle, Erie, PA
–       Poor Richards Bait & Tackle, Fairview, PA
–       Presque Isle Angler, Erie, PA
–       Neshannock Creek Fly Shop, Volant, PA
–       Erie Sports Store, Erie, PA
–       CLTackle.com
–       Espyville Outdoors, Espyville, PA
–       Farrell's Hook, Line & Stitch, Meadville, PA
–       Consumer Direct Sports, Grove City, PA
–       Jigger Wholesale Tackle, Franklin, PA
–       Area anglers
 Note: The information in the NW PA Weekly Fishing Report is based on the observations and opinions of individuals at the reporting tackle shops and expert area anglers.  Although the information is reliable, it is not independently verified.
If you have fishing information or a picture of your catch from one of the waters in the following counties, please contact Darl Black at darlblack@windstream.net
In providing a picture, you are agreeing to it being posted on the Fishing Report.
Keep Up with More NW PA Fishing at http://darlblack.blogspot.com