News
Fishing Gets Hotter as Temperatures Get Cooler: Prior to our 3 day heat wave this past weekend, everything seemed on track for a great October.  But that high-pressure, bluebird skies, 80-dgree temps and no rain soured the bite for many anglers that fish only on weekends.  However, the weather is about to change again.  Looks like rain will move into the area about Wednesday along with cooler temperatures – and should last through the weekend.  If Erie shoreline gets the promised rain, the coming weekend could be one of the best of the year for steelhead. Lake Erieperch have moved out deeper, but are still being caught in 80 feet – and they are getting big ones! Lake Eriesmallmouths are moving shallow with some impressive catches made this past week.  Pymatuning is on fire with a walleye bite right now.  With rain, expect French Creek and theAllegheny Riverto fire up for bass and walleye.  Fall trout stocking on streams have Oil Creek and Neshannock back in the groove, and trout fishing should also be great on Justus Lake.
REPORTERS NEEDED:
Anyone may send their angling success stories to the NW PA Weekly Fishing Report – as long as the fishing is done on any lake, river or stream in Erie, Crawford, Mercer or Venango counties.  Photos (attached in jpg file format) are welcome.  We only need a couple sentences with the facts of your catch or your observations – just keep it accurate.  Go ahead and name brand name lures you are using.  Your name may be drawn for a tackle prize.  Send to darlblack@windstream.net.
Venango County Waters
Allegheny River
Mike Horrobin (Jigger Wholesale Tackle): "Over the weekend a lot of people enjoyed the beautiful weather on the river, but fish-catching reports were not stellar.  The best days are yet to come this fall."
Dale Black (OilCity): "Chris Wolfgong and I fished the Allegheny on Saturday for a good part of the day.  We fished fromOilCitynorth almost to Tionesta.  The river has dropped and returned to the super clear status of summer.  Not good for fall fishing.  Water temperature actually went up a couple degrees due to the chain of 80-degree days.  I hit bottom multiple times, but nothing was damaged on the River Pro.  We only boated three smallmouth bass.  It was as tough as I have ever seen it this time of year!  But rain is in the forecast!"
Kahle Lake
No report, but in coming weeks expect a good perch bite and some big largemouth bass to be taken.
Justus Lake
No report, but trout should be shallow along the shoreline, and those mysterious Justus muskies may surprise you.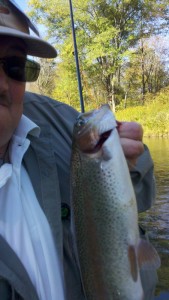 Oil Creek
Dennis Beggs (OilCity): "I caught and released 5 nice rainbow trout from Oil Creek on Thursday, October 6, using my fly rod."
French Creek (Erie, Crawford and Venango Counties)
Dustin Shay (Meadville): "I've been archery hunting for the past two weeks instead of fishing.  From what I hear from friends, French Creek fishermen are only catching smallmouth right now; however, one of my buddy scored a couple walleye on the creek last week with live bait.  The creek is low and clear – great for getting creek bait but not great for catching walleye right now.  A little water and a drop in water temp will turn the walleye on."
Crawford County Waters
Pymatuning Lake
Dave Richter (Richter's General Store): "Anglers had a very good weekend on Pymatuning with lots of crappie and walleye, plus a pick-up on the perch bite.  Lots of guys were fishing live bait for walleye, but the best catches were made with Sonars and other blade baits in 12 to 17-feet of water.  Some fishermen were catching crappies on channel edge stumps, while other anglers were getting them around deep docks.  Lots and lots of perch reported – some decent size.  No musky that I heard about."
Chris Hall (Espyville Outdoors): "Yellow perch were being caught off the causeway on pieces of nightcrawlers fished on the bottom.  There has a slow-down in the crappie catches from the north end of the lake.  I'm told by customers that more walleyes are being caught north of Snodgrass this past week – crankbaits seem to be working."
Norman Renwick (Jamestown Boat Livery): "The walleye bite is going strong.  Heddon Sonars are getting limit after limit of 'eye."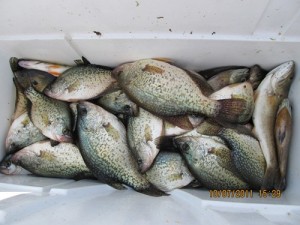 Ken Smith (Sharon): "On Friday, October 7, I fished the Jamestownarea of Pymatuning.  The bite started slow but picked up around 9 AM.  I kept more than 30 crappies, bluegills, yellow perch and one 15" smallmouth.  Most of the crappies were 11 inches, and few were up to 13 inches.  The new Tripletail soft plastic jig body from MicroSpoon took almost all my catch; I fished them on a 1/8-ounce jighead.  The fish really thumped the jig."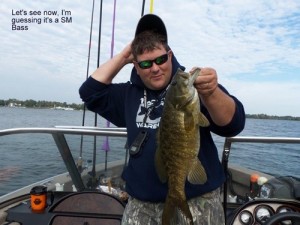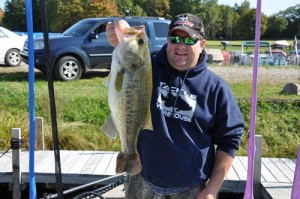 Conneaut Lake
Chad Templin (Meadville): "The fishing at ConneautLakehas been slow for bass the last couple weeks.  The water temperature is still in the mid 60s, which is high for this time of year.  I got a nice 4-pound smallmouth on a BS Popper, and a monster 7-pound largemouth on a BS Jig.  I also managed to catch a rare Conneaut Lake musky.  My fishing buddies and I have caught quite a few nice pike recently, and if someone wanted to target them it wouldn't be hard to catch a daily limit while culling dozens of smaller fish."
Dustin Shay (Meadville): "I fished Conneaut Lake with Darl Black on Saturday morning for a couple hours and all I caught was a bluegill!  Bass seemed to be shut down completely; we fished swimbaits deep, crankbaits on weedlines and topwater over tops of weeds and over gravel bars without a strike.  I did observe an anchored boat with anglers catching crappies."
Conneaut Marsh
Marilyn Black (Cochranton): "Darl and I went toGenevadam on the Conneaut Marsh on Sunday morning for about an hour.  Using small creek minnows trapped over night in a stream, we caught a number of crappies from an eddy right below the dam."
Chuck Papinchak (Cochranton) called in a report Monday morning from the Custad's dam on the Conneaut Marsh.  He and a friend were catching keeper-size crappie on small minnows below the dam.
Woodcock Lake
No report, but as soon as this heat wave ends, look for smallmouth bass and musky to be hitting at Woodcock.  A little later in the fall, anticipate walleye and crappies in deep water.
Canadohta Lake
No report, but with coming cold front, you might want to consider musky fishing at Canadohta.
Erie County Waters
Presque Isle Bay
Al Nacopoulos (B.A.C. Bait): "Anglers are catching perch in 80 feet of water out in theLake– some perch are 14 inches!   Customers report perch and smallmouth bass off the North Pier.  Nice crappies are coming fromMarinaLake.  And finally I have reports of steelhead actually being caught in the Bay instead of just seen jumping; Waterworks area is a good bet."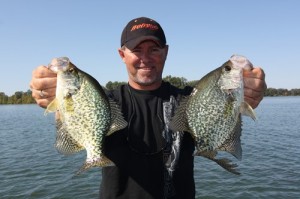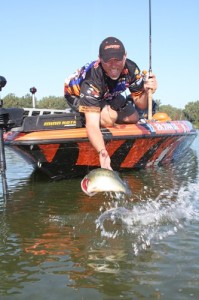 Dave Lefebre: (note to outdoor writers listing hometown – Dave recently moved to Harbor Creek): "Friday, October 7, while working on photos with Darl Black at PIB, we boated 30-some largemouth bass from one small area in deep water.  All fish were taken on either a 5-1/2" paddle tail swimbait on a 3/4-ounce head or a soft plastic finesse minnow on 1/2-ounce Scrounger Head.  The largemouth weren't giants, with the biggest one just under 3 pounds.  It seems early for them to be in these areas.  In shallower water, we also caught a few very nice crappies on chartreuse Jimmy D's Panfish Jigs.  We considered going out to deepwater for perch, but ran out of time."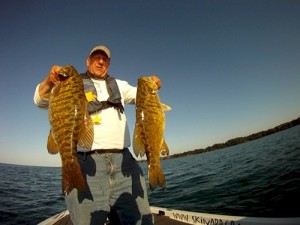 Lake Erie
Scott Kinard (Butler): "Ernie Pate and I took a trip toLake Erieon Saturday, October 8.  We boated 22Eriepig smallmouth all in the 3-3/4 to 5-pound range.  The bite is starting to get very good now with the fall cool down.  Water temp is around 63 degrees and the bite should only get better in the coming weeks as the temperature continues to drop.  Beautiful weather and big water makes for a great day.   Drop-shots, tubes and jerkbaits are working.  Smallmouth bass are working shallower on breaklines.  Everything is focused around baitfish movement this time of year."
Dave Lefebre went perch fishing on Saturday, straight north of thePeninsulain 80 feet of water.  He brought back 15 giant perch, up to almost 16 inches.  At the ramp, a couple anglers told him they had caught and released over a 100 smallmouth on jerkbaits in the last several days, fishing east of PIB.
Jeff Staaf (Poor Richards): "I have not had a report of walleyes in several weeks; they have migrated back west.  However, the perch bit is still going strong out in 70 to 80 feet of water."
Lake Erie tributaries
Andy (B.A.C. Bait – Trout Run): "We have not had any rain in well over a week.  The tributaries are low and clear.  No one is catching steelhead in the creek except some fly-fishermen.  You can fish the creek mouths along the lakeshore if you don't mind crowds; they are catching steelhead on Power Bait and spoons.  We need rain!"
Jeff Staff (Poor Richards): "Steelheads have reached the Legion Hole on Elk Creek and Rout 5 on Walnut Creekin good numbers; scattered fish are further inland.  With the streams low and clear, the best fishing is very early or very late in the day; minnows and single eggs are working best.  Fly fishermen are getting them on Sucker Spawn in light colors.  On the lakeshore near stream mouths, the hot baits are Little Cleo and KO Wobblers spoons in either chrome & green or chrome & blue, plus Berkley Power Bait.  Some anglers are report success on orange stickbaits, like a Rapala Minnow."
Terry Farrell (Hook, Line & Stitch): "A customer informed me that he and another friend caught and released a total of 18 steelheads on Walnut and Elk Creeks this past weekend.  They were using Sucker Spawn and a Stonefly wet fly.  They watched hundreds of steelhead move upstream past them."
Bill Logan (Pleasantville): "I hooked two steelheads on Twenty Mile Creek on Monday.  One I landed was dumb luck.  I stuck the rod under my arm to dig out a sinker; with the streamer hanging in the current, the steelhead hit and hooked itself!"
Lake LeBoeuf
No reports, but this should be the best time for crappie on this small lake.
Mercer County Waters
Lake Wilhelm
Bob Mohra (Fergies Bait): "Not much angler activity going at Wilhelm this past weekend.  A few guys are fishing the upper causeway and catching some bluegills.  Everyone seems to be fishing elsewhere right now."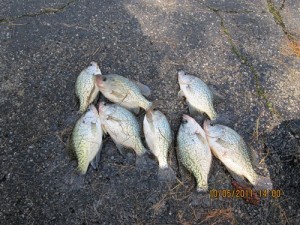 Shenango Lake
Ken Smith (Sharon): "I fished ShenangoLakethis past Wednesday and Thursday.  I did good both days.  The crappies were a little deeper than last week but still biting aggressively.  I used a MicroSpoon Tripletail body on a 1/16-ounce Bobby Garland MoGlo jighead.  I paired it up with 6-pound Gamma Line.  The fish could not resist it.  I caught 35 crappies on Wednesday and over 70 fish on Thursday.  I released all but 8 crappies that I gave to John, the park manager.  You can't go wrong fishing the bridges right now.
Neshannock Creek
Bob Shuey (Neshannock Creek Fly Shop) says the fall stocking as stirred trout fishing interest once again in Neshannock.  Fishing should be good for several weeks unless the rains muddy the water.
Gamma Salutes
Denny Beggs of Franklin was drawn as this week's winner of a spool of Gamma Line – four-pound gold is the flavor of the month.
Weekly Drawing
This week's Road Runner Crappie package goes to Ken Smith of Sharon.  These lures are perfect for Ken, who is one of the top crappie fishermen in the area.
Outdoor Calendar of Events
Oct 16            Allegheny RiverBass Team Tournament #2
$100 per team; for info contact Eric Heil lt.heil@yahoo.com
Nov 5              PA Steelhead Expo atRainbowGardens,Erie,PA
Go to www.steelheadexpo.com for more information
Nov 5              Steelhead Fishing Contest (in conjunction with Steelhead Expo)
Go to www.steelheadexpo.com for more information
Information contributed by:
–       Chris' Tackle Box, Jamestown, PA
–       Maurer's Trading Post, Franklin, PA
–       Oil Creek Outfitters, Titusville, PA
–       John's Bait & Tackle, Meadville, PA
–       Van Tassel's Timberland Bait, Canadohta Lake, PA
–       Fergie's Bait & Tackle, Sandy Lake, PA
–       R & L Bait & Tackle, Greenville, PA
–       B.A.C. Bait & Tackle, Erie, PA
–       Poor Richards Bait & Tackle, Fairview, PA
–       Presque Isle Angler, Erie, PA
–       Neshannock Creek Fly Shop, Volant, PA
–       Erie Sports Store, Erie, PA
–       CLTackle.com
–       Espyville Outdoors, Espyville, PA
–       Farrell's Hook, Line & Stitch, Meadville, PA
–       Consumer Direct Sports, Grove City, PA
–       Jigger Wholesale Tackle, Franklin, PA
–       Area anglers
Sponsored by: PA Great Lakes Region
& GAMMA Fishing Line (now owned by Black Knight Industries of Oil City)
–       Crawford County Convention &Visitors Bureau at www.visitcrawford.org
–       VisitErie at www.visiterie.com
–       VisitMercerCountyPA at www.visitmercercountypa.com
–       Oil Region Alliance at www.oilregion.org
 Note: The information in the NW PA Weekly Fishing Report is based on the observations and opinions of individuals at the reporting tackle shops and expert area anglers.  Although the information is reliable, it is not independently verified.
If you have fishing information or a picture of your catch from one of the waters in the following counties, please contact Darl Black at darlblack@windstream.net
In providing a picture, you are agreeing to it being posted on the Fishing Report.
Keep Up with More NW PA Fishing at http://darlblack.blogspot.com