News
Weather Blahs: Following a stretch of fairly nice weather over the holiday period, the start of a new week brought lots of rain starting on Sunday and continuing through at least Wednesday.  The Allegheny, French Creek,Erie tributaries and most inland streams are blown out.  As the open water fishing season draws to a close in December, it appears unusually nasty weather patterns that have plagued our angling all year are determined to be a pain-in-the-you-know-where until ice up.
On a positive, fun note, Juanita Hampton of the Crawford County Convention and Visitors Bureau suggests everyone stop by YouTube to the latest CrawfordCountyfishing video:  Fishing Crawford County.mp4
Crawford County Waters
Pymatuning Lake
Dave Lefebre (Erie): "Through Thanksgiving week, walleyes continued to bite at Pymatuning.  I have been having a lot of fun doing something other than bass fishing, and it has been productive in terms of fish for dinner.  I've been eating a lot of 'eye in the last few weeks.  Vertical jigging a Heddon Sonar has been the ticket on the southern part of the lake."
Chub Hornstein (Meadville): "I went to Pymatuning on the day before Thanksgiving.  I fished all afternoon without a bite, but the fish turned on about 4 PM.  I caught about 15 walleye before dark.  All but three of the 'eyes were sub-legal.  The keepers included two in the 16" to 18" range and a whopper that weighed nine pounds.  All fish came on a ¼-ounce Heddon Sonar in Perch or Shad patterns fished on points at depths from 12' to 17' on the lower end of the lake."
Erie County Waters
Presque Isle Bay
Al Nacopoulos (B.A.C. Bait –Erie): "Crappie catches in the Bay have slowed way down – the fish have moved apparently and only a few small ones are being caught.  Steelheads are being caught at the Waterworks.  One customer stopped with several very nice perch from the North Pier, and I heard that a burbot was caught on the North Pier."
(First burbot of the season!  Great Lakes Winter water temps are upon us!)
Danny Jones (Northeast): "I went out Thanksgiving Day to PresqueIsleBayfor a couple hours.  I caught 38 largemouth bass – all caught on a spinnerbait with a Zoom Super Fluke trailer."
Lake Erie tributaries
Andy (B.A.C. Bait – Trout Run): "Creeks are blown out from too much rain.  There will not be any tributary fishing until they begin to recede somewhat – perhaps in time for the first weekend in December.  Good news, the high water should bring some fresh fish in from the lake and push other fish further upstream.  Until streams are fishable, anglers should focus their fishing on the lake shore near the creek mouths.  Power Bait and spoons should produce.  Before the water rose, fly fishermen were catching steelhead to 10 pounds on black and olive Wooly Buggers."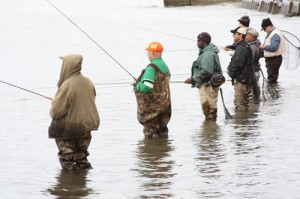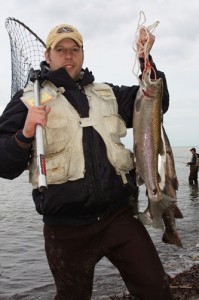 Darl Black (Cochranton): "Over the weekend before the rains started, I visited several steelhead fishing sites on the west side, including portions of Elk Creek,Walnut Creekand the mouth of Trout Run.  Lots of fisherpersons (men, women and children) taking advantage of the holiday and good weather, trying their hand at catching steelhead.  Of course I witnessed more "trying" than "catching" – I only saw a couple fish landed plus a few anglers leaving with fish on stringers.  As I shot pictures atWalnut Creek, one angler approached and asked if I had come to town to 'watch the circus.'  Anglers fishing the lake shore at Trout Run seemed to be doing as well as fishermen in the creeks."
Terry Farrell (Hook, Line & Stitch –Meadville): "I've been tying a big hackle fly with women's blue eyelashes that has really caught the attention of steelhead.  I demonstrated this fly during the Crawford County Outdoors Expo earlier this fall, and I've been having trouble keeping up with the demand from fly fishermen ever since.  Then one individual comes in with a request to make an "Eyelash Jig" – he wanted it all white with a marabou tail.  Said he was catching crappies with it."
Mercer County Waters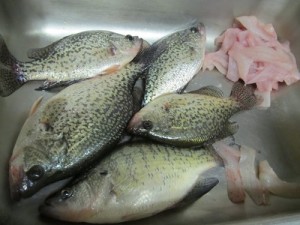 Shenango Lake
Ken Smith (Sharon): "Now I have to share spots with goose hunters this week on Shenango, thereby limiting the big fish spots I can fish.  I didn't do nearly as well as the last five trips on the lake.  Still, I was able to enjoy some good days on the lake.  Between hunters and high winds, I still put some quality fish in the boat.  Blakemore Road Runners fished slowly over shallow wood collected the most crappies for the livewell. Lake level is still dropping and the shoreline is really muddy.  Plastic on the boat floor will help keep it cleaner but expect some mud on the floor.  Hope everyone had a good Turkey Day!"
Neshannock Creek
Bob Shuey (Neshannock Creek Outfitters) – Bob's report was received before the rains started:  "Neshannock right now is in great shape.  Should be OK for the next week unless we get heavy rain.  It will be a nice week to fish, as most guys will be in the woods after deer.  Dress warm and wear a little orange to be seen!"
Venango County Waters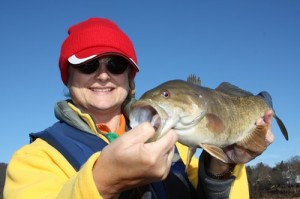 Allegheny River
Marilyn Black (Cochranton): "Dale Black, Darl and myself headed to the Allegheny Riveron Bronzeback Friday – our annual smallmouth trip…an alternative to that crazy Black Friday shopping.  Even though the river was dirtier than we like, we oozed confidence that some bass would be taken on jigs.  Just in case, my back-up was a bucket of live creek bait that I had personally trapped the day before.  The only other boat on the OilCitypool was another friend, Ernie Pate from Butler.  Dale and Darl fished only artificial baits.  Dale boated one northern pike on a Yum Tube, but Darl never connected with a single fish.  I had three or four pick ups on live shiners, hooking two smallmouths.  One 15-incher was landed, but a much larger one was lost at the side of the boat.  With additional rain fall this week, the river has shot up to nine feet; unlikely it will be fishable for at least a week."
Ernie Pate (Butler): "We didn't catch a fish on Friday – only had two bites.  I think the fast, muddy water has them off their feed.  Once the water clears and current slows a little, the fish will bite.  It was a bad combination of cold water and 20 mph wind over the weekend."
Mike Martin (Cochranton): "My buddy John and I kayaked fromOilCitytoFranklinthis past Saturday.  It was a very comfortable day for kayaking, but the smallmouth fishing was not good.  Matter of fact we got skunked.  We fished mostly hair jigs and jerkbaits.  There were a number of boats on the water but they were targeting walleyes; we observed a walleye being boated in the K-Mart eddy."
Kahle Lake
Dale Black (OilCity): "I headed over toKahleLakeon Saturday after Bronzeback Friday on the river.  I figured to catch some largemouth, because I normally do well there in the late fall.  I never had a hit.  I tried a variety of baits and various deep & shallow spots on the lake without success.  There were half-dozen boats on the lake; most were catching yellow perch.  Launching is difficult due to the draw down."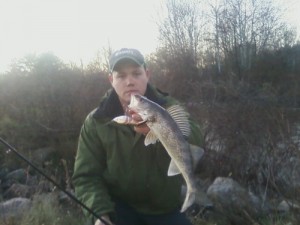 French Creek (Erie, Crawford, Mercer andVenangoCounties)
Dustin Shay (Meadville) – Due to heavy rains the last couple days, French Creek is blown out for the foreseeable future.  The Creek was high from previous rains, but now fishing is impossible.  However, with the higher water in French Creek tributaries, Dustin says fishermen should look to these feeder creeks as a fishing opportunity – especially as water in the tribs first begin to clear.  High water often encourages walleyes to move into some tribs to the first hole or beaver dam.  Or perhaps in the case of Woodcock Creek, high water pushes some of the Woodcock Dam tailrace fish downstream towards French Creek.  The day before Thanksgiving, Dustin caught three legal walleye in Woodcock Creek on a Sebile Hard Swimmer.
Bulletin Board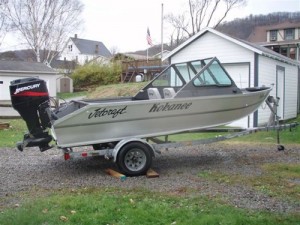 ForSale: 2001 Jetcraft Kokanee 1625 with 90/65 hp jet outboard on a King galvanized trailer; asking $13,500; phone 814-758-3836.  "Boat is in great shape," says owner Jeff Brunton ofFranklin.
Gamma Salutes
The spool of Gamma Line is awarded to Dustin Shay for his Woodcock Creek walleye photo.
Weekly Drawing
Ernie Pate was the contributor's name drawn for the Yum/PRADCO lure pack.
Outdoor Calendar of Events
Monthly          Free Fly-Tying Classes                               814-590-1366
Farrell's Hook, Line & Stitch (At the Bank Mall),Meadville
2nd Tuesday of each month;6 PM to 7:30 PM
Information contributed by:
–       Chris' Tackle Box, Jamestown, PA
–       Maurer's Trading Post, Franklin, PA
–       Oil Creek Outfitters, Titusville, PA
–       John's Bait & Tackle, Meadville, PA
–       Van Tassel's Timberland Bait, Canadohta Lake, PA
–       Fergie's Bait & Tackle, Sandy Lake, PA
–       R & L Bait & Tackle, Greenville, PA
–       B.A.C. Bait & Tackle, Erie, PA
–       Poor Richards Bait & Tackle, Fairview, PA
–       Presque Isle Angler, Erie, PA
–       Neshannock Creek Fly Shop, Volant, PA
–       Erie Sports Store, Erie, PA
–       CLTackle.com
–       Espyville Outdoors, Espyville, PA
–       Farrell's Hook, Line & Stitch, Meadville, PA
–       Consumer Direct Sports, Grove City, PA
–       Jigger Wholesale Tackle, Franklin, PA
–       Area anglers
Note: The information in the NW PA Weekly Fishing Report is based on the observations and opinions of individuals at the reporting tackle shops and expert area anglers.  Although the information is reliable, it is not independently verified.
If you have fishing information or a picture of your catch from one of the waters in the following counties, please contact Darl Black at darlblack@windstream.net
In providing a picture, you are agreeing to it being posted on the Fishing Report.
Keep Up with More NW PA Fishing at http://darlblack.blogspot.com