News
–       The weather is looking pretty good through the Thanksgiving holiday weekend.  After you fill your tummy on Thursday, many of you will have three days to fish before gun season for deer arrives on Monday, November 28.  According to our regular contributors, here are the current hotspots in NW PA
PymatuningLake(Crawford Co.) for walleye
ShenangoLake(Mercer County Co.) for crappie
Allegheny River(Venango Co.) for walleye and some smallmouth action
Lake Erietributary streams (Erie Co.) for steelhead – primarily Elk.
French Creek (all counties) for walleye
Venango County Waters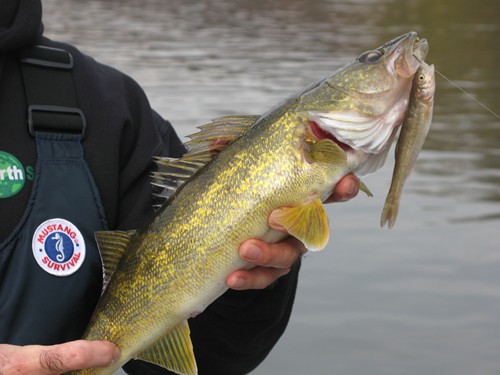 Allegheny River
Mike Horrobin (CLTackle.com & Jigger Wholesale): "It's been a good week of fishing – when we didn't get some ungodly downpours.  The Allegheny and French Creek are both producing walleye on live bait.  I look for good fishing this coming week as well, but with the holiday and deer season, fishermen may be a rare commodity on our local waters."
Bill Logan (Pleasantville): "I fished the river at OilCitytoday, Monday, November 21.  I had five hook-ups with fish, landing four smallmouth bass.  Two bass came on Berkley Gulp! Minnow and two on a Sweet Beaver soft plastic fished on a jighead.  It was slow, but I'm going again this week.  Fishing is addicting and I need more before ice-up."
Dale Black (OilCity): "I slipped out to the river on Sunday afternoon for a couple hours.  Only landed two bass, but both were quality fish.  One was just shy of 16 inches, while the other was 19-inches long and weighed exactly 4 pounds.  What a chunky river bass!  Both came on Yum tubes fished on 8-pound Gamma Polyflex line."
Kneal Wiegel (Wiegel Bros. Marine): "There have been three 'locals' on the river out of the Franklin ramp almost every day this past week, and they tell me they are catching walleye like crazy."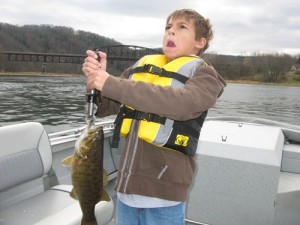 Lou Letterle (Franklin): "I took my two kids, Brandi and Corey, fishing on the Allegheny for just two hours last weekend, November 13.  They caught 7 walleye and 4 smallmouth bass, and lost quite a few other fish.  The biggest walleye was 22 inches, while the largest bass was 17 inches.  All fish were caught on live creek chubs and white suckers.  The wind was wild but the fishing was good."
Justus Lake
No report, but trout catches should be good with the low water temperatures and fairly pleasant days.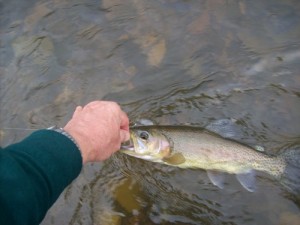 Oil Creek
Bill Logan (Pleasantville) fished Oil Creek earlier in the week.  He reports catching four nice rainbow trout by "twitching a streamer cross current."
Little Sandy
Mike Horrobin says Little Sandy remains fishable and trout catches are pretty good on this stream and other trout streams.  Fish are being caught on nymphs and streamers.
French Creek (Erie, Crawford, Mercer andVenangoCounties)
Mike Horrobin (Franklin) and Dustin Shay (Meadville) report their contacts say the walleye bite is pretty good on the Creek right now, and will only get better over the next couple weeks.  Fish are being caught on mainly on indigenous live bait or hair jigs.  Walleyes may be caught anywhere in French Creek fromFranklinall the way toUnion City.
Crawford County Waters
Pymatuning Lake
Dave Richter (Richter's General Store): "Walleye continues to be the drawing card this month.  Two fishermen stopped by the shop on Saturday; both had a nice limit of walleye.  They caught over 45 walleye in one day – not bad!  Most fishermen are catching their fish with blade baits.  A handful of anglers fishing the Jamestown Marina docks are catching crappies, and there are reports that the deep water crappies are also biting – but on the south end of the lake most guys are focused on walleye right now."
Chris Hall (Espyville Outdoors): "Not may fishermen out this past week, so not much to report.  The few guys I did talk to were still catching 10" to 13" perch along the causeway on live minnows.  Crappie and bluegill are being caught aroundFries Roadand at Red Cross.  No reports of walleye on the north end."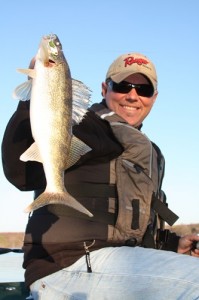 Dave Lefebre (Erie): "On Sunday, November 20, Barry Hohn (Saegertown) and I each took a limit of walleye at Pymatuning on the south end.  Our biggest 'eye was 25 inches and the average size was about 19 inches.  The fish came on Heddon Sonar blade baits in 26 feet of water.  We were down earlier in the week, and took limits of walleye on that day as well – on blade baits."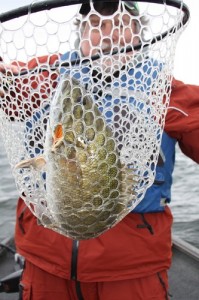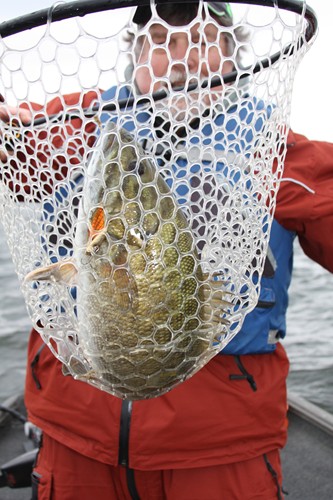 Conneaut Lake
Marilyn Black (Cochranton): "Darl and I made a final run at Conneaut in search of a six-pound smallmouth.  The water temperature was 48 degrees – perfect for late fall smallmouth.  Our first pass down a favorite smallmouth bank yielded nothing.  But when we dropped anchor to cast a blade bait on a quick-dropping point, Darl hooked something heavy on his first cast into 25 feet of water.  There was a lot of resistance, it moved left and right, and he had difficulty in reeling it up from deep water – however he said it didn't feel like a fish unless it was tail-snagged walleye or musky.  Finally, it came into view.  I was able to slide the Frabill Net under it and lift it aboard.  The catch was a porous rock about the size of a super large softball.  It was a "keeper", and now adorns our rock garden at home!  Several casts later, Darl hooked and landed a 3 pound smallmouth on a gold & orange Cicada Blade Bait.  He lost another smallie at the boat and I missed a northern pike.  That was our total catch for four hours on the water.  No really big smallies like in past years.  Nor could we find any deepwater white bass or deep crappies.  It would seem our Conneaut Lake season went out as a sparkler rather a big bang – a bright moment with a good brown bass but not the grand fireworks hoped for."
Erie County Waters
Presque Isle Bay
Al Nacopoulos (B.A.C. Bait –Erie): "A customer stopped in on Sunday with 28 nice perch he had taken off the North pier.  Another customer had 3 steelhead at the Water Works, while another customer reported a mess of crappies."
Lake Erie tributaries
Mike Tome (B.A.C. Bait – Trout Run): "Considering how low and how clear the streams are, anglers are catching a fair number of steelhead.  More fish moved into the streams with the rain earlier in the week, but the run may be dwindling down.  Anglers are still catching steelhead at the mouth of the creeks in the lake – when Mother Nature cooperates with a favorable south wind.  We are expecting a good rain on Tuesday, and if we get that 2 inches as predicted, streams should be in good shape for Thanksgiving holiday weekend.  Black Friday is always one of our busiest days of the fall season. Oh yes, I weighed a 9.5 pound brown trout this week taken at the mouth of Trout Run."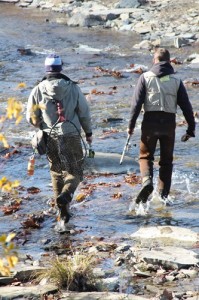 Jeff Staaf (Poor Richards): "Low and clear – sounding like a broken record.  The last good rain brought some more fish into the streams, and pushed some fish further inland.  Think small and light – single eggs, Mini Foo Jig with live wax worm or floating a live minnow.   Small black nymphs and light colored Sucker Spawn are being used by fly fishermen.  Best bite is early and late in day.  Fish riffles during mid day.  Starting next week, we will close at2 PMon weekdays."
Mercer County Waters
Lake Wilhelm
Bob Mohra (Fergies): "The report from Wilhelm this week is the same as last week: crappies and bluegills being caught off the docks of the marina.  Not many fishermen on the lake…not like years gone by."
Shenango Lake
Ken Smith (Sharon): "I had four days of fantastic crappie fishing this past week on Shenango.  Tuesday was probably my best big fish day this fall.  Wednesday was a great day for numbers.  Saturday was another day for good-size fish, but the wind was brutal, forcing me to fish spots out of the wind.  Still had a good day for numbers by casting Road Runner heads with Southern Pro Triple Tails to shallow brush in 10 feet of water or less; the bigger fish came by hang-gliding a 1/8 ounce plain jighead with a Southern Pro Hot Grub over stumps in 17 feet of water.  No doubt about it – November is the best BIG crappie month on this lake.  I've caught many over 12 inches with the biggest one going 16 inches.  Time is winding down so I'll have to put the boat away next weekend, but I've had a great season on Shenango.  Hope everyone enjoyed the reports and put the info to good use.  Take care and have a happy holiday season.  PS: Darl, that was a good article you wrote for CRAPPIE NOW online (www.crappienow.com)."
Neshannock Creek
Bob Shuey (Neshannock Creek Outfitters): "Neshannock Creek is in good shape and not getting much angling pressure.  Most guys are in the woods hunting or up atEriefor steelhead.  Great time to be out on the inland trout streams!"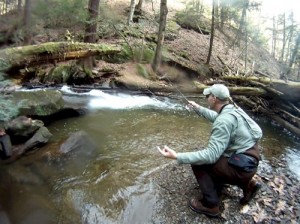 Special Trout Report
Scott Kinard (EllwoodCity): "With the steelhead run in full swing, I took the opportunity to avoid the crowds and hike into a small wild brown trout stream inNorthwest PA.  Small native streams can yield numbers of "Wild Trout" (non-hatchery raised).  Places such as these hold trout that survive through natural reproduction and the definition of success is measured in "quality" rather than size.  Matt Steffler and I took a four hour hike in search of these colorful species of brown trout and brookies.  We had a good day – landing 15 plus wild browns with the biggest one around 18 inches.  It's important to remember that our human footprint in places such as this should always be at minimum to ensure these fisheries will survive for generations to come…a true case for catch-and-release at all times.  It was a great day!  It's nice to see that waters such as these do still exist in this part of the state."  (See Photos #10, #11, #12)
Bulletin Board – Notes from Contributors
(Post a note about selling a boat or fishing equipment, or if looking for a fishing partner.)
Rich Conlon (Wexford): "No fishing this weekend – winterizing the boats…boohoo"
Grady Codd (Mars): "I haven't been out fishing in awhile what with school and work.  I hope to possibly get out to Woodcock or Conneaut sometime before first ice – but I don't have a boat.  If anyone is looking for a fishing partner for day, I can be reached at grcodd@gmail.com."
Gamma Salutes
The photo contributor drawn for a spool of Gamma Line is Lou Letterle.
Weekly Drawing
The report contributor drawn for a packet of PRADCO baits is Scott Kinnard
Outdoor Calendar of Events
Monthly          Free Fly-Tying Classes                               814-590-1366
Farrell's Hook, Line & Stitch (At the Bank Mall),Meadville
2nd Tuesday of each month;6 PM to 7:30 PM
Information contributed by:
–       Chris' Tackle Box, Jamestown, PA
–       Maurer's Trading Post, Franklin, PA
–       Oil Creek Outfitters, Titusville, PA
–       John's Bait & Tackle, Meadville, PA
–       Van Tassel's Timberland Bait, Canadohta Lake, PA
–       Fergie's Bait & Tackle, Sandy Lake, PA
–       R & L Bait & Tackle, Greenville, PA
–       B.A.C. Bait & Tackle, Erie, PA
–       Poor Richards Bait & Tackle, Fairview, PA
–       Presque Isle Angler, Erie, PA
–       Neshannock Creek Fly Shop, Volant, PA
–       Erie Sports Store, Erie, PA
–       CLTackle.com
–       Espyville Outdoors, Espyville, PA
–       Farrell's Hook, Line & Stitch, Meadville, PA
–       Consumer Direct Sports, Grove City, PA
–       Jigger Wholesale Tackle, Franklin, PA
–       Area anglers
Note: The information in the NW PA Weekly Fishing Report is based on the observations and opinions of individuals at the reporting tackle shops and expert area anglers.  Although the information is reliable, it is not independently verified.
If you have fishing information or a picture of your catch from one of the waters in the following counties, please contact Darl Black at darlblack@windstream.net
In providing a picture, you are agreeing to it being posted on the Fishing Report.
Keep Up with More NW PA Fishing at http://darlblack.blogspot.com