News
Current NW PA Hotspots
–      MercerCounty: The crappie bite at Shenango remains strong!
–      CrawfordCounty: Pymatuning is pumping out the walleyes – including some hawgs!
–      VenangoCounty: Smallmouth bass on the Allegheny are on the late fall feed, along with walleyes!
–      ErieCounty: The tribs are filled with steelhead, and filled with anglers looking for some rain to stain the too clear water to improve catch rate.
Mercer County Waters
Lake Wilhelm
Bob Mohra (Fergies Bait): "Anglers fishing from the docks at theMarinaare catching a mix bag of crappie and bluegill.  I also had reports of walleye being caught off the causeway."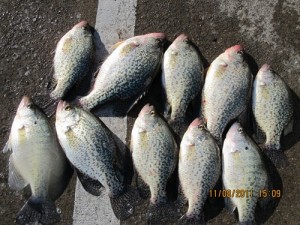 Shenango Lake
Ken Smith (Sharon): Thursday, Nov 10 "Another good day atShenangoLake.  The crappie bite was consistent.  Fish are shallow in blow-downs, as well as deep on the drops and on brushpiles.  Big numbers and good size, too.  Took a young friend, Kevin Austin, out on Monday and show him my hang glide method.  He caught on quickly and helped put 35 quality fish in the boat that day.  I went back out on Tuesday to try some different spots, and did well that day, too.  I caught well over a limit but only kept 20 fish to fry up for my friend's family who lost their mother last weekend.  Prayers go out to the Cannon family."
Saturday, Nov 12: "The bite was tough today.  I caught over 40 crappies but not a lot of keepers.  The wind was blowing pretty strong so I had to fish my secondary spots.  Fished heavy jighead with Southern Pro twister tails on deep points to produce all the fish today."
Editor's Note: I've caught nice crappie at Shenango this time of year on a Charlie Brewer Whirly Bee.  Typically white is the only color they want.
Shenango River (Upper section)
Dave Richter (Richter's General Store): "They have been letting water out of Pymatuning and its put good flow in theShenangoRiver.  Anglers have been catching walleye in the river below the dam, including a 28-incher over the weekend."
Neshannock Creek
Bob Shuey (Neshannock Creek Fly Shop): "The stream is in great shape and fishing is okay.  Late mornings and afternoons seem to be better than daylight.  Look's like temps will not be too bad this coming week."
Venango County Waters
Allegheny River
Bill Logan (Pleasantville): "On Monday, November 7, I caught 9 chunky bass in the river.  Tube jigs, Gulp! Minnows and flipping jigs fished at depths from 4 to 20 feet.  I was back on the river the next day, but wind was so strong it was hard to detect bites, and I landed only 3 bass."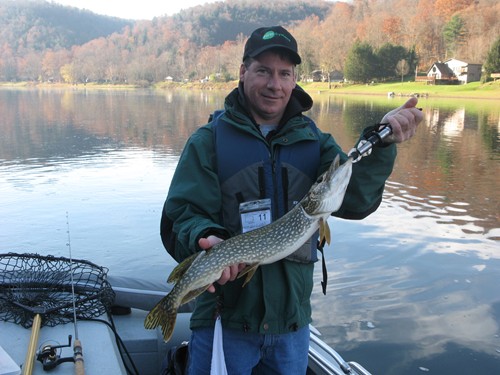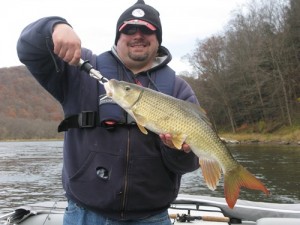 Lou Letterle (Franklin): "Ken Dudash (Pittsburgh) and I fished the river on Wednesday, November 9.  We had a decent day, but fought the wind all afternoon – boat control and strike detection were difficult.  We ended up catching and releasing a total of 12 fish – 6 walleye, 3 pike, a redhorse sucker and a couple bass.  Very nice variety!  Just like last week, all our fish were caught either on live creek chubs or hair jigs.  One of the walleyes measured 26 inches and weighed 6.5 pounds."
Rich Conlon (Wexford): "I fished the Allegheny with Ernie Pate (Butler) on Saturday, November 12.  The smallies wanted to bite but we struggled to keep baits in front of them.  Gusting winds made it difficult to keep the baits in the feeding zone without snagging in the rocks.  We did manage to catch about 20 smallmouth bass in four hours of fishing.  We lost maybe another 10 fish.  Water temp was 44 to 45 degrees."
Mike Horrobin (Jigger Tackle/CLTackle.com): "This week we had several good reports of walleye catches in the river.  Everything I heard about was on live bait or jigs tipped with live bait (either shiners or creek bait).
Trout streams
Mike Horrobin: "Trout fishing is still good.  I was out this week but didn't see anyone else.  I caught 3 trout on streamers."
Crawford County Waters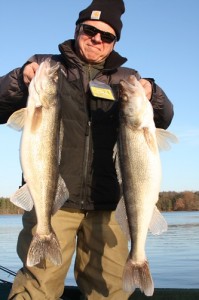 Pymatuning Lake
Dave Lefebre (Erie): "On Saturday, November 12, I traveled to Pymatuning with my uncle Denny Altimus (Erie) for a fall walleye trip.  I planned to show him how to catch walleye on blade baits on deep water points, but as it turned out, Denny showed me how to catch huge Pymatuning walleye with bait.  Using regular fathead minnows on a drop-shot rigging, Denny caught a 7.5-pound and an 8-pound walleye (both fish weighed on official scales).  I only came away with a couple 15-inch walleye and several crappies on my Heddon Sonar blade bait.  Denny's walleyes were two of the largest I've ever seen from Pymatuning."
Dave Richter (Richter's General Store): "There have been good catches of crappie, perch and bluegill off the docks at the Jamestown Marina.  Guys are still catching walleye on blades during the day in boats out deep in the end near the dam.  Some anglers are throwing crankbaits from shore at night and catching walleye.  Deep crappie catches are sporadic."
Chris Hall (Espyville Outdoors): "All fishermen must have been in the woods last week!  The few anglers I talked with reported mixed success.  Along the causeway, perch would bite only when the wind was blowing; when the wind died, so did the bite.  They are still pulling 10" to 12" perch, however.
"I had one gentleman buy a pack of the American Freshwater Fisherman Lucky Seven Hooks; when he stopped back later he said 'All my other hooks are going in the trash.  These hooks are unbelievable!  I caught 32 perch with them on Tuesday.'"
Hall continues, "Walleye off Orchard have been active.  There a lot of anglers are wading the shoreline in the evening, throwing Smithwick Rattlin' Rogues and Cotton Cordell Wally Divers.  Some walleyes are being caught around the Causeway on Cicadas and Vibra-Maxx.  Bluegill and crappie have been reported in small numbers aroundFries Road area and shoreline north of Spillway.  There is still a lot of time before the water freezes!  Don't miss out on good fishing!"
Tamarack Lake
Chuck Papinchak (Cochranton): "We continue to catch an assortment of species fishing from shore using live minnows as bait, including keeper size crappies, some nice perch, a few largemouth bass and an occasional walleye.  Best action seems to be late afternoon."
Woodcock Lake
"I've taken a few trips to Woodcock Lak eover the past two weeks, and have hooked three large musky (plus a follow from another fish) – all while fishing for bass.  I lost two of the muskies at the boat when they bit through my line; I was not using a wire leader.  I did manage to land a very nice musky on Saturday, November 12; the fish was approximately 50 inches long – sorry I was fishing alone and could not get a photo of the fish.  The muskies seem to be holding on the breaklines near shore where the water drops quickly.  With the lake drawn-down, there are very few (if any) weedlines left so the fish seem to be positioned around stumps.  I'm sure experienced musky hunters have better equipment to catch these toothy critters than I did.  These muskies ate my All-Terrain Tackle Bass Jigs."
Erie County Waters
Presque Isle Bay
Al Nacopoulos (B.A.C. Bait –Eriestore): "The crappie bite in the bay has slowed down.  Fishermen are catching steelhead at the Water Works and in Marina Lake."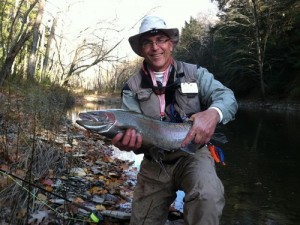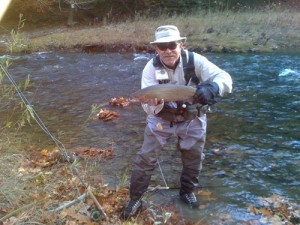 Lake Erie tributaries
John Hall (Erie): "The first Great Lakes Steelhead Expo last weekend was a huge success.  We're already planning for next year.  Of course the perfect antidote to all the pre-Expo work was a day of steelheading on Sunday.  It was a super day even though the water was low and clear.  Here's a picture of beautiful Conneaut Creek buck I took on a Joe-fly.  I also attached a photo of a steelhead which JT Davis caught on a Joe-fly."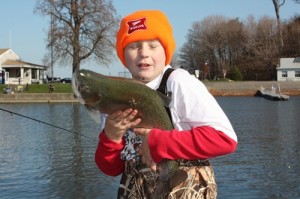 Darl Black (Cochranton): "On Saturday, November 12, I visitedWalnut Creekand Elk Creek – not to fish, but to take photos.  Fishing pressure was light on Elk.  The lower section of Walnut had its typical weekend crowd.  However, with extremely clear and extremely low water (and crowded conditions), few anglers were catching fish.  One young lad, Jeremiah Barni (Washington,PA) was battling a steelhead when I arrived at the Basin.  He had drawn a crowd of spectators cheering him on.  After perhaps six or seven minutes, one of the adults in his group finally slid a net under the fish.  As 7-year-old Jeremiah tried to hold the 8 pound steelhead for a photo, the fish wiggled from his grasp.  The steelhead was returned to the water.
Mike Tome (B.A.C. Bait – Trout Run): "We need rain.  We have not had rain in 2-1/2 weeks.  The snowfall to the south did not help.  The tribs are so low and clear, it looks like summer.  Fish are in the stream but spooky.  There are trout in the lake at creek mouths, but they need water to move in.  On days with south wind, anglers are catching them along the lake shore at creek mouths."
Jeff Staaf (Poor Richards): "To catch steelhead in those low, clear streams right now, you've got to think small.  Fly fishing are using black or brown nymphs, and light color sucker spawn flies.  Spin-fishermen are catching fish on single eggs or emerald shiner.  You've got to get out of bright conditions – fish early or late, or look for shaded areas to fish during the day."
Fishing Tip of the Week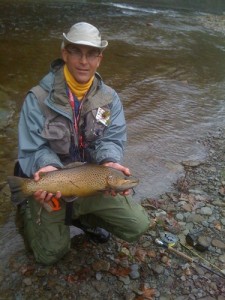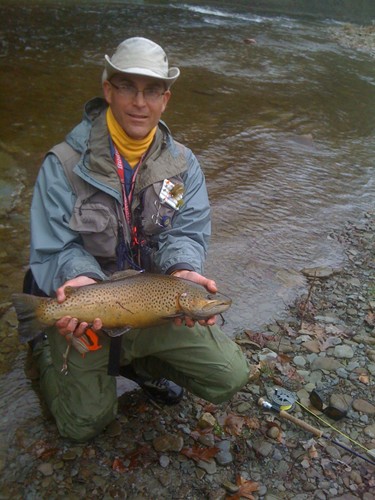 Recently Top Brass Tackle inquired if steelhead anglers were using "trout beads" onPennsylvaniastreams.  I had no idea what they were, so I asked several of the regular contributors what they knew.  Here is John Hall's response:
"Some guys are using the trout bead.  The bead can be rigged different ways: (1) pegged, as an attractor 5 or 6 inches ahead of a nymph; (2) pegged, just above a single hook as a single egg; (3) and sometimes I let one sit over my knot when fishing a wooly bugger.  I hooked a nice brown last year on upper Elk Creek using a bead.  See attached photo."
Gamma Salutes
From among individuals submitting photos, Ken Smith was drawn to receive a spool of Gamma Line.
Weekly Drawing
This week, Fishing Report contributor Bill Logan ofTitusvillewas drawn as winner of the Yum/PRADCO Lure pack.
Outdoor Calendar of Events
Monthly          Free Fly-Tying Classes                               814-590-1366
Farrell's Hook, Line & Stitch (At the Bank Mall),Meadville
2nd Tuesday of each month;6 PM to 7:30 PM
Information contributed by:
–       Chris' Tackle Box, Jamestown, PA
–       Maurer's Trading Post, Franklin, PA
–       Oil Creek Outfitters, Titusville, PA
–       John's Bait & Tackle, Meadville, PA
–       Van Tassel's Timberland Bait, Canadohta Lake, PA
–       Fergie's Bait & Tackle, Sandy Lake, PA
–       R & L Bait & Tackle, Greenville, PA
–       B.A.C. Bait & Tackle, Erie, PA
–       Poor Richards Bait & Tackle, Fairview, PA
–       Presque Isle Angler, Erie, PA
–       Neshannock Creek Fly Shop, Volant, PA
–       Erie Sports Store, Erie, PA
–       CLTackle.com
–       Espyville Outdoors, Espyville, PA
–       Farrell's Hook, Line & Stitch, Meadville, PA
–       Consumer Direct Sports, Grove City, PA
–       Jigger Wholesale Tackle, Franklin, PA
–       Area anglers
Note: The information in the NW PA Weekly Fishing Report is based on the observations and opinions of individuals at the reporting tackle shops and expert area anglers.  Although the information is reliable, it is not independently verified.
If you have fishing information or a picture of your catch from one of the waters in the following counties, please contact Darl Black at darlblack@windstream.net
In providing a picture, you are agreeing to it being posted on the Fishing Report.
Keep Up with More NW PA Fishing at http://darlblack.blogspot.com