News
–       Water temperature drops, fish-catching is hot!  With water temperatures in the upper 40s, it's the time of year that I look forward to all summer long.  For anglers in the know, right now – although a brief period – is some of the most exciting fishing of the entire season for gamefish (including bass, walleye, pike and musky) as well as panfish (including crappie, perch and white bass).  Unfortunately, many fishermen have already put up the rod for the gun or bow – or are pre-occupied with winter preparation.  But it's not too late to Go Fish!  On area lakes you've two to three weeks of bassin' and up to six weeks of open water walleye and musky fishing (depending on skim ice forming).  On the Allegheny and French Creek, walleyes are just turning on; river smallmouths are catchable as long as water temperature remains above 40 degrees.  Go for it!
–       Winter Report Schedule: The Fishing Report will continue weekly until the end of November.  Starting in December, I'll only issue the Fishing Report twice a month until April, when it returns to a Weekly Report.
–       Temporary Boating Regulation for Oil City Pool of Allegheny River: A notice posted at the Oil City ramp this week states a boating club will be running special high speed tests on November 12 & 13 through a special PFBC permit.  As part of the permit, the entire Oil City Pool will be posted Slow – No Wake by the PFBC.  (Ouch!  So if you normally launch at Oil City to run south, you way want to plan going out of Franklin ramp – otherwise it's a long two mile chug at no wake speed.)
–       Read More: Check out Darl Black's article in the Pennsylvania Angler & Boater on coldwater fishing on the Allegheny River.
Erie County Waters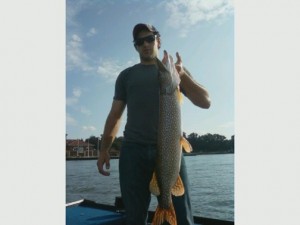 Presque Isle Bay
Al Nacopoulos (B.A.C. Bait –Eriestore): "We are just concluding the absolute best fall crappie fishing that I seen inPresqueIsleBaysince I first opened the store here!  Practically everyone was getting limits, and the fish were big.  I weighed a 3.2 pounder from the Bay – the heaviest PIB crappie in my 40 years of selling bait.  While the crappie is slowing down, I've had customers report catching perch in the 12-inch range off the East Pier, northern pike inMiseryBayand steelhead down at the Water Works.  A handful of bass anglers will be having fun with the largemouth on suspending jerkbaits in PIB almost to ice-up."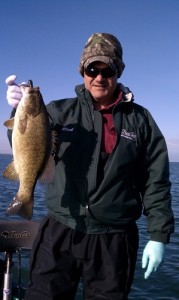 Lake Erie
Rich Conlon (Butler): "I managed two trips to Eriefor smallmouth recently – on October 23rd and 30th.  On the 30th I went with Ernie Pate and we struggled to catch 5 smallmouth.  Water temp was in the low 50s.  Seemed like the bass should have been biting better but we had little luck.  We caught a couple on tubes and three on jerkbaits.  The week before the lake temp was 56 and the bass were biting well.  Perhaps the quick drop in temperature to 50 degrees put them off the feed for awhile."
Editor's Note: Rich, I experienced the same thing at ConneautLakethat last week in October as well.  Smallmouth were hitting on the 23rd but were completely shut off on October 30 following a 10 degree temperature drop due to that wild Halloween snow storm we had. – Darl
Lake Erie tributaries
Jeff Staaf (Poor Richards): "Even though there are lots of fish in the tribs, the creeks are low and clear making it tough to catch steelhead.  The best times are early morning and late evening.  A single egg or a live minnow is the best for spin fishermen.  Fly fishermen are using Blood Dot, Sucker Spawn and small nymphs to catch a few fish.  The hot bite is at the mouth of the creeks where steelheads are waiting for the next rain to run upstream.  Anglers are casting the lake at the creek mouths with Cleo and KO Wobbling spoons, as well as fishing pink egg sacks and chartreuse/orange Power Bait; they are making some good catches right now – but it's a little crowded."
David (B.A.C. Bait – Trout Run): "The creeks have a ton of steelhead, but fish are not being cooperative – too clear and too low.  But anglers are catching a bunch at the mouths of west side creeks on blue/sliver and green/silver spoons.  Also, I'm hearing reports of brown trout at the mouths of east side creeks, but we are not seeing browns on the west side."
Mercer County Waters
Lake Wilhelm
Bob Mohra (Fergies Bait & Tackle): "Panfishing has really taken off this past week especially around the marina docks – lots of bluegills and crappies.  Most fish are being taken on maggots and minnows.  Tipping a Sam's Ant with a maggot is doing particularly well."
Destin DeMarion (Grove City): "I managed to get out to Wilhelm on November 2 for a few hours in the afternoon.  It started slow, but I figured out where the big ones were and caught them pretty good.  In about one hour I caught multiple 4 and 5 pounders, plus one over six pounds.  All the fish were very fat, putting on a feed for the coming winter.  One of the 5 pounders had a 6" half-alive gizzard shad hanging out of its mouth.  I caught all of them on a Z-man Original Chatterbait.  Most fish hit so hard they knocked slack into my line.  Great day…my best five bass would have come close to 25 pounds.  Hope I can get out again before the snow falls!"
Editor's note: With Wilhelm in the upper 40s, the temperature is right for really big bass.  This is the time of year that I've had my best success on largemouth over 6 pounds at this lake on skirted jig with UJ Pork Frog trailer. – Darl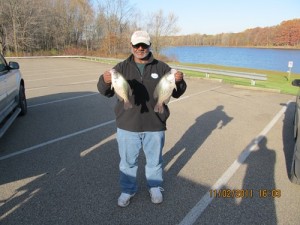 Shenango Lake
Ken Smith (Sharon): "ShenangoLakeis producing some nice crappies right now.  The cold nights have dropped the water temperature to an excellent 50 degrees (as of November 4th) and the crappies are in the shallow brush.  I did very well this week – caught over 100 good size crappies in four days.  I kept 30 fish all over 11 inches with the biggest one measuring 16 inches.  Small jigs under a bobber fished at depths of 5 to 8 feet have been working for me.  Meanwhile, minnows fished tight-line style worked for a few of my buddies.  Looking forward to this month – it's always the best for quality fish here on Shenango."
Editor's note: I spoke with Ken Smith today, November 7.  He said with theShenangoLakedrawdown picking up, the crappies are falling back to deeper water.  He is now finding them in 14 to 17 feet over brush.  He and a friend caught 35 big ones today. – Darl
Shenango River
Laurie Frantz (R&L Tackle): "Several of my customers report good catches of crappies in the Shenango River in the Sandy Beach area below the dam.  Other customers are buying up my blade baits and Rapala Minnows on their way to Pymatuning for walleye."
Venango County Waters
Allegheny River
Darl Black (Cochranton): "Seems all the fishing activity inVenangoCountythis past week has been focused on theAllegheny River– even during the middle of the week right now there are lots of boats on the river.  On Wednesday, November 2, FLW pro Dave Lefebre and I headed to theOilCitypool to begin work on a walleye article for FLW Outdoors about Dave's late fall live-bait walleye fishing.  As most of you know, Dave is one of the top anglers on the FLW bass tournament trail.  But during the off season, instead of hunting like so many of his counterparts on tour, Dave fishes for walleye in French Creek and the Allegheny, as well as ice fishing for panfish.  Although I had trapped excellent creek bait for our outing, the walleyes were not having any of it on this trip.  'We couldn't catch a walleye because all those trashy smallmouth bass got to it first,' joked Dave. 'It isn't quite cold enough yet.  We need the snow flying to catch those big river walleyes on creek chubs.'  Guess I'll have to twist Dave's arm to go fishing again to finish the article!"
Ernie Pate (Butler) was also fishing the river for smallmouth on November 2nd while we were shooting photos.  He stated that he and various friends have been on the river the last several weeks, scoring bass in the double digits on each trip.  They had been catching fish mainly on tubes, but also swim jigs and drop shot baits.
Bill Logan (Pleasantville): "While musky fishing on November 2nd, I had several hits on theOilCity pool, landing one small musky.  I caught a very nice walleye while visiting boat-to-boat with Darl Black and Dave Lefebre.  I think Dave really wanted to catch that fish!  I returned to the river on Thursday to catch five bass from 14 to 17 inches.  All fish came on tube jigs."
Louis Letterle (Franklin): "On Thursday, November 3rd, my friend Ken Dudash of Pittsburgh and I fished four different river pools on the Allegheny between Franklin and Brandon.  We landed 5 walleyes and 8 to 10 smallmouth – and lost half a dozen others.  No particular pool produced more than the next, but most of the fish were caught in the afternoon.  All fish were caught on either live creek chubs or hand-tied hair jigs.  Our jig pattern was white/gray and a tan/green which we call Sculpin.  The river still has lots of floating weeds that fouled casts, but conditions are improving.  The highlight of the day was sighting FIVE river otters swimming together.  We see eagles every week, but I've never seen river otters outside a zoo!"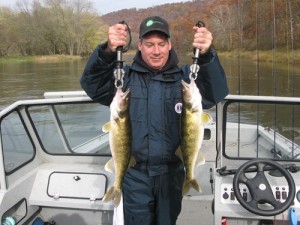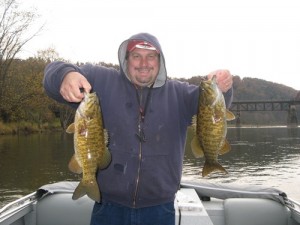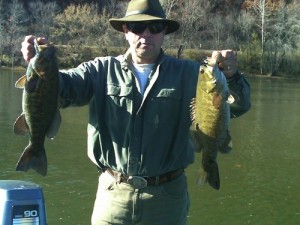 Marilyn Black (Cochranton): "I had to twist Darl's arm to take me fishing to the river on November 6th – actually it didn't take much twisting!  I had to trap my own creek chubs, stone rollers and shiners from a local creek the night before after Darl and Dave used up our supply creek bait earlier in the week.  The bite was slow, but I managed to catch more smallmouth with live bait than Darl did with Trigger X Tubes – however, he caught the majority of bass over 15 inches on jigs.  Darl insists his G.Loomis Bronzeback 822 GLX spinning rod detects extremely light hits in the current that most anglers would miss feeling with ordinary graphite rod.  When I finally picked up my GLX to fish a tube after running out of big creek bait, I certainly could tell the difference.  We ended our four hour trip with 18 to 20 bass – no pike, no walleye and no musky.   There were 10 other boats fishing this stretch of river – and it wasn't even a tournament!  Later at the ramp, Darl chatted briefly with Eric Marsh (Conneaut Lake) and Mark Hughes (Saegertown); the two of them landed about the same number of bass that we did; their biggest was about 3 pounds.  Eric and Mark had been down the day before, catching about 15 bass including two in the four-pound range."
French Creek (Erie, Crawford, Mercer andVenangoCounties)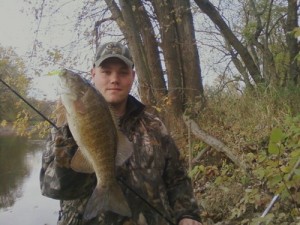 Dustin Shay (Meadville): "The water temperature is just about right for the strong fall walleye bite to start.  But until they kick on strong, I'm still catching numbers of smallmouth bass and northern pike on live bait and hand-tied hair jigs.  On November 3rd, I caught 7 smallmouth and 5 'gators (pike) on trapped creek shiners."
CrawfordCountyWaters
Pymatuning Lake
Dave Richter (Richter's General Store): "Anglers are catching bunches of walleye on blade baits – particularly the Vib-E – at depths from 10 to 20 feet.  Now with the water cool enough for walleyes to be moving real shallow, the shoreline anglers on the lower end of the lake are catching them on creek chubs.  The local bank fishermen call it 'can-fishing' where they cast the live bait out, put the rod in a bank stick, and wrap the line coming off the reel around a brightly painted bottle or can – which acts as a bite indicator.  When the can is knocked over, the angler knows the walleye is running with the bait.  Also, all boats are out of the Jamestown Marina and anglers are now allowed to fish the docks.  They are making good catches of crappies and bluegills."
Chris Hall (Espyville Outdoors): "Perch fishing is on fire!!  The Causeway seems to be the hottest spot on my end of the lake.  Minnow on a plain hook, or a crappie rig, are producing.  I've been using the American Freshwater Fisherman Lucky Seven Hooks and not having a problem catching 15 to 20 fish in less than an hour's fishing during the evening.  The new Bowers Launch on theOhioside has had a decent evening perch bite this past two weeks as well.  Also, the point outside of Padanaram Ramp has produced perch on a consistent basis.
"Walleye are still being caught with regularity," continues Hall.  "Cicada and Vibra-Max blades are working for some fishermen.  Large fathead minnows on a jighead or simply a large minnow on a plain hook are working for other anglers.  A 24" walleye was reported from the Spillway this past week.  Numerous guys are still pulling worm harnesses with limited success.  But where are the crappies?  Not much has been reported to the shop.  I heard through a third party that a gentleman caught a few crappies north of the Spillway in about 8 feet of water."
Conneaut Lake
Chris Hall (Espyville Outdoors): "I talked with two guys that fishedConneautLakeon Saturday, November 5.  They only caught two small northern pike, two perch and two bluegills.  Claimed they marked fish on the sonar all day – but with most marks were in 40 to 50 feet."
Gail Peterson (Meadville) fished Conneaut Lake for a couple hours on the afternoon of October 6th, attempting to catch a big smallmouth bass.  He didn't have a single hook up with smallmouth, settling for several largemouth bass in the two pound range.
Tamarack Lake
Chuck Papinchak (Cochranton): "The only place I have been fishing the past two weeks has been Tamarack, fishing from shore.  Keeper-size crappies and bluegills are biting real-good on minnows below a slip bobber.  We are even picking up a few bass in the 12 to 14-inch range on minnows.  One of my friends had his kids out there Sunday with us, and it was constant action – we had trouble keeping the hooks baited."
Woodcock Lake
John Ensworth (John's Bait & Tackle): "Customers have slowed down this week.  The hottest news I received this week was from customers buying worms and maggots to fish walleyes at Woodcock.  I thought it was odd they were using maggots to catch walleye, but apparently they were tipping jigs with the maggots or pieces of nightcrawler to lure the 'eyes."
Gamma Salutes
The photo contributor drawn this week for a spool of Gamma Line is Rich Conlon of Butler.  Gamma Line is available locally at the following Weekly Fishing Report tackle shops: CDS inGrove City; Poor Richards inErie, Espyville Outdoors in Espyville and John's Bait Shop inMeadville.
Weekly Drawing
The report contributor drawn for a Yum/PRADCO bait pack for this week is Lou Letterle.
Outdoor Calendar of Events
Send information on your fishing clinics, seminars, fishing club meetings, shows, ice fishing contests and more to darlblack@windstream.net for posting on Calendar of Events.
Monthly          Free Fly-Tying Classes                               814-590-1366
Farrell's Hook, Line & Stitch (At the Bank Mall),Meadville
2nd Tuesday of each month;6 PM to 7:30 PM
Information contributed by:
–       Chris' Tackle Box, Jamestown, PA
–       Maurer's Trading Post, Franklin, PA
–       Oil Creek Outfitters, Titusville, PA
–       John's Bait & Tackle, Meadville, PA
–       Van Tassel's Timberland Bait, Canadohta Lake, PA
–       Fergie's Bait & Tackle, Sandy Lake, PA
–       R & L Bait & Tackle, Greenville, PA
–       B.A.C. Bait & Tackle, Erie, PA
–       Poor Richards Bait & Tackle, Fairview, PA
–       Presque Isle Angler, Erie, PA
–       Neshannock Creek Fly Shop, Volant, PA
–       Erie Sports Store, Erie, PA
–       CLTackle.com
–       Espyville Outdoors, Espyville, PA
–       Farrell's Hook, Line & Stitch, Meadville, PA
–       Consumer Direct Sports, Grove City, PA
–       Jigger Wholesale Tackle, Franklin, PA
–       Area anglers
Note: The information in the NW PA Weekly Fishing Report is based on the observations and opinions of individuals at the reporting tackle shops and expert area anglers.  Although the information is reliable, it is not independently verified.
If you have fishing information or a picture of your catch from one of the waters in the following counties, please contact Darl Black at darlblack@windstream.net
In providing a picture, you are agreeing to it being posted on the Fishing Report.
Keep Up with More NW PA Fishing at http://darlblack.blogspot.com