Happy Halloween!
Bass Pro Edwin Evers gets a jolt out of Halloween – image was photo-shopped by Lawrence Taylor
Crawford County Waters
Pymatuning Lake
Dave Richter (Richter's General Store): "Walleye, walleye, walleye!  Any one who knows anything about Pymatuning walleye in the fall is having a field day.  During mid-day, boat anglers are catching walleyes over channel drops with jigs and blade baits; the purple/white VibE blade bait has been my number one seller.  Shoreline fishermen are catching 'eye on live chubs and shiners where deeper water swings close to shore.  After sunset, walleyes are moving very shallow to feed on small minnows and late-season bluegill fry – try throwing small stickbaits.  Crappies are being caught both deep and moderately shallow with live minnows and small jigs.  If you can find brushpiles in the bays about 6' to 10' deep, there should be crappies on it.  The perch bite on the lower end of the lake has slowed down.  No muskies reported."
Chris Hall (Espyville Outdoors): "The perch fishing has been great on the upper end of the lake.  Perch in the 10" to 12" are common right now.  However, anglers are reporting that the perch do not seemed to be schooled up tight yet.  I was out three days last week fishing from shore and caught perch every day.  Not a fish under 11 inches!  Walleyes are being caught at the Spillway and Causeway.  Various methods seem to b working, including a live minnow on a #4 hook, or a blade bait."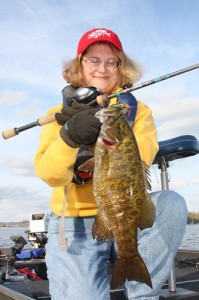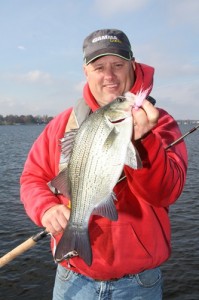 Conneaut Lake
Darl Black (Cochranton): "ConneautLakehas been unusually difficult this fall – at least for me.  I fish Conneaut in the fall primarily for big smallmouth – those 4 to 6-pounders.  Three weeks ago, high winds prevented us from getting on the lake.  One week ago, on October 22nd, Marilyn and I fished Conneaut with marginal success.  The water temperature was still 57-60 degrees – warm for latter part of October.  We (I should say Marilyn) landed several smallmouth with the largest going four pounds along with a few small northern pike, largemouth and a single white bass.  The anticipated lipless crankbait did not materialize; most of the fish that day were taken on live creek chubs.  Flash forward a week…on October 30th I fished Conneaut with Dale Black.  With a bucket of creek chubs and stone rollers as back-up just in case, we had high hopes of big smallies on lipless cranks, jigs, spinnerbaits, tubes, blade baits or hair jigs.  In five hours of fishing shallow and deep on fall smallmouth spots, not one brown fish.  Not even a single northern pike pick up on a live chub.  The only fish caught was a single white bass on a Jimmy D River Bug hair jig.  The lake temperature had dropped 10 degrees in one week to 47-50 degrees – a good range but perhaps the temp dropped a little too quickly.  Why fish were not feeding at Conneaut – not even pike – is puzzling, especially since Scott Kinard was catching smallmouth the same day only 15 miles away on Woodcock."
Mike Horrobin (CLTackle.com): "While fly casting from shore ofConneautLakeon Saturday, I caught several nice-size bluegills in the shallows.  Not a lot, but a lot of fun!"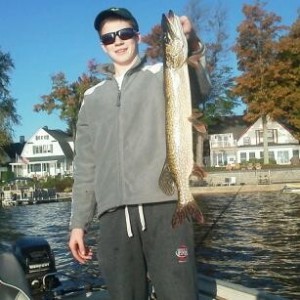 Grady Codd (Pittsburgharea) has made couple trips to ConneautLakein recent weeks.  Among other fish, he caught a 4 pound smallmouth on a 15-foot ledge and a nice northern pike around a dock.  Both big fish were taken on a Strike King Series 5xd crankbait.  (Photo #5)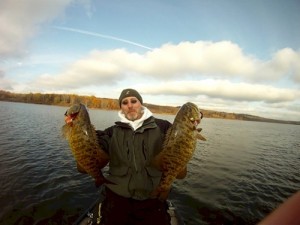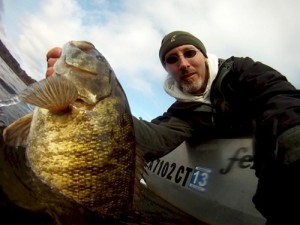 Scott Kinard (Butler): Scott and Mike Doerflinger fished Woodcock for about 5 hours on Sunday, October 30th, landing six smallmouths between 4.75 and 5.5 pounds.  "We lost five others that were around the same size.  Also hooked and lost a decent musky and caught two walleye.  The water temperature in most lakes is now in the mid 40s and falling.  In lakes with smallmouth, the fish are grouping-up on ledges and chasing bait in wolf packs throughout the day.  Drop-shots, tubes and All-Terrain Tackle Jigs have been working for us."
Erie County Waters
Presque Isle Bay
Al Nacopoulos (B.A.C. Bait –Erie): "PIB fishing this past week was all about the big crappies being taken in protected areas, particularlyMarinaLakeandMiseryBay.  Crappies are running larger than average.  Most are being taken on minnows, jigs tipped with a minnow or tube jig.  Tube jigs are particularly hot right now.  I'm dong good with anything in a gold color.  Some yellow perch were also reported of the boat ramp inMarianLakeand North Pier.  Northern pike are biting in MiseryBay."
Lake Erie tributaries
Jeff Staaf (Poor Richards): "It was a great weekend for steelhead fishing, even though the water was somewhat low and clear.  Lots of fish in the streams and lots of anglers.  Anglers were catching fish on single eggs and emerald shiners in low water.  Fly fishermen are scoring with sucker spawn in light colors like peach, light orange, pink and pale yellow.  Black or brown nymphs and Wooly Buggers are catching fish.  Early morning and dusk hours are best.  Fish are spooky during mid day in the clear water.  Biggest fish I saw this week was an 11 pounder.  Things are looking good for this coming week – no big rain to blow out the creeks, although light showers should help us out."
Mike Tome (B.A.C. Bait –Trout Run): "It's our usual story – low and clear.  Fish moved in on previous high water, we get two days of excellent fishing as streams fall, and then it's low and clear.  What ever you use, go small and go light in color – single eggs, single minnow, light sucker spawn.  Our exclusive P-Flash fly is hot – it's a great imitation of an emerald shiner.  At the creek mouths on the lake shore, Power Bait, skein and blue/chrome spoons are producing."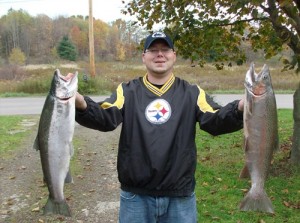 Ed Lawrence (Corry) provided a picture of a couple nice steelhead he caught last week from one of the tributaries.  A third fish was caught and release.  Said he had his hands full with two fish and his rod, getting out of the creek up a steep hill.
Mercer County Waters
Lake Wilhelm
Al Moore (Cochranton): "I've been fishing Wilhelm this week (October 23-27), and catching 3 to 5 bass each time out.  Nothing real big – 17.5 to 19.5 inch range.  Caught most of my fish this week on Berkley Chigger Craw, plus some on the chrome & chartreuse Terminator Spinnerbait – fished at 6 to 8 feet."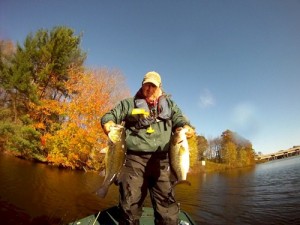 Scott Kinard (Butler): "After fishing Wilhelm in the heavy rain on Sunday, October 16, Ernie Pate and I headed back there on the 17th.  Seeing positive signs on Sunday pointing towards a near future feast, I thought the sunny skies on Monday could activate the schools of big bass.  Although we managed to catch about 10 very nice largemouths up to 5.5 pounds, we were disappointed with the numbers.  We had quite a few short strikes.  No one particular pattern or depth or type of cover prevailed.  The downside is that this lake has been fishing quite difficult this year for big numbers and may translate into a slow fall bite as well.  We caught our largemouth on crankbaits, plastics and All-Terrain Tackle Jigs.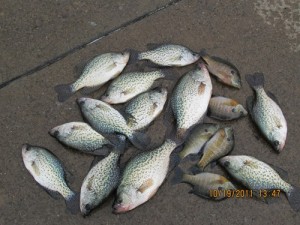 Shenango Lake
Ken Smith (Sharon): "The crappie bite was good at Shenango this past week.  Black crappies are shallow on lay-downs and brushpiles.  Find baitfish cruising the shallows and you'll find the crappie close by.  Jig-n-bobber worked best for me, but a couple friends caught them on minnows.  Also, there are some very nice bluegills in the same spots as crappies."
Neshannock Creek
Bob Shuey reminds anglers that fall stocking of trout is producing action on the special reg section of Neshannock.  Water flow is good.
Venango County Waters
Allegheny River
Mike Horrobin (Jigger Wholesale): "All my river fishermen are out hunting right now.  With higher water and some color right now, the river should be primed for the fall walleye bite – but no one has stopped with a report 'cause they are hunting."
Kahle Lake
Dale Black (OilCity): "I have not made it over yet, butKahleLakeusually fishes very well for big largemouth bass into the fall.  I would like to make it over this week or next."
Justus Lake
No reports, but the fall stocking of trout should be offering an excellent bite right now.
Oil Creek
Mike Laskowski (Oil Creek Outfitters): "The recent stocking of rainbows are keeping the streamer fishermen busy.  Our custom tied Triple Threat Streamer is hot, as well as the Wooly Bugger in dark colors.  LittleSandyis giving up browns in addition to rainbows.  Both stocked stream sections – Oil Creek and Little Sandy – are catch-and-release only."
Bill Logan (Pleasantville): "Oil Creek's delayed harvest areas are producing beautiful stocked rainbows.  They are 12" to 15".  With only an hour to fish one warm day last week, I caught 6 trout on a size 12 olive hot beaded bugger."
French Creek (Erie, Crawford, Mercer andVenangoCounties)
Dustin Shay (Meadville): "The walleye bite on the creek is firing up.  I've been catching walleye mid-day from11 AMto2 PMon my had-tied hair jigs tipped with either soft plastic grub or live minnow.  Walleye are running from 3 to 5 pounds with the better bite fromMeadvillesouth toCarlton.  North of Meadville, the water is still too clear.  Last week I also caught several smallmouth in the 3 to 4 pound range from the Creek in the vicinity ofMeadville; they were caught on my hand-tied jigs."
Gamma Salutes
Photo drawing: The Gamma Salute goes out to Grady Codd for his image of aConneautLakenorthern pike; watch for your spool of Gamma line.
Weekly Drawing
Contributor drawing: The final October Road Runner package goes to Scott Kinard.
Outdoor Calendar of Events
Nov 5              PA Steelhead Expo atRainbowGardens,Erie,PA
Go to www.steelheadexpo.com for more information
Nov 5              Steelhead Fishing Contest (in conjunction with Steelhead Expo)
Go to www.steelheadexpo.com for more information
Information contributed by:
–       Chris' Tackle Box, Jamestown, PA
–       Maurer's Trading Post, Franklin, PA
–       Oil Creek Outfitters, Titusville, PA
–       John's Bait & Tackle, Meadville, PA
–       Van Tassel's Timberland Bait, Canadohta Lake, PA
–       Fergie's Bait & Tackle, Sandy Lake, PA
–       R & L Bait & Tackle, Greenville, PA
–       B.A.C. Bait & Tackle, Erie, PA
–       Poor Richards Bait & Tackle, Fairview, PA
–       Presque Isle Angler, Erie, PA
–       Neshannock Creek Fly Shop, Volant, PA
–       Erie Sports Store, Erie, PA
–       CLTackle.com
–       Espyville Outdoors, Espyville, PA
–       Farrell's Hook, Line & Stitch, Meadville, PA
–       Consumer Direct Sports, Grove City, PA
–       Jigger Wholesale Tackle, Franklin, PA
–       Area anglers
Note: The information in the NW PA Weekly Fishing Report is based on the observations and opinions of individuals at the reporting tackle shops and expert area anglers.  Although the information is reliable, it is not independently verified.
If you have fishing information or a picture of your catch from one of the waters in the following counties, please contact Darl Black at darlblack@windstream.net
In providing a picture, you are agreeing to it being posted on the Fishing Report.
Keep Up with More NW PA Fishing at http://darlblack.blogspot.com