News
–       Fantastic Fall Fishing is NOW!  October and November are two of the best months for fishing inNorthwest Pennsylvania.  From bluegill to musky, every panfish and gamefish species is putting on the feedbag.  Steelhead trout are in theErie tribs; the strongest walleye bite of year is happening at Pymatuning and theAllegheny River plus French Creek system.  Absolutely the best trophy smallmouth bass opportunities will take place in several area lakes during the next couple months.  Don't miss out – Go Fish!
–       Road Runner Month – September was Rapala Group rewards and those baits have 'gone fishing.'  For contributor names drawn during October, TTI-Blakemore will ship direct to you a surprise package of Road Runner lures and hooks plus a RR cap.  Go Fish!
–       Last tournament hurrah!  In the last week or two, a handful of the regular Fishing Report contributors have been traveling to other areas to fish championship events.  Steve Hughes (Clarion) fished an event at Oneida Lake in New York; no word on how he did.  Scott Kinard (Butler) took a 2nd at the Basscasters End-of-Year tournament this past week on Lake Arthur.  Daniel Gray (Butler) won the TBF Mid Atlantic Divisional for Maryland at Buggs Island on September 21-23. Also, this past week, Danny Jones (North East) participated in the American Bass Angler Bassmaster Weekend Series on Lake Erie at Buffalo.  On October 1, FLW Pro Dave Lefebre (Union City) finished 4th in the final Everstart event on the Potomac River.  The last area open tournament is later this month on theAllegheny River – check the Calendar for details.  Now that tournament season is winding down, we hope to see some reports from these anglers regarding their local outings in Northwest Pennsylvania.
Mercer County Waters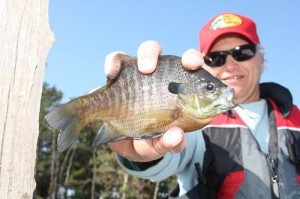 Lake Wilhelm
With water temperature dropping and vegetation dying in the upper part ofLakeWilhelm, anglers fishing from the Sheakleyville Causeway are beginning to catch nice bluegill.  This annual bite will continue for several weeks.  You'll see cars pulled off on the causeway all day long, but late afternoon is typically the best fishing.  On a good day, shoreline fishermen can fill out their limit of panfish in a couple hours of fishing.  A small jig tipped with a larva (wax worm, mealworm, or maggot) and suspended 18- to 36-inches below a bobber is the ticket.
Shenango Lake
Al Moore (Cochranton): "The Mercer County Bassmasters held our last tournament of the season on Shenango Lake on Sunday, October 2.  It was a wet, cloudy and cold day for sure…a good day for flipping.  Bass were on hardwood.   My best bait was a Berkley Chigger Craw in black-n-blue.  I only landed two keepers, including a 3 lb 13 ounce largemouth.  But it was good enough to win!"
Ken Smith (Sharon): "I fished Shenango Lake this past week with pretty good results.  I caught lots of good-size crappies, plus a few bass.  I was hang-gliding with MicroSpoons in deeper water and casting jigs to the shoreline blow-downs.  The panfish bite should be even better after this cold front cools the water down a little more."
Shenango River
On October 1, the Shenango River Watchers officially opened the stretch ofShenangoRiverfrom Pymatuning Dam Outflow toGreenvillefor kayaking and canoeing with a float trip.  For as long as I can remember, floating that section of river had been impossible due to felled trees across the stream.  The River Watchers lead an effort to raise money to "timber" the river, with the work finally completed a couple weeks ago.  There were over 100 kayaks and canoes making the trip, leaving in groups of three to 10 boats.  While many individuals in the float were fromNorthwestern Pennsylvania, other participants drove hundreds of miles to take part in this paddle.  Although few of the day trippers had fishing rods, this section of river offers good fishing for crappie and walleye, particularly in the spring.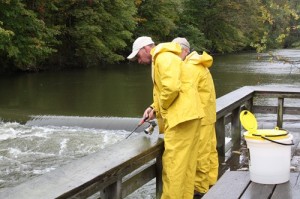 Also at the Pymatuning Dam Outflow, three anglers on the fishing pier were catching small crappies.  One individual had caught 40 fish in just two hours.  He frequently fishes theShenangoRiverbelow the outflow, stating he has caught crappie, perch, walleye, white bass, musky and even hybrid stripers from the same spot at different times of the year.  The best fishing is from now through spring with higher water flows.
Neshannock Creek
Bob Shuey (Neshannock Creek Fly Shop): "Neshannock is still muddy from all the rain this week.  Don't expect much improvement early this coming week as more heavy rain is expected.  The fall trout stocking for Neshannock is Tuesday, October 4 at1:00 PM."
Venango County Waters
Allegheny River
Mike Horrobin (Jigger Wholesale) says the fall bite is not yet in full swing, but will be growing stronger this coming week with the cooler temperatures and rain.  Most of the bass and walleye caught by customers this week in the river were coming on big creek minnows or store-bought shiners.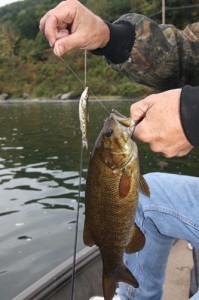 Rob Genter (Tidioute) and a buddy fished the river for walleye on Sunday, October 2.  Using creek bait and riffle runners, they caught 10 walleye but only 3 were legal size.  They also caught several smallmouths in the 2.5- to 3-pound range, and a 25-inch brown trout.
Lou Letterle (Franklin): "I fished the Allegheny on September 28.  There was plenty of floating weeds; just about every cast became fouled.  I managed to land ½ dozen smallmouth, but no obvious pattern – every fish was caught on a different lure."
Chris Wolfgong (OilCity): "I fished the river on the evening of September 28 with Dale Black for two hours.  Some of us had a good night.  I caught all my fish on soft jerkbaits – nose-hooked of course.  I should have tried that long ago; I'm not missing nearly as many fish by nose hooking with a smaller drop-shot hook.  I caught a total of eight smallmouths – by my accurate count, five by Dale's 'you weren't that far ahead of me' count.  I'm going to give Dale the benefit of the doubt and say he caught three fish – don't quote me on that!  The smallmouth ranged from 10" to 15.5".  The fish were taken in the faster water where vegetation was lacking.
"I also had a chance this week to throw some of the lures received from the Fishing Report.  I like the action of the Trigger-X soft jerkbaits when nose-hooked.  I caught a few fish with them; they seemed durable.  The head of the bait doesn't tear as easily as with some soft jerkbaits.  The Rapala UL Minnow will be great once the floating weeds disappear.  This weighted UL Minnow cast nicely on light line, and I also liked that it was a sinking lure.  I didn't get a chance to throw the Trigger-X tubes yet because I've had too much fun catching fish on soft jerkbaits – but the tube biting is coming!"
Ken Anderson (Tionesta): "I fished the Allegheny Riveron September 24th with my dad.  We caught over 10 smallmouths on live minnows (blue dots and sand pike).  The bite was strange, and complicated by grass floating down the river.  No bites until the fog lifted around9 AM.  I tried soft jerkbaits but blanked with them."
Venango trout streams
Mike Horrobin: "The weather this week was not very comfortable on the trout streams but anglers who were out fishing did fairly well.  Young Luke Guth got a nice brown trout on a live worm.  Congratulations Luke!  I've been tying up a bunch of streamers using Puglisi EP-fibers and Polar Flash with Fish Skulls for forward weight in hopes of getting some bigger fall fish.  As the water rises these new streamers should work as well as Clousers and maybe even better due to the more realistic look."  Note: Mike sent a picture of Luke's trout, but I could not open it; will run it next week.
French Creek (Erie, Crawford andVenangoCounties)
John Ensworth (John's Bait) reports anglers stopping in for live bait to fish French Creek.  "But with the muddy water from all the rain, they were not catching anything the last few days."
Crawford County Waters
Pymatuning Lake
Chris Hall (Espyville Outdoors): "Perch and bluegill are being caught in the Fries Roadbridge area on jigheads tipped with small minnows.  A few crappies are being reported.  Walleye and crappie action seems to be picking up again under the PA bridge on the Espyville Causeway; two customers caught their limit of 'eyes in less than hour Saturday morning, jigging Sonars, Cicadas and Vib"e" blade baits.
"Walleyes are being caught off Snodgrass later in the day.  I had two customers that were up all week fishing; they trolled the area from Snodgrass around Beer Can and Stocker Islands and back to Snodgrass.  They brought in a limit of walleye every day.  The weather beat them up, but they caught fish."
John Ensworth (John's Bait): "Over the weekend a couple of my customers got into crappie at Bridge 20 area from shore.  Today, Monday, they came back for more minnows, buying all my crappie minnows and heading back to Pymatuning."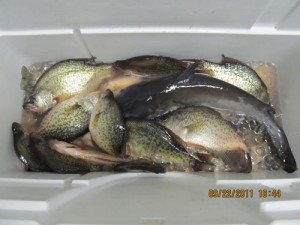 Ken Smith (Sharon): "I fished Pymatuning last Thursday for a few hours.  Found the fish in deep water – at 18 feet near (not over) brush and stumps.  The catch included crappies, bluegills, perch and a 22" channel cat – all taken on Triple Tail Jigs from Microspoons.com."
Sugar Lake
Ken Anderson (Tionesta): "I fished SugarLakeon September 18th for several hours in the morning.  I got four largemouth bass – one on a Luhr Jensen crankbait and three on a ¼-oz. Booyah Spinnerbait.  I lost a 4-pounder at the boat when the spinnerbait broke at the R bend – the upper portion of the spinnerbait with blades flew into the boat while the fish and hook went the other way."
"Also, I tried the Trigger X baits in a local farm pond without success this past week.  I was testing the Trigger X on the new Berkley Nanofil filament line.  Something isn't working – bait or the white filament line.  I could not get a bite with that combo, but when I switched to a rod with a Senko and monofilament line, I quickly got five bass."
Erie County Waters
Presque Isle Bay
Al Nacopoulos (B.A.C. Bait – Erie Store): "The cold, windy and wet weather has kept the number of anglers fishing the bay down this week.  Before the miserable weather set in, my customers were catching the big lake perch off the North Pier and crappies inMarinaLake.  Steelhead trout are observed jumping in the Bay, but few are being caught."
Lake Erie tributaries
Andy (B.A.C. Bait – Trout Run Store): "The tributaries are beginning to clear and calm down from the torrent of rain this past week.  With a little luck they will be fishable by Tuesday or Wednesday, and should be in good shape by the weekend.  There are a lot of steelheads in the streams but the water conditions need to improve to catch them."
Matt Hyrcyk (Poor Richards): "Creeks are high and roiled, but loaded with steelhead.  Prior to the high water, fish had made it to Folley's on Elk Creek and the railroad bridge onWalnut Creek.  I expect them to be higher up in the streams once the water drops.  The number of returning fish this fall looks very good."
Ken Anderson (Tionesta): "On September 26, I observed over 30 steelheads in the pool at the mouth of Four Mile Creek.  Local kids were fishing but no one hooked a fish."
Ed Lawrence (Union City): "I went up to Trout Run andWalnut Creek for steelhead on September 25.  Some fish were caught by other fishermen early in the morning, but we had no luck.  We threw everything at 'em, but the fish were thoroughly spooked by all the anglers."
Fishing Tip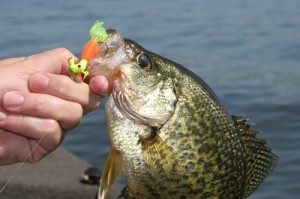 Go Crappie!  With many anglers targeting walleye, bass, musky and steelhead during the hot fall bite, an often overlooked species is crappie.  Crappie is not just a springtime and summer fish.  Starting right now, Northwest Pennsylvania crappies are putting on the feedbag like other species and in most lakes moving a little shallower than they have been all summer (typically moving to the weed edge on natural lakes).  As the water cools down even more by late October, crappies move to deeper water (often 20 to 35 feet on lakes with that depth) – but are still feeding strongly.  Our best fall crappies lakes are ShenangoLake, LakeWilhelm, PymatuningLake, ConneautLake, WoodcockLake, LakeLeBoeuf, EdinboroLakeand PresqueIsleBay.  Minnow-imitating jigs are good choices for October.   Small jigging spoons and blade baits work when crappies are deep in November and December.  Darl Black 
Gamma Salutes
The spool of Gamma PolyFlex Line this week goes to young Luke Guth for his big trout.  (Photo will run next Report when a different image is available.)  A spool of 4-pound test Gamma Gold will be sent.
Editor comment on Gamma: I've been using 4-pound Gamma PolyFlex Gold all summer long on my panfish rods.  It casts great and is incredibly strong – landing several incidental bass, walleye and pike on the light line.  Also, the Gold is visible to the angler above water to help detect bites – but being of such small diameter, the gold color disappears under the water.  Darl Black
Weekly Drawing
The contributor's name drawn as winner of the Road Runner Crappie Pack is Chris Wolfgong.  The pack will be sent direct from TTI-Blakemore.
Outdoor Calendar of Events
Oct 16            Allegheny RiverBass Team Tournament #2
$100 per team; for info contact Eric Heil lt.heil@yahoo.com
Nov 5              PA Steelhead Expo atRainbowGardens,Erie,PA
Information contributed by:
–       Chris' Tackle Box, Jamestown, PA
–       Maurer's Trading Post, Franklin, PA
–       Oil Creek Outfitters, Titusville, PA
–       John's Bait & Tackle, Meadville, PA
–       Van Tassel's Timberland Bait, Canadohta Lake, PA
–       Fergie's Bait & Tackle, Sandy Lake, PA
–       R & L Bait & Tackle, Greenville, PA
–       B.A.C. Bait & Tackle, Erie, PA
–       Poor Richards Bait & Tackle, Fairview, PA
–       Presque Isle Angler, Erie, PA
–       Neshannock Creek Fly Shop, Volant, PA
–       Erie Sports Store, Erie, PA
–       CLTackle.com
–       Espyville Outdoors, Espyville, PA
–       Farrell's Hook, Line & Stitch, Meadville, PA
–       Consumer Direct Sports, Grove City, PA
–       Jigger Wholesale Tackle, Franklin, PA
–       Area anglers
Sponsored by: PA Great Lakes Region
& GAMMA Fishing Line (now owned by Black Knight Industries of Oil City)
–       Crawford County Convention &Visitors Bureau at www.visitcrawford.org
–       VisitErie at www.visiterie.com
–       VisitMercerCountyPA at www.visitmercercountypa.com
–       Oil Region Alliance at www.oilregion.org
 Note: The information in the NW PA Weekly Fishing Report is based on the observations and opinions of individuals at the reporting tackle shops and expert area anglers.  Although the information is reliable, it is not independently verified.
If you have fishing information or a picture of your catch from one of the waters in the following counties, please contact Darl Black at darlblack@windstream.net
In providing a picture, you are agreeing to it being posted on the Fishing Report.
Keep Up with More NW PA Fishing at http://darlblack.blogspot.com